Skip to Content
2020: A Year of Vision & Initiative
For nearly two hundred and fifty years Old North has acted as a gathering place for active citizens. Boston and our nation have changed a lot since then, but our commitment to the shared values of freedom, liberty, and justice remains constant. Today, we are proud to be preeminent keepers and tellers of the American founding story as well as a historic site dedicated to illuminating the many ways in which our history is deeply tied to contemporary events and attitudes.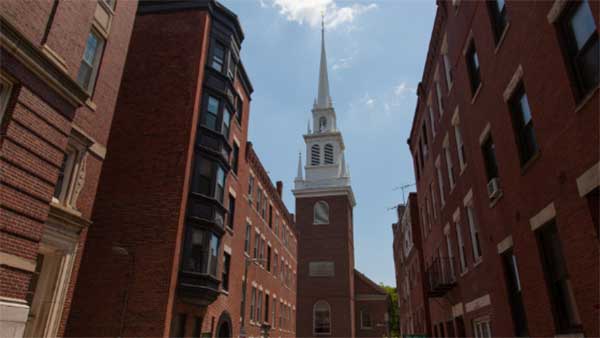 Here's our vision for 2020 and beyond:
Engaging the public: By producing and hosting new programs on topics like political resistance, urban planning and preservation, and community mobilization we'll encourage conversations on how the past informs the pressing civic and social issues facing us here and now. We'll continue to connect and partner with other organizations that support our mission and share our values to expand the resources and networks available to visitors and program participants.
First up, we'll launch our 2020 Speaker Series on February 25. Join us to hear author Christian Di Spigna provide a fresh take on an unsung hero of the American Revolution and one of the most important and active revolutionaries in Colonial America, Dr. Joseph Warren. Warren helped spearhead the movement for independence and was involved in every major insurrectionary event in the Boston area between 1765-1775. Killed at the battle of Bunker Hill in 1775, Warren's decade of resistance activities became overshadowed by his martyrdom. Join us to hear new discoveries about Warren's importance as a rebel and patriot. Reserve your seat here.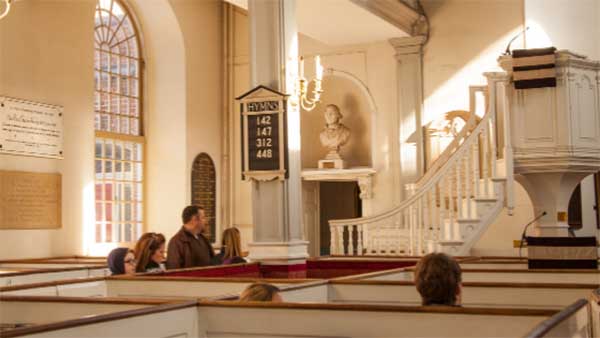 Then, in early March, we'll unveil our first of three exhibits that will take place in Patriots Corner this year. The exhibit, titled The Vernacular and the Spectacular, is a collection of works from two local photographers, Peter Vanderwarker and Matthew Dickey, that will explore how architectural atmosphere defines our city's character and shape the human experience.
Sharing untold histories: Last year, we made public new research findings of Old North's connections with American slavery. After two years of intense research that spanned across centuries and continents, author and scholar Jared Hardesty revealed that Old North Church served as a nexus point for a ring of colonial businessmen and smugglers who were deeply embedded in the slave trade and who donated profits from these businesses to help build Old North's iconic steeple as well as support the church in other ways.
In 2020, we continue to grapple with the depth and breadth of these findings and we are digging deep to analyze how the legacy of slavery impacts the way we see ourselves and interact with the public as a museum and educational site. This spring we will be launching a new tour offering that will take visitors into the North Gallery of the church to consider what the experience of attending Old North was like for black congregants, enslaved and free and other people of color in the colonial era.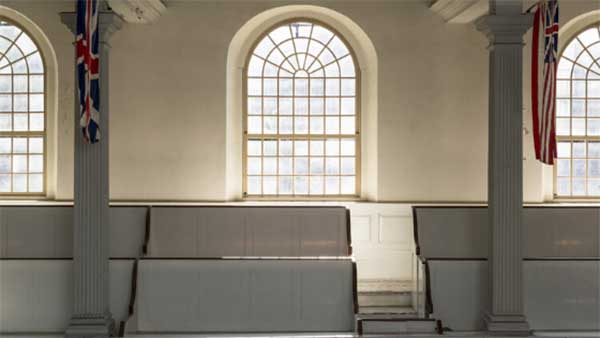 We're also working on a new interpretive plan for our site that will more fully incorporate the fullness of our history into our visitor experience. We'll be sharing updates on this process along the way and inviting others in to help us thoughtfully continue our research.
Exploring a growth mindset: Looking ahead, the 2020s bring the opportunity for enormous growth here at Old North. This year we will be casting a vision for how to make Old North a hub of cultural and intellectual activity and naming a new Executive Director to help lead us into the next era of our history. In 2023 we celebrate our 300th birthday and hope to break ground on a monumental restoration effort in celebration. Then in 2025 and 2026, we fete the 250th anniversaries of the start of the American Revolution (complete with the 250th Lantern Ceremony!) and the independence of the United States.
As we continue to write our history we invite you to join us and be part of shaping the impact and legacy of Old North.