Skip to Content
A Paul Revere Guide To Boston
Paul Revere is undeniably one of Boston's most well-known and beloved residents. Revere was a silversmith, a dentist, a bell-maker, and above all, a staunch patriot and member of the Sons of Liberty. Revere's famous signal lantern plan and his ride to Lexington and Concord were immortalized in Henry Wadsworth Longfellow's beloved poem Paul Revere's Ride, and Revere has been embraced by generations of Americans ever since.
200 years ago, on May 10th, 1818, Paul Revere passed away at the age of 83. In honor of Revere's legacy in Boston, we've compiled a guide of places in Boston where you can walk in Revere's footsteps or examine objects associated with Revere from the course of his long career.
Ready to explore Boston's many connections to Revere? Put on your walking shoes, grab your CharlieCard and read on!
Morning: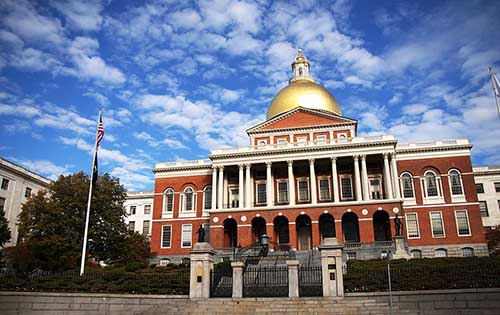 The Massachusetts State House towers majestically over the Boston Common, its golden dome a beacon to all who see it, proudly proclaiming the building's importance and grandeur. But, did you know that the State House's golden dome wasn't always so prominent? When the building was completed in 1798, the dome was made of wood and simply painted white. In 1802, however, Paul Revere and his sons covered the dome with rolled copper, a process that Revere specialized in at his Canton-based copper rolling mill. Revere didn't just work on the dome of the State House – in 1795, Revere, Governor Samuel Adam, and William Scollay tucked away a time capulse under a cornerstone of the soon-to-be-built State House. Included amongst the coins and newspapers inside the time capsule was an engraved silver plate very likely made by Revere himself.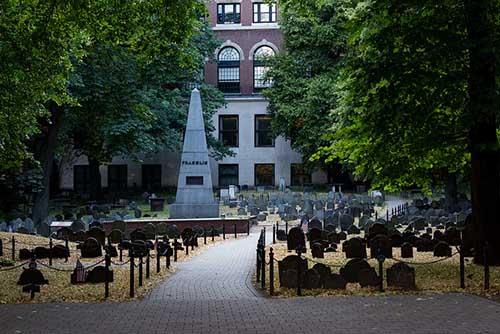 The Granary Burying Ground is the permanent resting place of a number of prominent Revolutionary Era Bostonians, including the victims of the Boston Massacre, three signers of the Declaration of Independence, and Paul Revere himself. Revere is one of an estimated 5,000 individuals buried at the Granary, but he's not too difficult to find, because only a little over half of the burials are marked with a headstone. You can find Revere at the back of the burying ground – and don't forget to pay a visit to his Revolutionary contemporaries, as well!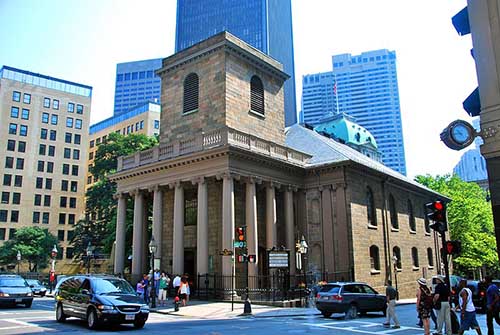 King's Chapel is one of Boston's oldest churches and was one of the few other Anglican congregations in town during Paul Revere's life. Although Revere was not an Anglican and never worshipped at King's Chapel since 1816 a Paul Revere & Sons bell has been at the King's Chapel bell tower. Today, this bell can be visited on a Bell & Bones tour.
Afternoon: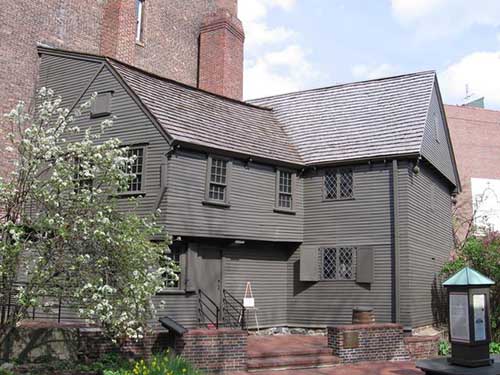 Of course, a day following in the footsteps of Paul Revere would have to include a visit to the Paul Revere House, the oldest building in Boston, and the residence of Revere and his family during the tumultuous 1770s. Paul Revere lived here when he planned his famous midnight ride and the secret lantern signals at Old North that would precede it. In addition to the historic house itself, the Paul Revere House also has an 1804 Paul Revere & Son bell, and exhibit space displaying some of the silverware crafted by Revere.
Old North Church & Historic Site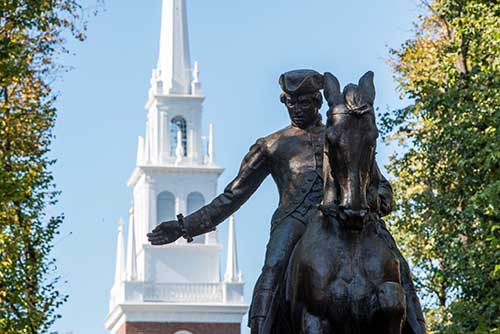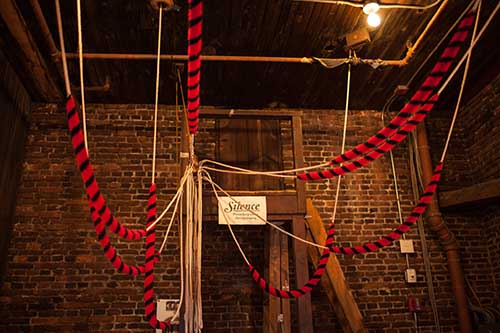 Any Paul Revere themed tour of Boston would be incomplete without stopping at the very church where Paul Revere planned for lanterns to be hung as a secret signal of the British march to Lexington and Concord. It's important to note that Paul Revere himself did not personally hang those two lanterns that night (he was busy rowing to Charlestown to start his midnight ride and had John Pulling Jr. and Robert Newman do the honors instead). Nonetheless, if you visit the bell ringing chamber on the Behind the Scenes tour, you'll still be following in Revere's footsteps – because Revere was a bell-ringer at Old North as a teenager! You can also explore the church to find the Revere Pew, where Paul Revere's son Joseph Warren Revere sat for worship services, and which was owned by the Revere family until the church stopped selling pews in 1912. You can also explore the building and learn more about what happened that fateful night of April 18th, 1775.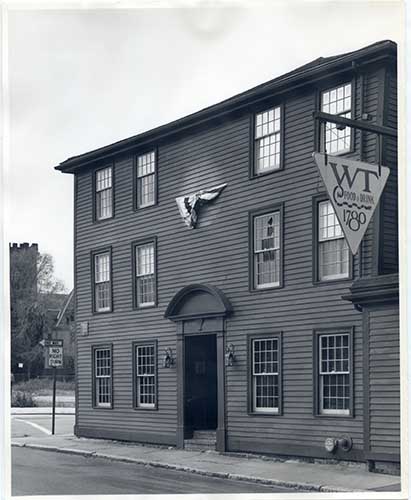 If you follow the Freedom Trail from the Paul Revere House and the Old North Church in Boston's North End across the Charles River to Charlestown, you'll be following the path Paul Revere took before his midnight ride. On the night of April 18th, 1775, Revere snuck out of his home to the North End waterfront, where his friends were waiting to row him across the Charles River, under the prow of the HMS Somerset. Revere made landfall on Charlestown, where he borrowed a horse to begin his famous midnight ride.
Five years after that fateful night, much had happened in Charlestown. The Battle of Bunker Hill had proven to both colonists and the British that the war would be long and difficult. Charlestown had been burned, and a leading patriot named Joseph Warren had been killed. The Warren Tavern, built in 1780, was one of the first buildings rebuilt after the fire, and was named after Joseph Warren. Patriots such as Paul Revere and George Washington are known to have visited – and you can too, because the Warren Tavern is still in operation today. After a long day of site-seeing and following in Revere's footsteps, take a moment to drink a beer or eat a meal at the same establishment as Revere himself.
Optional: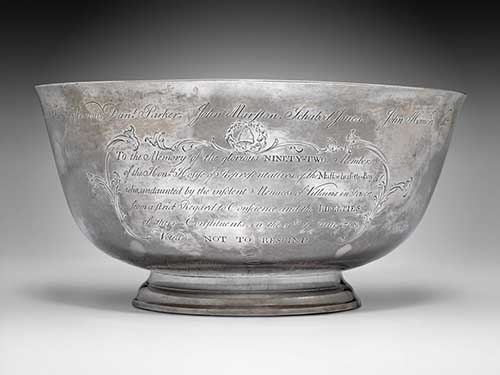 Still, yearning to spend a little more time with Revere? Head on over to the Museum of Fine Arts, which holds a collection of silver worked by Paul Revere, and not one but two portraits of the man himself! As a bonus, the MFA hosts a wide collection of Revolutionary-era artwork, including portraits of Revere's fellow patriots and Sons of Liberty.
Been to these spots before? Know other Paul Revere themed spots we forgot or did you follow our guide? Let us know in the comments below and share your experience with us on Facebook, Instagram, and Twitter.