Skip to Content
An Old North Guide to Desserts & Coffee in the North End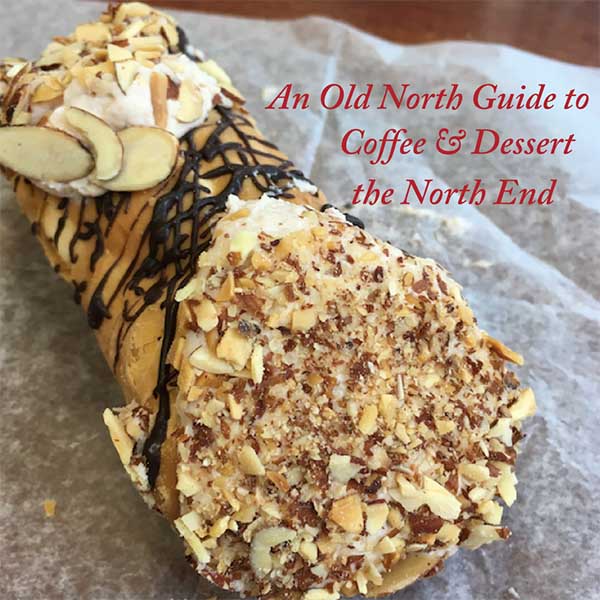 When visiting Boston's North End, coffee and pastries are a must!
Walk the streets and you're sure to smell the scent of fresh pastries and coffee. At Old North Church & Historic Site we love our "Little Italy" neighborhood, and as staff, one of our favorite things to do is grab a cup of coffee with a fresh-from-the-oven pastry. Whether you want a jolt of caffeine, something to satisfy your sweet tooth, or the perfect dessert, the staff of the Old North Church & Historic Site have got you covered!
Read on and discover some of our staff's favorite coffee and dessert spots in the North End! They may become your favorites too!
*The North End has many great eating options. For this post, we have selected only a few of our favorites!
Pastries, Dessert & Coffee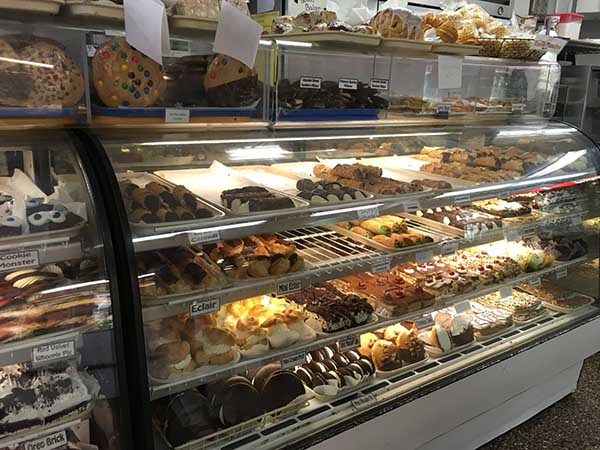 Bova's Bakery: Pastries available 24/7 – need I say more? This local bakery, founded in 1926, caters to your every need every hour of the day, from rich cannoli (give the crispy, caramelized Florentine cannoli a try!) to hearty, savory calzones. The lobster tails (also called sfogliatelle in their country of origin, Italy) are another must-try at this bakery – this flaky, cream-filled pastry comes in both mini and large sizes, perfect for a sweet bite or a serious craving. And because this beloved neighborhood staple never closes, you can satisfy your cravings at 3 pm and 3 am alike!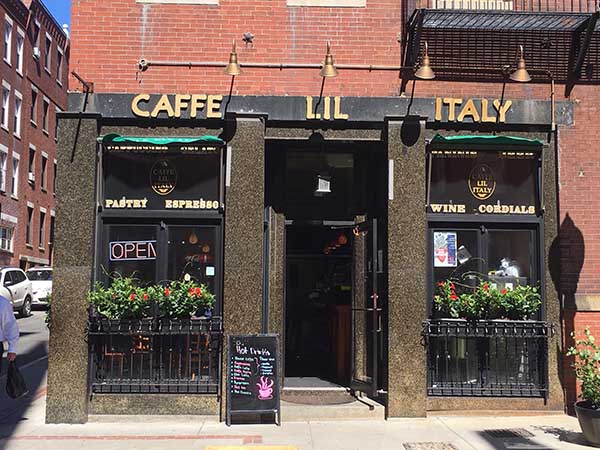 Caffe Lil Italy: A Old North Staff favorite, located a few steps across the street from our main entrance, with prime window views of the tourists and locals visiting the Old North Church. Make like the locals do and stop in for a coffee, a muffin, and a chat, and stay a little while to admire the view.
Cafe Vittoria: A classic North End cafe, established back in 1929. Step inside to be transported to a charming, cozy space with an ambiance that hearkens back to another time and place. Italian art abounds, stamped tin covers the ceiling, patrons chat around small tables, and coffee making machines line the back wall to give guests a glimpse of coffee-making history. You do not want to miss Boston's best cappuccino (complete with a generous dusting of cocoa powder) – and they serve plenty of classic Italian pastries and gelato to pair with your caffe!
Thinking Cup: The North End location of the Thinking Cup is one of three run by this local chain. The decor is a definite draw at the Thinking Cup – after ordering your coffee, find a seat and read the vintage newspaper articles set underneath the tables while your drink is being brewed. If you're a fan of hazelnuts, you have to try the hazelnut latte, which is made with freshly ground hazelnuts, in lieu of syrup! And if you're a tad peckish, the Thinking Cup features plenty of pastries for you to choose from, as well as a selection of sandwiches if you're really feeling hungry. The atmosphere is intimate and cozy, and the Thinking Cup aims to keep it that way, with low lighting and no wifi to make sure patrons focus on each other (and the coffee)!
Mike's Pastry: The most well known of all North End cannoli – for a reason. If you're craving this classic Italian treat, Mike's Pastry is the place to be. Don't let the long lines intimidate you, because the wait is almost never as long as you think it'll be. Mike's Pastry is cash only, so don't forget to stop by an ATM on your way in, since you'll want to take extra pastries to go in a classic white-and-blue string-wrapped takeout box! You'll want to sample a little of everything, as Mike's has an endless array of specialty cannoli and other classic Italian and Bostonian pastry classics as well.
Modern Pastry: Truth be told, even Old North's staff couldn't come to an agreement on who has the best cannoli in the neighborhood, Mike's or Modern! The staff split over which shop has the better cannoli reflects a long-standing rivalry between the two stores, and every local has their favorite. Modern Pastry differs from Mike's in that its offerings are more limited – but to some, that's precisely the appeal. If even Old North staff can't come to an agreement on which has the better cannoli, the only way you'll ever find out for sure is to give them both a try, of course!
Tell us, what do you think? Do you agree with our staff about which North End eateries are some of the highlights of the neighborhood? Did we miss any of your favorites? And which is better – Mike's or Modern?