Skip to Content
Chocolate Macaroon Bird Nests | American Heritage Chocolate Recipe
Archived from April 14th, 2017
Spring has sprung! With just a few ingredients, and some helpful bunny hands, you will have a festive Easter/springtime treat in no time.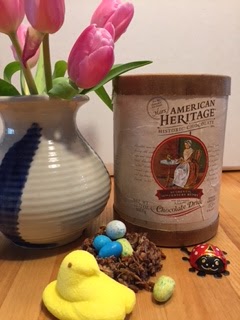 Chocolate Macaroon Birds Nests
Prep Time: 15 minutes
Bake Time: 15 minutes
Yields: About 20 macaroons
Equipment
Electric or hand mixer
Large Mixing Bowl
Medium Mixing Bowl
Baking Sheet
Parchment Paper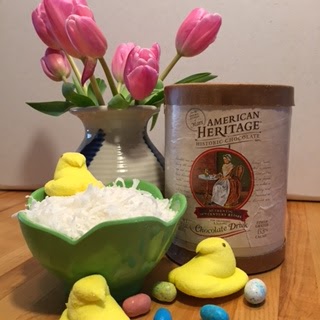 Ingredients
1-14oz. package of sweetened shredded coconut
4 large egg whites
¼ teaspoon vanilla extract
Filling for your nests: Marshmallow Peeps, Jelly beans, chocolate eggs, etc.
Directions
Position a rack in the center of the oven and preheat the oven to 325.
Line a baking sheet with parchment paper.
Beat together vanilla, salt and eggs in a large bowl at a high speed until the eggs are light and foamy.
In a mediuim bowl, stir the American Heritage Chocolate Drink Powder into the coconut.
Fold coconut mixture into the eggs
Scoop rounded tablespoonfuls of the coconut dough and firmly squeeze them into balls.
To make a birds nest, use your thumb and gently press an indentation in the top of the macaroon ball and pinch the sides of the macaroon to hold together
Place the ball about 1-inch apart on the parchment lined baking sheet
Bake until firm, about 15 minutes.
Let cool on the parchment sheet or on a wire rack for about 15 minutes.
Fill and decorate your nests! Add some jelly beans, gum drops, raisins or M&M's too.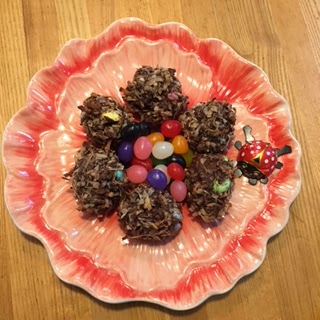 And there you have it! A perfect edible decoration for your table. Enjoy!
To order the American Heritage Chocolate Drink and other American Heritage products shop on-line at The Old North Church Gift Shop at http://old-north-church-gift-shop.myshopify.com/