Skip to Content
Cortnee Bollard – June Employee of the Month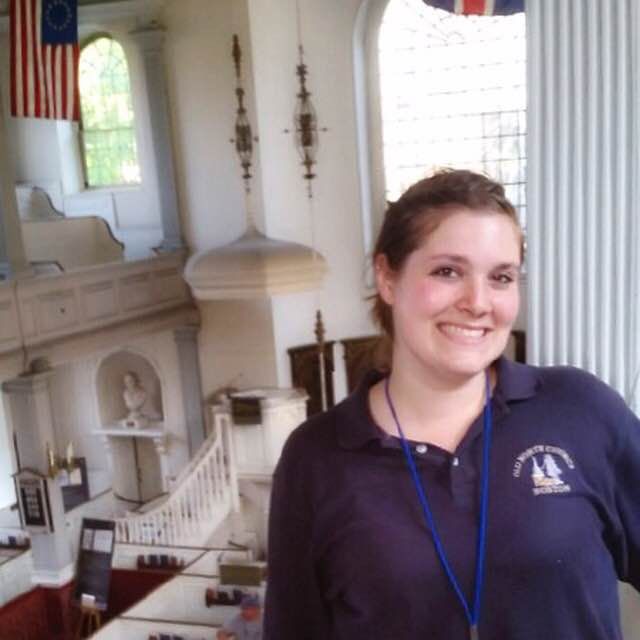 This seasonal award is presented to an hourly Old North Foundation employee who exemplifies the highest staff standards and sets the bar in the following criteria
This seasonal award is presented to an hourly Old North Foundation employee who exemplifies the highest staff standards and sets the bar in the following criteria:
desire and ability to go above and beyond his/her job description
interaction and level of engagement with our visitors
customer service skills
general positive and upbeat attitude day in and day out
ability to be an ambassador for Old North
teamwork skills
We are pleased to announce Cortnee Bollard, Old North Church educator, as the June Employee of the Month. Cortnee's constantly cheerful and upbeat demeanor makes her a tremendous asset to the Old North campus. Not only is she always eager to teach our visitors something new about our history, but she's also willing to jump in and help wherever she's needed. We are absolutely thrilled to have Cortnee on our team for a second season. Be sure to stop by and take a Behind-the-Scenes Tour with Cortnee!
"Whenever I see on the schedule that I'm working with Cortnee that day, a huge weight is lifted off my shoulders because Cortnee is absolutely amazing at her job, and I feel like the day will run more smoothly with her there. She handles everything with such grace. One of my favorite parts about working with Cortnee is how she interacts with the children who visit the church. She is always running after little kids to give them stickers or enthusiastically telling them the story of the "stolen treasure" wooden angels!"
– Old North educator/colleague of Cortnee's
About Cortnee
Cortnee joined the Old North Foundation's education team in May 2014. She recently graduated with her Master of Arts in Public History from Northeastern University, where she received her Bachelor of Arts in history and communications the previous year. She has been involved in museum education throughout the city, and currently works both at Old North and as an educator at the Museum of Fine Arts, Boston. Cortnee plans to continue her career in museum education and public programming and hopes to help diversify museums and cultural institutions, making them available to all.