Skip to Content
Creative Performers in Residence This Winter and Spring
In the upcoming weeks, visitors may notice some unexpected and exciting sights and sounds in the church. Old North Church & Historic Site is pleased to announce an innovative partnership between the historic site and Reciprocity Collaborative.

Reciprocity Collaborative is an interdisciplinary group of creative professionals peforming through music, dance, and the visual arts. The Collaborative was founded in 2012, and has worked with musicians, dancers, choreographers, visual artists, composers, social practice artists, cinematographers, and creative technologists. They have previously partnered with the Museum of Fine Arts Boston, the MIT Media Lab, and many more.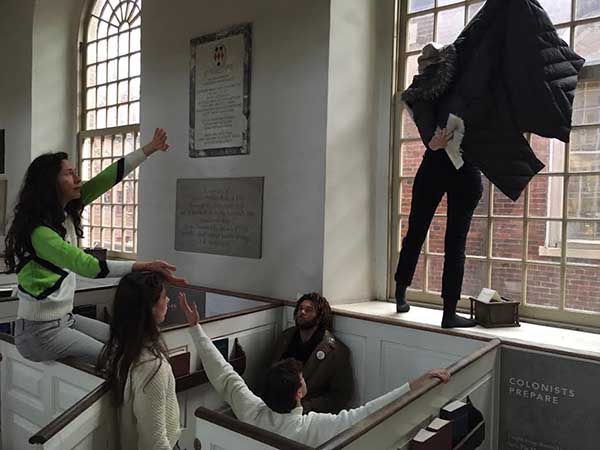 Their current project, SITE, creates site-specific performances inspired by history and informed by the way visitors move through and experience Old North Church. Reciprocity's creative residency at Old North offers a revolutionary new way of visualizing this historic site.
Reciprocity is currently in the process of hosting Open Investigations into movement and space at Old North. If you stop by the Old North Church on the last Monday of each month this winter and spring, you may expect to see dancing in the pews and aisles of the church, and hear singing or recordings of sounds intrinsic to Old North. If you see the Reciprocity artists at work during your visit to Old North, join along, ask questions, and explore Old North in this new and creative way! These Open Investigations will culminate in two final performances later this year. Check back soon for specific dates and times for these final performances.
Watch an introductory video of the partnership between Reciprocity Collaborative and Old North Church below!