Skip to Content
Eleanor Mees – August Employee of the Month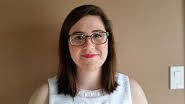 We are very excited to name Eleanor Mees, from Old North's retail staff, as the August 2015 Employee of the Month! Eleanor has been working in different roles at Old North for three years, working in the Clough House at Captain Jackson's Historic Chocolate Shop, as well as working in the Old North Gift Shop. Here is what some of her co-workers and managers have had to say about this Old North All-Star
We are very excited to name Eleanor Mees, from Old North's retail staff, as the August 2015 Employee of the Month! Eleanor has been working in different roles at Old North for three years, working in the Clough House at Captain Jackson's Historic Chocolate Shop, as well as working in the Old North Gift Shop. Here is what some of her co-workers and managers have had to say about this Old North All-Star:
"Eleanor has grown so much in her positions at Old North. Not only is she flexible about her schedule, but she will go wherever she is needed regardless."
"She is a leader among her colleagues, setting a fine example by her actions, her words, and character. She has suggested ideas that help fellow employees work more efficiently, and happier."
Eleanor is about to begin her college career, and we not only wish her the best of luck in her academic endeavors, but we especially hope that she will come back to join us next season! Next time you're at Old North, stop in any of our shops and you will be very well cared for by the August Employee of the Month, Eleanor Mees!
This seasonal award is presented to an hourly Old North Foundation employee who exemplifies the highest staff standards and sets the bar in the following criteria:
desire and ability to go above and beyond his/her job description
interaction and level of engagement with our visitors
customer service skills
general positive and upbeat attitude day in and day out
ability to be an ambassador for Old North
teamwork skills