Skip to Content
Lecture & Community Conversation | Vaccination Controversies Then & Now: Boston in 1721 & 1901 | November 13
Old North Speaker Series: LECTURE + COMMUNITY CONVERSATION
Vaccination Controversies Then and Now: Boston in 1721 and 1901
Speaker: David Jones, MD, PhD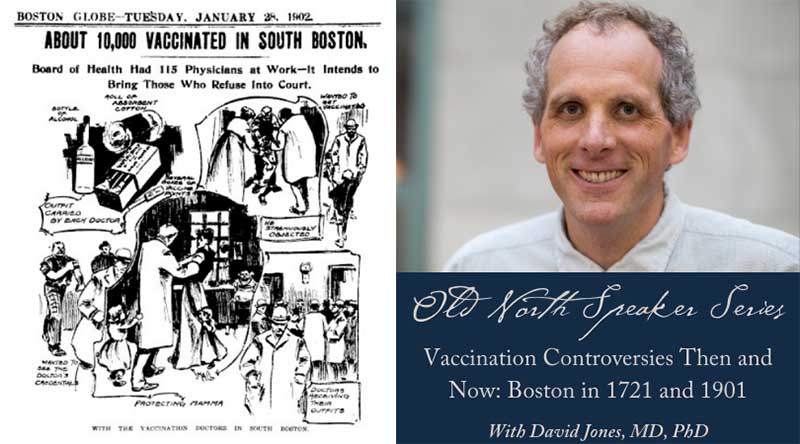 Lecture: 6:30 – 7:30 pm
Community Conversation: 7:30 – 8:30 pm (refreshments served)
Immunization is one of the oldest and most effective medical technologies now in use. However, immunization has sparked fierce controversy throughout its history and remains controversial today. This talk will explore the public protests in Boston triggered by the inoculation against smallpox in 1721 and by compulsory vaccination against smallpox in 1901. In each case, opponents of the practice justified their resistance with a mix of arguments that spanned medical theory, religious faith, public safety, and individual rights. The controversy that began in Boston in 1901 reached the Supreme Court in 1905; the resultant ruling, Jacobson v. Massachusetts, still governs public health power today. These historical vignettes provide valuable perspectives on modern vaccination controversies and suggest possible ways to move forward.
Afterward, join us for a reception and Community Conversation with the speaker and Tegan Kehoe, Education and Exhibition Specialist for the Museum of Medical History and Innovation at MGH, for an intimate, open-minded discussion of the current vaccination/anti-vaccination debate in our society.
Trained in psychiatry and history of science, David Jones is the Ackerman Professor of the Culture of Medicine at Harvard University. His research has focused on the causes and meanings of health inequalities (Rationalizing Epidemics: Meanings and Uses of American Indian Mortality since 1600) and the history of decision making in cardiac therapeutics (Broken Hearts: The Tangled History of Cardiac Care). He is currently at work on three other histories, of the evolution of coronary artery surgery, of heart disease and cardiac therapeutics in India, and of the threat of air pollution to health. His teaching at Harvard College and Harvard Medical School explores the history of medicine, medical ethics, and social medicine.