Skip to Content
My Favorite Boston Landmark: Boston Public Library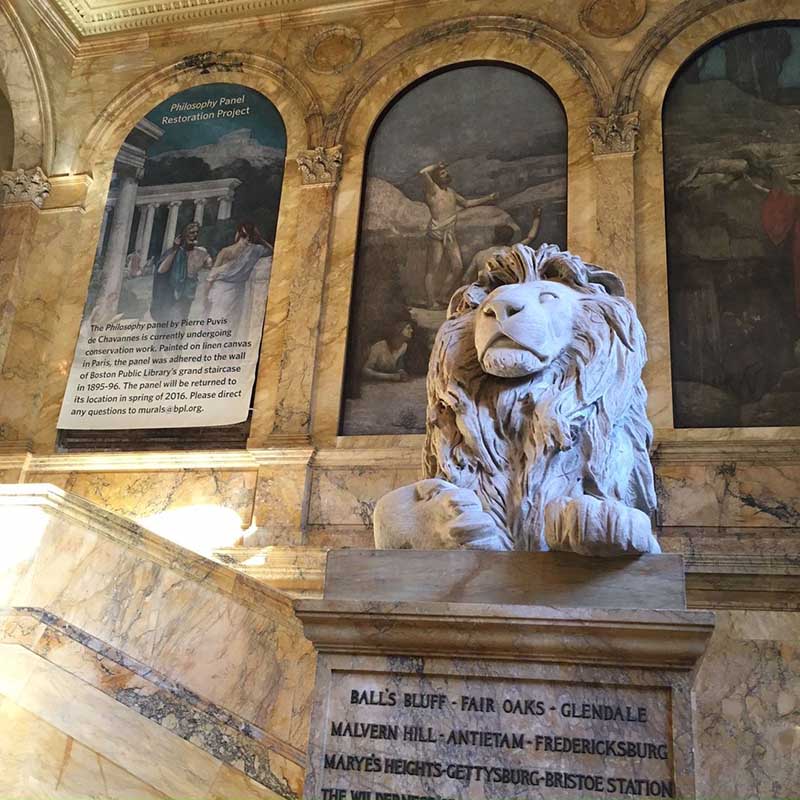 This article marks the first of a three-part series celebrating Boston's landmarks as part of our fall "Boston as landscape" programming theme. Hear from several of our educators who love our incredible city and all it has to offer.
By Chloe Lin, Old North Foundation Educator
At the heart of every great city is a great library. Sure, cities need their iconic sports stadiums, bridges, and historic sites (all of which Boston has thoroughly covered, between Fenway Park, the Longfellow and Zakim bridges, and the Old North Church itself) – but a library is an epitome of what makes cities great. There are few other buildings that play the role that a library does. The library is a truly public institution, open to visitors and locals alike, with free access to books, DVDs, academic lectures, and more. And lucky for us, Boston has one of America's grandest and most awe-inspiring libraries of them all: the Central Library in Copley Square, the crown jewel of the Boston Public Library system.
Libraries provide all sorts of services, but they are more than just that: they are also spaces where the public comes to gather, study, or contemplate, and unlike the Boston Common or Rose Kennedy Greenway, libraries are accessible and comfortable year-round. The Central Library is a key part of Boston's landscape, providing a safe haven for locals and visitors alike in Boston's bone-chilling winters and sweltering summers.
The Central Library is actually comprised of two separate buildings, each contributing to its grandeur and vitality. Facing Copley Square (and fellow Bostonian landmark, Trinity Church) is the 1895 McKim Building, with its monumental facade, flanking statues representing Art and Science, and the lettering "FREE TO ALL" just above the main entrance. It's even more breath-taking on the inside, where just past the grand entrance lie a pair of immense marble lions who guard the main staircase of the library, monuments to Massachusetts regiments that served in the Civil War. The McKim Building is where to bring visitors from out of town if you want to wow them with exquisite marble rooms, painted murals, and the ornate reading room with its green-shaded lamps and tall vaulted ceiling. There's even the Leventhal Map Center, which hosts cartographic exhibits one can get positively lost in.
But there's a whole other side to the Central Library, the Johnson Building, a newly renovated Modernist structure that houses the majority of the Central Library's circulating collection. It's one of my favorite spots in the city, with tons of cushy armchairs for reading, small desks to get work done, a cafe, and even a WGBH satellite station where one can drop in to see radio being broadcast live. There's no better place for people watching or studying than the second level, where chairs and desks face large windows onto the busy streets of Boston. And of course – the books! The stacks and stacks of books (and movies) have me always leaving with more books than I came in with.
The Bostonian landscape is littered with icons – at every corner, there's a historic site, a bridge, a statue, something or place of importance. As the Boston Public Library, the Old North Church is another building that does double duty, serving as a place of worship for locals and a national historic landmark for visitors from all over the world. And just like the Central Library, there are seats that beckon you to sit awhile, and plenty of history waiting to be discovered.
Chloe Lin was born and raised in the San Gabriel Valley in Southern California and received a BA in history from Smith College. She has worked at Old North and the Old South Meeting House since 2016, and previously worked at the Smith College Museum of Art and the Museo Stibbert. She enjoys reading, taking long walks in museum galleries, and visiting cemeteries in her spare time. You can read more of Chloe's writing here.