Skip to Content
My Favorite Boston Landmark: Fenway Park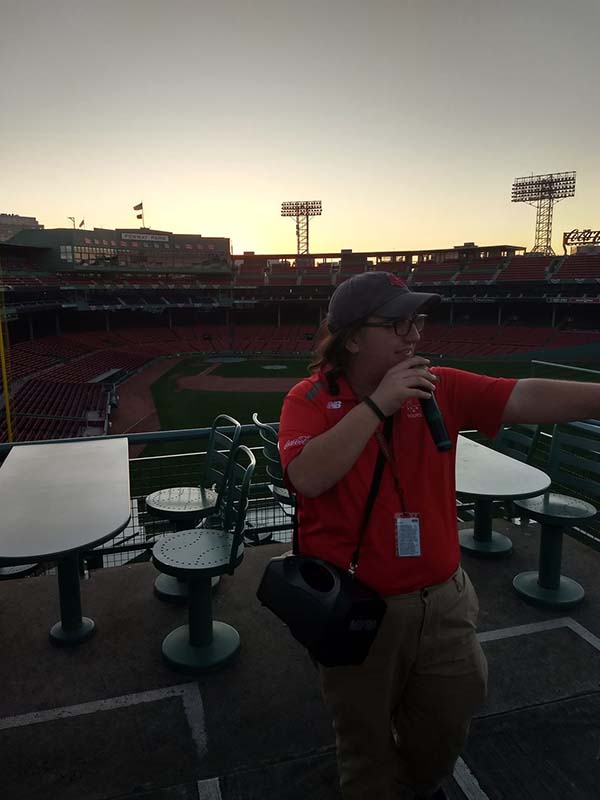 This article is the final in a three-part series celebrating Boston's landmarks as part of our fall "Boston as landscape" programming theme. Hear from several of our educators who love our incredible city and all it has to offer.
By William Stilwell, Old North Foundation educator
Over the last two years, I have had the pleasure of spending half my week leading tours of Fenway Park. Thousands of people tour the park throughout the year, even those who know next to nothing about baseball, but all hopefully leave with a sense of why this ballpark, tucked away in a city block miles from downtown, means so much to so many people. That's the goal of every historic building or site; though they don't call us educators and a ballpark is not what people think of when they think historic site, that's what we are and that's what it is. Fenway is one of only two ballparks built before 1960, and one of seven ballparks built before 1990. It was placed on the National Register of Historic Places in 2012 at the time of the park's centennial. I take great joy in showing visitors around the ballpark, and much like Old North, I often hear from visitors that they have waited their entire lives to visit Fenway Park. I cherish those interactions.
Even before I worked at Fenway I would find myself talking about it with visitors at Old North, specifically in reference to the slate piece in the narthex which depicts the first Puritans leaving Boston, Lincolnshire. I would point out to visitors that in Lincolnshire they refer to the low-lying areas around Boston as the Fens, from the Old English fen, for marsh or wetland. The first colonists brought that term to Massachusetts, calling the marshes of the old Back Bay the Fens. When that land was reclaimed at the turn of the twentieth century, the newly created neighborhood became known as the Fenway. When the ballpark was built in 1912, it took its name from the neighborhood. I love to impart to visitors these connections from our past to our present, especially when it comes to geography and Boston as landscape.
Part of the old charm of Fenway Park comes from the unique shape of the ballpark. John Updike said it best when he described Fenway as "a lyric little bandbox" that "offers, as do most Boston artifacts, a compromise between Man's Euclidean determinations and Nature's beguiling irregularities." Baseball has its roots as an urban game. It is meant to be played in city streets or within city streets, with urban geography setting the boundaries. Unlike other games where the playing surface is uniform, baseball has foul lines that start at home plate and extend out indefinitely. The length of the foul lines is then determined by what surrounds the field and the park. Fenway has five city streets that surround it, and as a result, they have the first and third shortest foul lines in Major League Baseball and a 37'2″ inch wall in left field to separate the park from Landsdowne Street behind it. Combine that with one of the deepest center fields, and that means a player can hit a three hundred-foot home run and a four hundred foot out.
Downtown, jewel-box style ballparks like Fenway Park in other cities were mostly demolished in the 1960s and 1970s and replaced with giant multi-purpose stadiums with symmetrical dimensions, surrounded by miles of parking lots. Those ugly, cookie-cutter ballparks have given way to a revival of the downtown style ballpark over the last 25 years. These new ballparks provide a decent impression of what the ballparks of old looked like, but they don't have the history. They don't have the stories. Someday they will as the years pass and they become old themselves, but at Fenway Park, you walk through the same gates that over a century of fans have walked through and see the field that every great player of American League baseball since 1912 have played on. In most cities, the old ballparks are marked by plaques in the street or in the middle of parking lots. In Boston, we are actually able to sit and watch a game in the same place as our parents, grandparents, great-grandparents, and so on. That is what makes Fenway Park so special.
Will Stilwell joined the Old North education team in April of 2015 and was named Lead Educator for the 2017 season. He is a graduate of the University of Massachusetts Amherst with a degree in history, and when he's not at Old North he can be found giving tours of Fenway Park and King's Chapel. Will is passionate about early American history, and specifically the history of Boston. You can read more of Will's writing here.