Skip to Content
Patriots Corner: The Professor Is In
We're excited to announce the newest edition to the Old North Church & Historic Site campus: Patriots Corner!
Located in the Clough House, alongside Captain Jackson's Historic Chocolate Shop, Patriots Corner is where the people and stories of Old North take center stage. Visitors are invited to discover how to make their voices heard and create change through engaging with seasonal rotating exhibits that examine what it means to be an active citizen.
Help us welcome our inaugural exhibit – Dear Professor Longfellow!
The professor is in!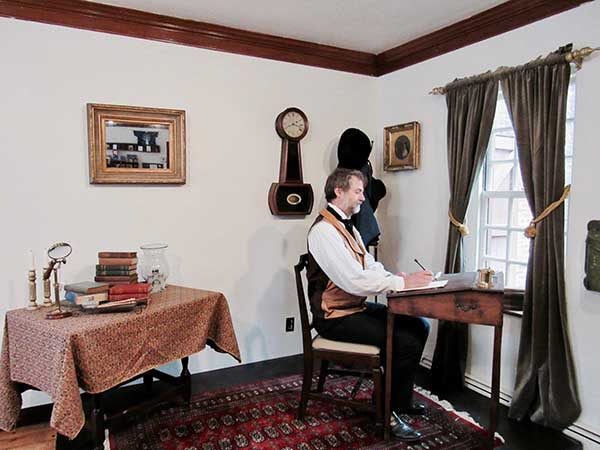 "Dear Professor Longfellow" invites visitors to join Henry Wadsworth Longfellow in his study and learn about "Paul Revere's Ride" and the power of the written word.
Read on for five reasons why you should join the professor in his study.
Five Reasons to visit "Dear Professor Longfellow"
1. Discover the impact and change the written word can have on the world.
2. Meet Henry Wadsorth Longfellow, or a member of the Longfellow family, in his study.
3. Learn the story behind "Paul Revere's Ride," and why Longfellow wrote it.
4. Participate in hands-on writing activities:
Create your own poem with magnets
Test your cursive writing
Add to a collaborative poem
Decorate and write an Old North postcard
5. Mail a letter to the professor himself… you may just hear back from him!
Share your visit with us and Professor Longfellow on Facebook, Twitter, and Instagram with #BeLikeLongfellow.
Find out more about Patriots Corner here!