Skip to Content
Recap: Rally Point Exhibit
By Erin Wederbrook Yuskaitis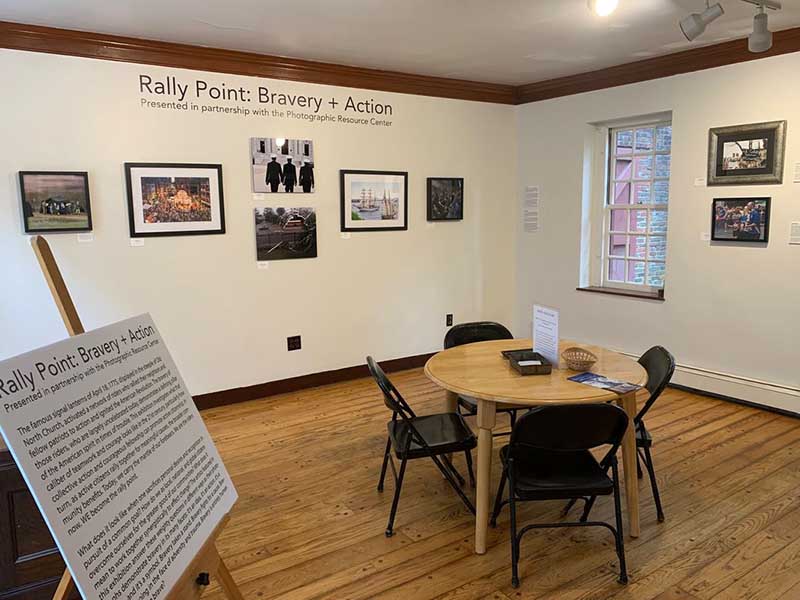 Old North's second exhibit on-site, Rally Point: Bravery + Action, featured contemporary photographs exploring the concepts of bravery, teamwork, and duty. We showcased seven artists who submitted work in response to a national call for art. Five of the artists live within the Boston metro area (two within the North End itself!), and the remaining two live in California and North Carolina. The work included in this exhibition varied from an image of two people helping an Army runner cross the finish line of the Boston marathon to cadets walking into a building at Annapolis to protestors at a gun control rally. Through their imagery, the photographers commented on immigration, patriotism, military life, the power of community movements, and individual courage.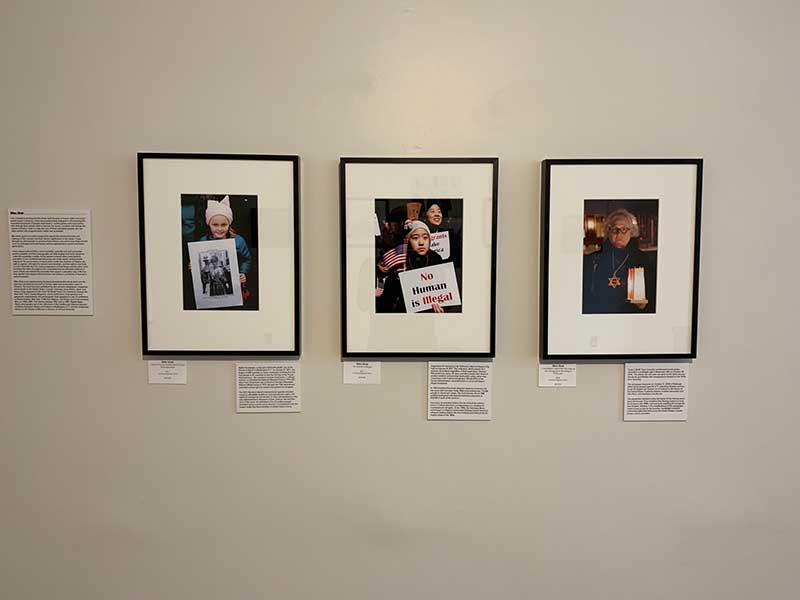 Presented in partnership with the Photographic Resource Center, Rally Point served as Old North's first foray into photography. Our visitors honestly had mixed reactions to a contemporary photo show being across the hall from Captain Jackson's Historic Chocolate. However, our goal with Patriots Corner is to encourage our visitors to see certain issues in a new light and to explore their own ideas of active citizenship further. Within the gallery, visitors had the opportunity to write down their own individual stories of courage on index cards and place them in the larger collection. Together, these stories weave together to reveal action and bravery on granular and large-scale levels. (Highlights from these stories will be shared in a subsequent blog post.)
Featured Artists
Todd Bradley
Matt Conti
Maggie Loh
Leah Ramuglia
Austin Soares
Ellen Shub
Steven White
If you weren't able to visit Rally Point in person, we hope you enjoy these snapshots. Be sure to visit our newest exhibition, Still Standing: 300 Years of the Clough House at Old North before it ends December 31.
Exhibit Introduction in Patriots Corner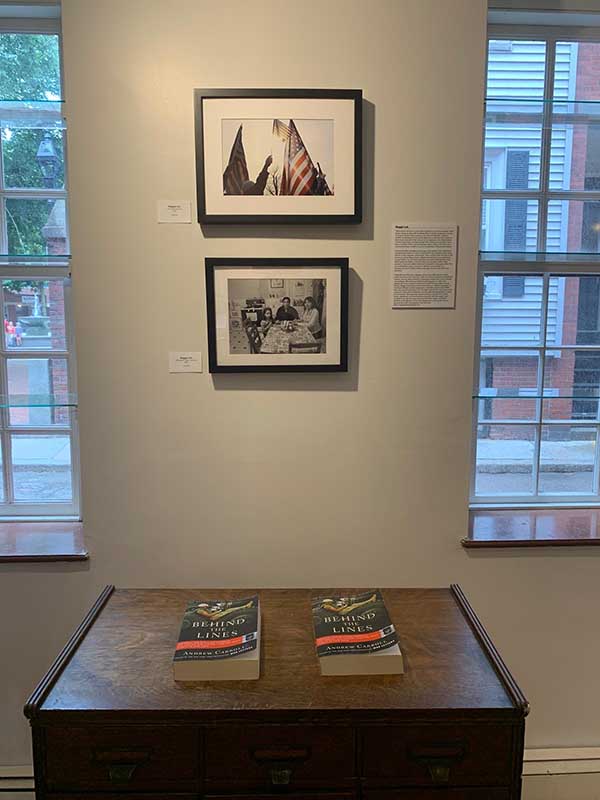 The famous signal lanterns of April 18, 1775, displayed in the steeple of Old North Church, activated a network of riders who rallied their neighbors and fellow patriots to action and ignited the American Revolution. The bravery of those riders, who are largely uncelebrated today, demonstrates a defining pillar of the American spirit in times of trouble. This exhibition investigates what that caliber of teamwork and courage looks like in the 21stcentury, particularly how collective action and courageous fellowship can promote active citizenship. In turn, as active citizens rally together for meaningful causes, the broader community benefits. Today, we carry the mantle of our forebears. We are the riders now. WE become the rally point.
What does it look like when one sacrifices personal desires and recognition in pursuit of a common goal? How do we as local, national, and global citizens overcome ourselves for the greater good of our communities? What does it mean to work together synergistically to effect change? The artists featured in this exhibition answer these weighty questions in different ways as their photographs demonstrate bravery in its many facets: it's an idea, it's an action, it's a feeling, and it's a symbol. Bravery takes a stand. Bravery fights for a cause. Bravery keeps going in the face of adversity and trauma. Bravery is entirely human. How will you be brave?