Skip to Content
Seeking Curriculum Development Consultant
Call for Proposals
Curriculum writing project: Cacao & Colonial Chocolate – A Multithematic Exploration of Trade, Production and Slavery 
Project description:  
As part of its commitment to creating digital resources for teachers and students, Old North Church & Historic Site will be launching an enhanced, online version of its popular colonial chocolate program.  Video, visual and written materials will detail the production of colonial drinking chocolate and explore what cacao and chocolate production can teach us about cross-cultural influences, colonial trade, and labor.  The study of colonial chocolate also provides an entry point to understanding the many ways that slavery is part of the story of Old North's past and, more broadly, of Boston's.  Furthermore, the study of the colonial chocolate trade can serve as a case study in active citizenship by challenging students to consider how their economic choices today can support or subvert efforts to build a more just world.
 A critical aspect of this project will be the creation of a flexible, high-school level history unit that explores these themes and is integrated into the Massachusetts Frameworks.  The unit will provide teachers with all the tools they need for a 3 to 5 class unit, including instructional materials, lessons, essential questions, and assessments.  
Scope of project:
The successful applicant will research and write the curriculum described above and deliver it as a finished product ready for distribution by September 1, 2021.  The project is expected to require between 40 and 60 hours of work in total, which will include three check-in and feedback meetings with the Director of Education at Old North.  Hours will need to be tracked using appropriate software.
Qualifications:
The ideal candidate will be a veteran high-school level US history teacher with a particular interest in the colonial era and with experience writing curriculum.  The candidate will have experience working with and teaching students of diverse backgrounds, interests, and abilities.  Old North Church & Historic Site is committed to equal and fair hiring practices and enthusiastically welcomes proposals from all candidates.
Application process:
Please submit your resume, cover letter, and a sample of similar work by June 15 to cmatthews@oldnorth.com .
Rate of pay: $50 per hour.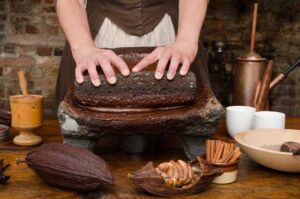 About Old North Church & Historic Site:  
The enduring fame of the Old North Church began on the evening of April 18, 1775, when church sexton Robert Newman and vestryman Capt. John Pulling, Jr. climbed the steeple and held high two lanterns as a signal that the British were marching to Lexington and Concord "by sea" across the Charles River, and Paul Revere embarked on his journey. This fateful event ignited the American Revolution.
In 1860, with our nation on the brink of the Civil War, Henry Wadsworth Longfellow penned "Paul Revere's Ride" to appeal to Northern readers' patriotism. He aimed to rally readers behind the abolitionist cause with the tale of a hero who bravely stepped forward to change the course of history. Once again, a nation was inspired to action.
In 2020, the lessons and legacy of Old North Church are more relevant than ever. We aim to inspire our visitors – both on-site and virtual – to consider the roles patriotism, sacrifice, hope, and active citizenship play in their lives and communities as we continue to build a more just and equitable world.
Established in 1991, The Old North Foundation of Boston is a 501(c)(3) nonprofit organization that is responsible for historic site operations and interpretative, educational, and preservation programs at the iconic Old North Church and Historic Site. A secular organization that is independent of Christ Church in the City of Boston, Old North Church welcomes approximately 150,000 visitors annually while overseeing the use and preservation of an enduring symbol of American independence. The Foundation serves a wide audience by creating meaningful experiences through educational outreach, site-specific programming, and historical analysis. Old North Church works collaboratively with the City of Boston, the U.S National Park Service, the Freedom Trail Foundation, and other non-profits to foster educational and interpretive programs for students and visitors while engaging the public in Old North Church's history and its role in inspiring liberty and freedom. For more information, visit:  www.oldnorth.com.