Skip to Content
Sound off – October 2016 Responses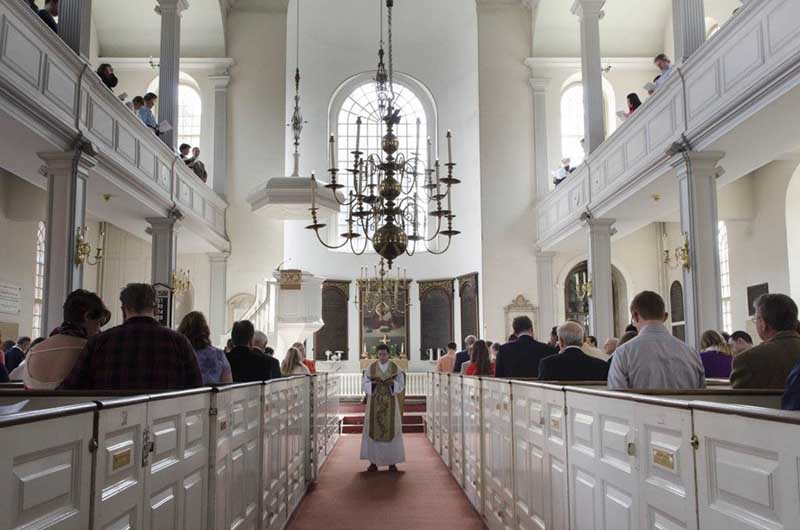 With visitors from all over the world, we meet people of many diverse faith backgrounds. That's why this month's Sounding Board question asked what some differences are between Old North Church and your home house of worship. The responses were overwhelming, spanning across the country (from New York to Washington, Illinois to Florida and Texas, California to Massachusetts, Idaho to Oklahoma and Virginia, and quite a few from Hawaii!) to across the world (Ireland, Switzerland, and England, to name a few more); some of our visitors traveled thousands of miles from their homes to visit Old North and we appreciate their shared comments!
A few folks took the opportunity to make a lighthearted jab ("OURS has heat!!") or perhaps found something they wish their church had ("Ours needs box pews to keep kids inside!"). Others were pleased to find connections, either in design, religion, or name (such as those of Christ Church in Oak Brook, Illinois and Felixstowe, UK). But whether you have stained glass or plain windows, chairs or pews, are bigger or smaller than the Old North, it's clear most people who responded have a strong attachment to their places of worship. Here's a few of our favorite responses:
"This church is one building, ours is a church campus with different buildings for different age groups. Both honor God." <3 Huntington Beach, CA
"Our church has a band and stadium seating." First Baptist, Orlando, FL
"[We have a] grand piano vs. [the Old North's] pipe organ."
"Our's (sic) is in a hotel."
"We rely on an electronic P.A. system, our pews have no doors, we have no balcony."
"Both red brick, white steeple; our church is smaller!" II Cor. 4:18/Gorham, NY J
"My church is historic as well! Founded by the "Texas Wens" and the bell still is rung by hand."
"Our church is a cathedral."
"We have an isle (sic) on the left and right side with pews in the middle." Rockland, ID
"History of worshippers here – we are only 11 years old. Ours looks more like a theater L
"Mine has stations of the cross."
"Old North has 'box seats'- my church has rows of office chairs." Trinity Pres., Charlottesville, VA
"My church has statues of baby Jesus."
"Our church was first built in the 11th century. It is made of stone with many old gravestones. But we all worship the same Lord."
"My church is non-traditional and has separate places for children and adults to worship."
"We have moveable chairs & can reconfigure the altar space; we also have light colored wood, and the roof is rounded." Christ Church of the Resurrection, Pleasant Hill, CA
We're retiring the Sounding Board until the spring, so thanks to all of you who responded to our questions. Please send us your ideas for next year!