Skip to Content
The Official Old North Holiday Gift Guide
by Chloe Lin
The holiday season is in full swing here in Boston, and the streets are bedecked in lights, wreaths have appeared upon front doors, Christmas music can be heard from every storefront and car radio, and… you still haven't bought presents for your aunts and uncles and cousins and nieces and nephews, have you? Well, have no fear, the Old North Gift Shop has you covered! Old North carries a variety of items for all ages to enjoy, and we've crafted a little holiday gift shop guide to help all of you who still have some shopping to do! So without further ado, here are our top ten gifts for your friends and loved ones.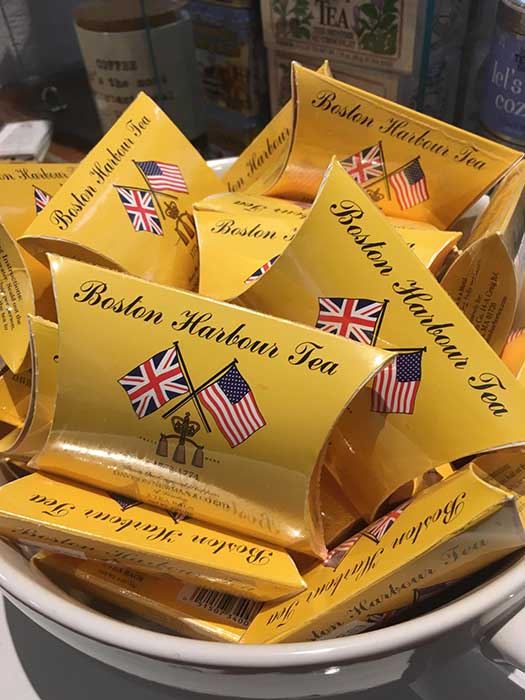 First up, we have our ever-popular Boston Harbor Tea! Davison Newman & Company Ltd was founded back in 1650, and it was this very company whose tea was ceremoniously dumped into Boston Harbor in 1773. As tempting as it might be to chuck this tea into the harbor, this hearty blend of Darjeeling and Ceylon tea tastes better when it's not made with seawater!
Price: Starting at $2.89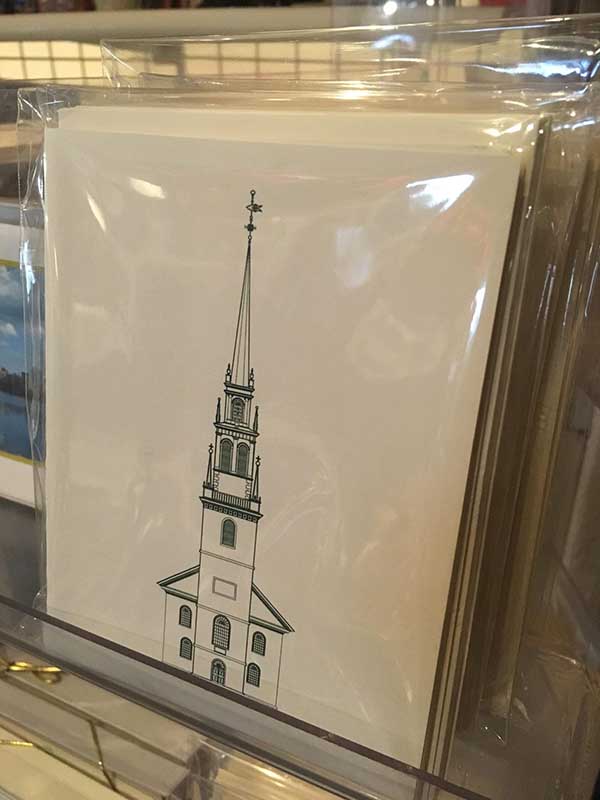 2) Old North Church Notecards
Next up, a six-pack of multi-colored Old North Church greeting cards! You can purchase a pack of notecards as a gift, or send them individually to your friends and loved ones as season's greetings, well-wishes, or other heartfelt salutations.
Price: $6.95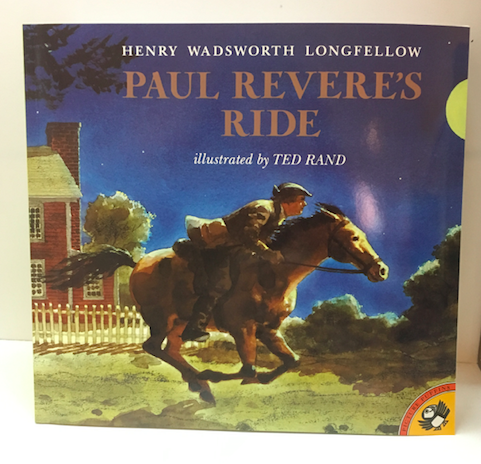 A picture book with the text of Henry Wadsworth Longfellow's "Paul Revere's Ride" is a must-have for the children and young families in your life. This beautifully illustrated edition is a great way to get kids interested in history and reading! And hey, even patriotic adults might appreciate finding this beneath their Christmas tree.
Price: $6.99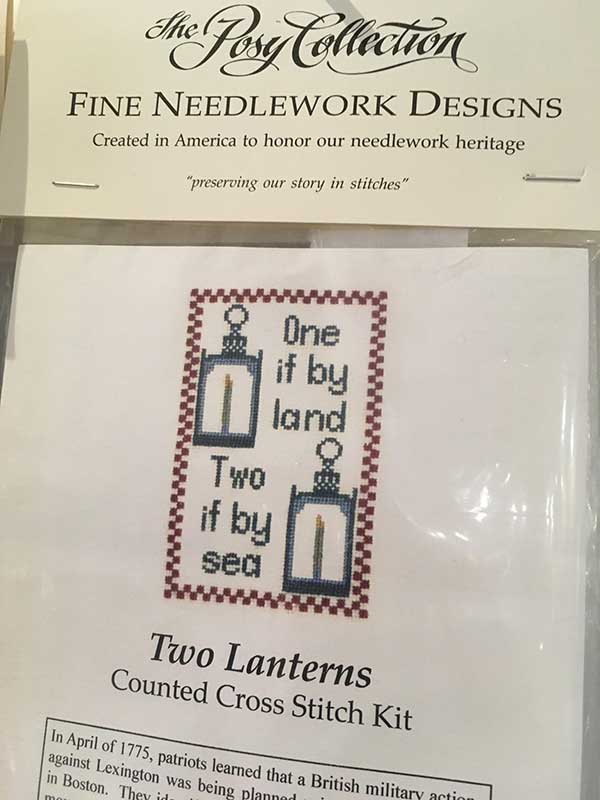 4) Two Lanterns Counted Cross Stitch Kit
Know somebody who likes creating art? Our Two Lanterns Counted Cross Stitch Kit is a great gift for any crafters out there! This kit from the Posy Collection comes with fabric, thread, a needle, and instructions for re-creating the two lanterns that hung in our steeple that fateful night in 1775. After you're done having fun recreating the pattern, the finished work can be framed and displayed.
Price: $14.95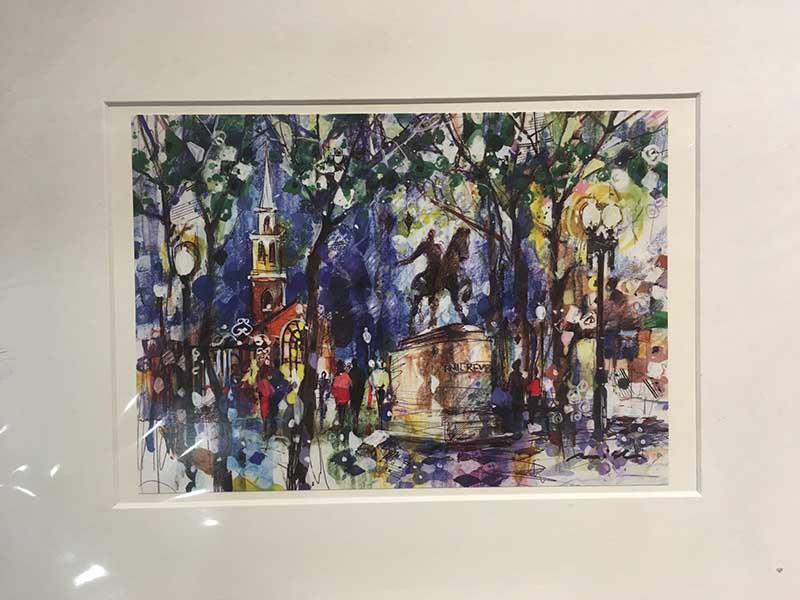 Have friends who appreciate looking at art much more than they do making it? Misha Lenn is a local watercolor artist with a very particular style, and his dynamic print of the Paul Revere statue and the steeple of the Old North Church goes a long way to liven any room it's hung in.
Price: $19.95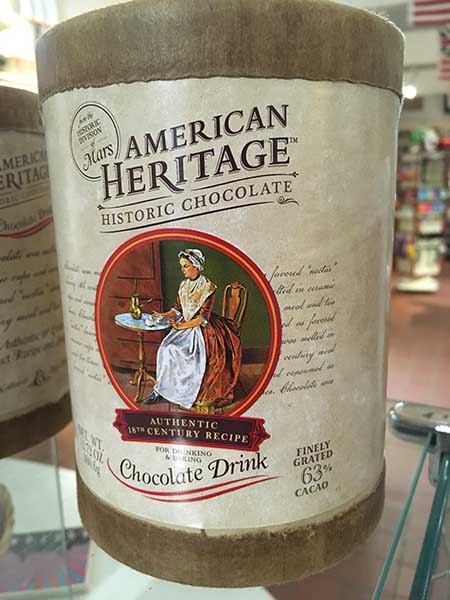 Nothing says it's the holidays quite like some hot chocolate on a chilly winter day – and the colonial version of hot chocolate is (surprisingly) even better than instant hot chocolate of the 21st century. With a canister of American Heritage Historic Chocolate mix, some water, and a bit of stirring, you can whip up a rich and flavorful colonial chocolate drink just like the Bostonians of the 18th century. Hint: try adding milk (or even rum or port) to fancy it up!
Price: $21.95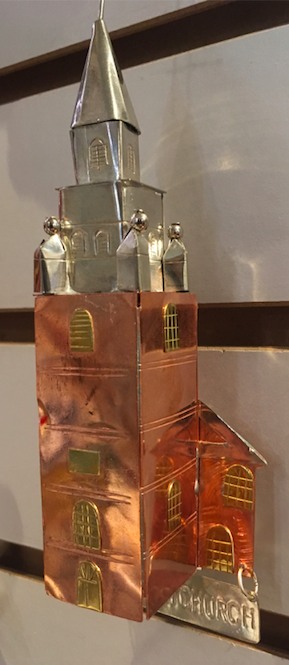 7) Handcrafted Old North Church Ornament
With lovingly crafted details, this handmade, fair trade Old North Church ornament from Pilgrim Imports Inc is a feel-good way to support both the Old North Foundation and provide a living wage to a village of metal craft workers in Thailand. This bright ornament will stand out wherever you hang it!
Price: $23.95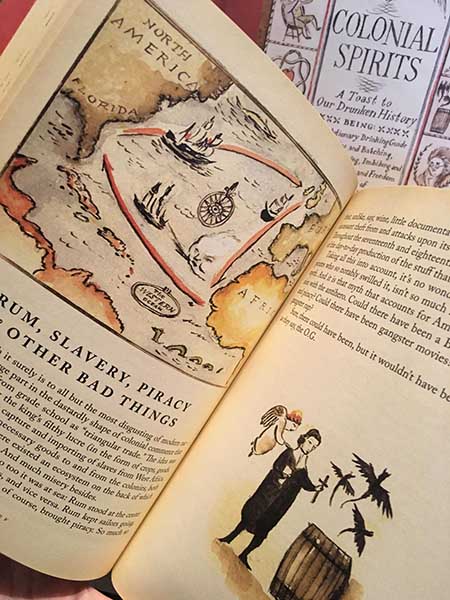 8) "Colonial Spirits: A Toast to Our Drunken History"
"Colonial Spirits: A Toast to Our Drunken History, Being A Revolutionary Drinking Guide to Brewing and Batching, Mixing and Serving, Imbibing and Jibing, Fighting and Freedom in the Ruins of the Ancient Civilization Known as America" is a title that almost sells itself. This lavishly illustrated book is studded with fun historical facts about colonial American alcohol, recipes, and even guidance on homebrewing! This is a great gift for anyone interested in recreating the spirit of colonial Boston!
Price: $24.95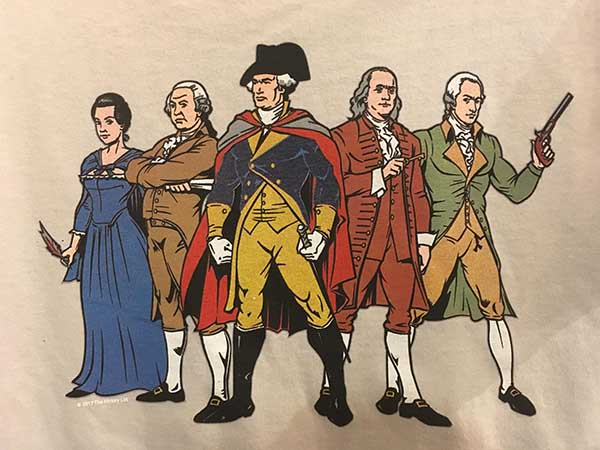 The "Revolutionary Superheroes" T-shirt is a good fit for anyone who loves early American history! This limited-edition T-shirt from The History List features Abigail Adams, John Adams, George Washington, Benjamin Franklin, and Alexander Hamilton, and is super soft, to boot.
Price: $27.95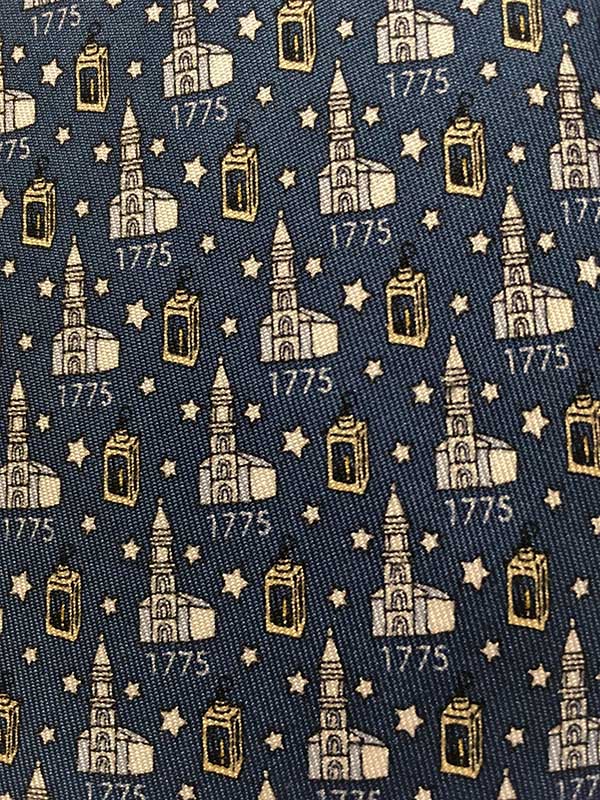 These luxurious Vineyard Vine ties are made especially for the Old North Church Gift Shop. They feature a repeating print of our steeple, lanterns, stars, and the year the Revolutionary War began in 1775. They come in blue, pink, and red, and are a wonderful way for your loved one to subtly display their love of history.
Price: $79.95
Looking for more? Stop by the Old North Church gift shop in person (or online) to continue your holiday shopping! The Gift Shop is open 7 days a week, 10 am to 4 pm.
And don't forget to include us in your holiday shopping. Make a gift to Old North here!