Skip to Content
When in Boston: An Old North Guide To Some of Our Favorite Spots in the City
As one of America's oldest cities and a still-bustling modern metropolis, Boston has a little something for every visitor. With so many places to visit, it can be hard to choose where to go next, or what off-the-beaten path area to explore!
Don't worry – to help you plan, we've rustled up a few of our staff's favorite places to visit in Boston. Read on to find out what spots should be at the top of your list!
Arnold Arboretum
Jamaica Plain
Photo courtesy of Taiward
One of my favorite places in Boston is the Arnold Arboretum at the southern end of the orange line. It's a great place to get away from the hustle and bustle of the city without having to drive a couple of hours away. They have walking trails that are open to the public year-round, or you can go on a guided tour to learn a little more about the flora planted in the Arboretum. They also have a full calendar of events and workshops where you can learn what they have growing in the hothouse or go on a birding tour. Whether you've got two green thumbs and are wild about plants or you're just looking for a quiet afternoon walk, the Arnold Arboretum is a great place to check out.
– Taiward, Clough House Educator

Deer Island
Boston Harbor Islands
Photo courtesy of Rob

One of my favorite places to visit when I have downtime is Deer Island. Tucked away, south of the small town of Winthrop, Deer Island is a hidden gem. As a part of the Boston Harbor Islands National Recreation Area, the island provides two walking trails that explore the island's interior and exterior. The Hillside Trail will take you up and over the island's hills, while the Harborside Trail goes around Deer Island's near the 2.5-mile perimeter and provides some of the best views of Boston's skyline and Harbor Islands. Among hiking, other popular activities include jogging, picnicking, fishing, and plane-spotting. While Deer Island is a little bit out of the way, this destination should be a top priority for anybody visiting the city.
– Rob, Church Educator

Swan Boats
Boston Public Garden
Photo courtesy of Linda
I love Boston! I grew up in Somerville and spent a lot of time in Boston and still do. A city so rich with history, historic sites, parks, gardens, theaters, and museums it's hard to decide on a favorite place, however, my fondest memory of Boston will always be riding the Swan Boats. The history of the swan boats dates back to the 1870s when rowboats and the swan boats were operating in the Boston Public Lagoon.
My mom, sisters, and I would take the train into Boston each summer to spend the day in the Boston Public Garden, have a picnic, chase the pigeons, go to the duck pond and feed the ducks and ride the peddle powered Swan Boats. When I was 7 or 8 years of age, I was intrigued that you could ride a bicycle across water, I remember my dad telling me as soon as I learned how to ride my two-wheel bike, I too could work peddling the Swan Boats! Needless to say, life took me in other directions and I never worked for the Swan Boats, but I did take my children to the Boston Public Garden and I still take a turn around the duck pond each summer on the Swan Boat. The Swan Boats open for the season this month and just once I'd love to peddle one of the boats around the lagoon!
– Linda, Manager of Living History Programming
Brattle Book Shop
Downtown Crossing
"Brattle Book Shop" by Chris Ball is licensed under CC by 2.0
My favorite off-the-beaten-path space in Boston is the Brattle Book Shop, near the Theater District downtown. They've been around since 1825! They have a massive outdoor selection of used books that are all under $5 – almost every time I stop to browse their outdoor carts, I end up with an extra book or two that I couldn't pass up. And the inside of their store is amazing as well. They have two floors of used books and one floor of rare and antique books. The entire store is carefully curated, so you won't find twenty copies of Fifty Shades of Gray waiting around. I go in every time I'm in that part of town. You can't miss them – they have a giant number two pencil above their doorway and tons of books, indoors and out!
– Chloe, Marketing & Communications Assistant
Rose Kennedy Greenway
The North End through Chinatown
"Rose Kennedy Greenway, Boston" by Kendra Clineff is licensed under CC by 2.0
The Greenway is one of my favorite places in Boston because I love the way that it provides a scenic and peaceful path from the North End of the city, to the South End. Although you are surrounded by skyscrapers, it is easy to get lost among the flowers and water fountains. Throughout the spring, summer, and fall the various sections of the Greenway hold a wide variety of events including food truck festivals, beer tastings, open-air yoga classes, and more. Midway through the path, you can find a carousel to ride on. There are water fountains throughout that kids can play in. The Greenway houses reading areas, picnic space, and gardens that allow visitors to escape from the loud city atmosphere while still being in the city. I love the Greenway and I am always recommending it to tourists looking for a nice way to spend their afternoon.
– Kyra, Gift Shop Manager
Longfellow Bridge
Beacon Hill (Boston) to Kendall Square (Cambridge)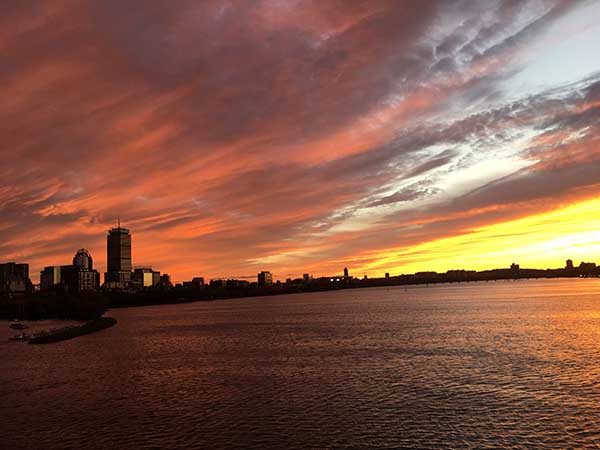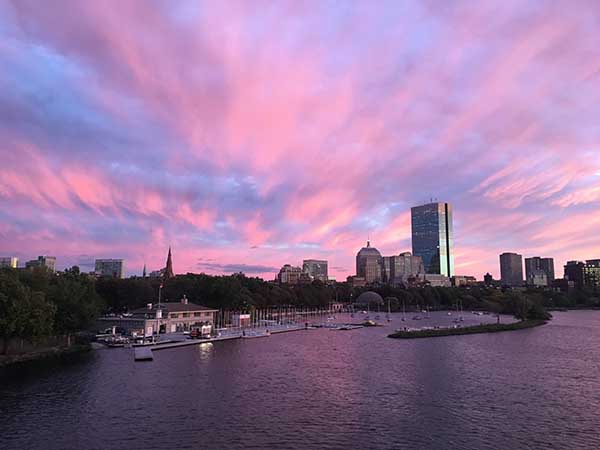 Why is a bridge my favorite spot in Boston? Named after the famous poet, Henry Wadsworth Longfellow, because of a poem he wrote (aptly called The Bridge) about a bridge that was there previously, Longfellow Bridge is an iconic symbol of Boston. Affectionately known by many locals as "the salt and pepper" bridge, this structure connects Boston and Cambridge and gives those walking, biking, driving, or riding the T great views of the Charles River and the Boston Skyline. Longfellow Bridge brings a sense of life – it connects people as they move from one city to another and allows its visitors breathtaking views of sailboats, crew rowing, sunsets, and sunrises. No matter what the season, the view is always spectacular and reminds me of a painted picture. When visiting, don't be surprised to find many people, yourself included, stopping to take photos.
-Leslie, Marketing & Communications Manager
Planning to visit one of these Boston sights, or already been? Have a recommendation of your own? Let us know in the comments below or on Instagram, Facebook, and Twitter.