Skip to Content
Historic Chocolate Program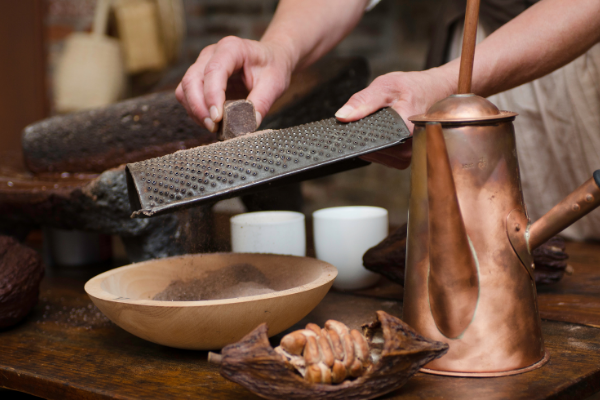 *Please note that Old North's historic chocolate program is currently on pause. 
While our in-person program may be on hiatus right now, we are busy at work creating new ways for you to learn more about cacao and historic chocolate! For teachers and home-schooling parents, we are developing both a high school and a 5th grade curriculum that use cacao and chocolate as the lens through which students learn about colonial trade, labor, and the business of chocolate in 18th-century Boston. Each curriculum will be an all-inclusive digital experience featuring multiple lessons, complete with resources and assessments.
We will also be adding a new section to our website which will feature a video version of our chocolate demonstration, resource materials for at-home learning, and the story of how Old North's connection to chocolate revealed early congregation entanglements in the trade of and profit from enslaved human beings.
Our acclaimed historic chocolate program offers visitors the opportunity to touch, taste, smell, and experience 18th-century chocolate as it was enjoyed by some of Boston's most famous Revolutionary-era patriots. The program includes daily hands-on chocolate-making demonstrations, shares historical information about chocolate merchants who were associated with Old North, and offers an interactive educational experience about the triangle trade, how it supported the economy of colonial Boston, and its growth into the city we know today. The program is located in the historic Clough House on the Old North Church & Historic Site campus.
Purchase Tickets To Visit Old North Church & Historic Site