Skip to Content
A Benefit for the Old North Church & Historic Site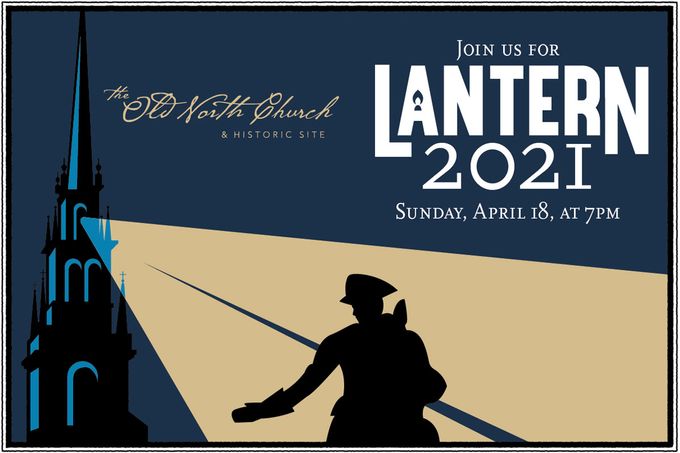 Lantern2021, a virtual family-friendly event, will celebrate the heroic actions of April 18, 1775, and Old North's legacy of active citizenship. Join us for an uplifting evening featuring original music by Ryan Ahlwardt (formerly of Straight No Chaser), a spirited performance of the poem "Paul Revere's Ride" by Rick Taylor (as Henry Wadsworth Longfellow), and the inspiring words of honoree Dave McGillivray, long-time Race Director for the Boston Marathon. Proceeds from Lantern2021 will support the Old North Foundation's virtual and on-site programs, which aim to inspire children and adults alike to consider the ways they can build a more just and equitable world.
Sponsorships begin at $500. Contact click here or contact Nikki Stewart, Executive Director, at nstewart@oldnorth.com for details.
Tickets sold via EventBrite. You will receive a Zoom link prior to the event with a unique link for your household/family. Upgraded tickets ($100) include special gifts from the Old North Gift Shop.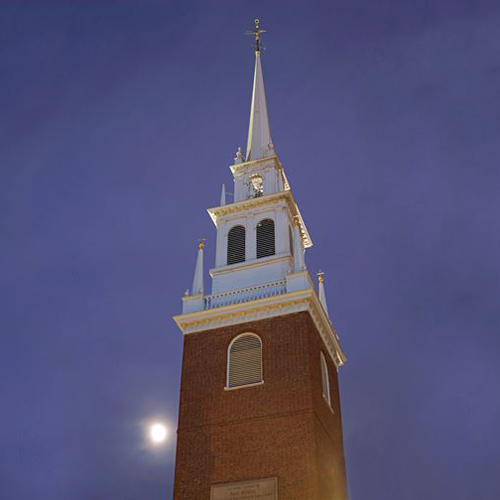 About Our Third Lantern Honoree
Dave McGillivray, Founder, and President of DMSE Sports is best known as race director of the B.A.A. Boston Marathon and has directed many of the countries most prestigious races. Recently, his unique set of skills and experience led to his appointment managing logistics for the mass vaccination sites at Fenway Park and Gillette Stadium. Dave is an athlete, businessman, and philanthropist who embodies Old North's core value of active citizenship. At Lantern2021, Dave will share his personal journey and inspire us to "hang a lantern" in our communities.
Additional Festivities
The Congregation of Old North Church, the oldest Episcopal Church parish in Boston, will hold a special service of Choral Matins on the morning of April 18th, led by Vicar-in-Charge, the Rev. Dr. Matthew Cadwell and Bishop Alan M. Gates. The program will feature our historic pipe organ, guest musicians, and the Old North Chamber Choir, under the direction of Dr. Libor Dudas. The service will be held virtually at 11 AM.
The Annual Lighting of the Lanterns
The annual lighting of the lanterns will take place shortly after the conclusion of Lantern2021. This event will stream live on our Facebook page. Be sure to like us on Facebook for more details as they are announced.
Sponsors
Bronze
1st Michigan Colonial Fife and Drum Corps
Ancient and Honorable Artillery Company
The Rev. Stephen and Lisa Ayres
Nancy Csaplar
The Cohen Family
Episcopal Diocese of Massachusetts
Lisa Massena and Massena Associates
The Matthews Family
David McAvoy
Jillian and Andrew McGrath
Ralph Rotman
Anne Harris Sheetz
The Strachan Group at Morgan Stanley
Patron
Ivor Cary Armistead III
Karen Bressler and Scott Epstein
The Rev. Dr. Matthew Cadwell & Jeffrey Seamans
Denise Desautels
The Eddy Family
The Elkus Family
David and Sydney Feldman
Bill Fowler
Bill Galatis
David Godkin and Pamela Haran
George and Lill Hallberg
Brian McNally, First Republic Bank
Mary Beth Pearlberg
Michael Raposa, Monument Financial
Maddy Rodriguez & Francisco Morales
Lucy Steinert
Doreen and Peter Vigue
Host Committee
Anne Bailey Berman
The Bigelow Family
Eliot Cohen
Nancy Csaplar
Bill Fowler
Hank and Patricia Kucheman
Mary Beth Pearlberg
Kater & Ed Pendergast
Maddy Rodriguez & Francisco Morales
Allen L. Snyder
Nikki Stewart & Jacob Sconyers
Purchase Tickets To Visit Old North Church & Historic Site