Skip to Content
Bittersweet Associations: Old North, Cacao Smuggling, and Slave Trading in 18th C. America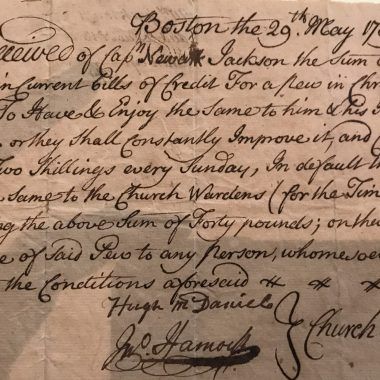 By Jared Ross Hardesty, PhD
On the night of May 31, 1743, terror struck the Rising Sun. As the ship tracked eastward off the coast of Suriname, three sailors snuck into the ship's cabin and attacked the people sleeping inside. Blood curdling screams echoed out of the cabin, across the ship, and onto the deck above.
Two of the victims, captain Newark Jackson and supercargo, or merchant, George Ledain were grievously wounded, but nevertheless able to make it out of the cabin and up onto the ship's deck. There, the mutineers found the two men and finished their bloody task, taking an axe to Ledain and hurling a still-alive Jackson into the sea.
The crew that survived were eventually able to alert Dutch authorities and have the mutineers arrested, who were then put on trial and executed. The documents created by that trial open a world of smuggling and slave trading to modern observers. Jackson and Ledain were merchants from Boston, Massachusetts and part of a sophisticated smuggling ring that trafficked enslaved Africans and produce from New England—salt fish, livestock, timber, and naval stores—to the Dutch colony of Suriname in exchange for cacao, the raw, unprocessed form of chocolate. Had the mutiny not occurred, the voyage would have been another routine, albeit illegal trading venture that would otherwise be lost to history.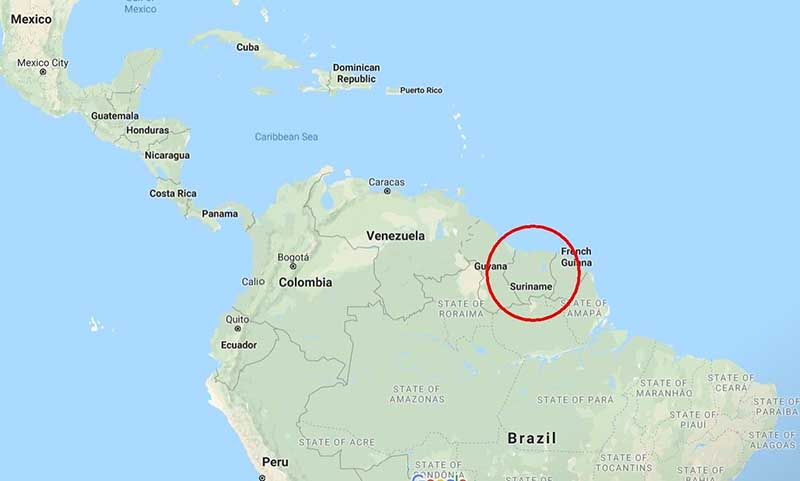 In the eighteenth century, it was illegal for British subjects such as Ledain and Jackson to trade outside the British Empire. Thus, doing so required subterfuge and careful planning. As it turns out, Jackson and Ledain were only two players in the smuggling ring. Its organizer was Gedney Clarke, a Massachusetts-born merchant who resided in the British Caribbean colony of Barbados. Clarke, working with Ledain and backed by investors in London, dispatched ships and captains, most of them from Boston, to purchase cacao in Suriname. The merchant would then illegally import the cacao into Barbados and reexport it to London. In doing so, Clarke effectively laundered the product. By sending it through Barbados, he transformed it from an illegal foreign product into a legal one allegedly grown in the British Empire. The final player in the smuggling ring was Edward Tothill. Although born in New York, Tothill moved to Boston as a young man. He later relocated to Suriname where he served as an agent for the many New England merchants and ship captains doing business there. He secured the cacao for the smuggling ring to purchase.
For this illegal trade system to function properly, the various players had to trust one another. Yet, trust was in short supply in a trade network separated by geography and potential conflicts of interest, whether between Clarke (and his London financiers) and Tothill or between individual ship captains and their employers. A way to generate that trust, however, could be through shared norms, customs, and institutions. Shared religion and religious practice, especially, could provide the common ground necessary for sustaining illicit trade. The Old North Church became that space for organizing the cacao smuggling ring.
Founded in 1723, Old North was Boston's second Anglican Church and it attracted ambitious merchants and ship captains like Newark Jackson and George Ledain. The older Anglican Church, King's Chapel, had long been dominated by the wealthiest of Boston's merchants, making it hard for younger merchants to signal their success to fellow wealthy congregants. Instead, this younger generation flocked to Old North. There, they shared in various practices, hearing sermons from the church's first rector, Timothy Cutler, and becoming actively involved in church life.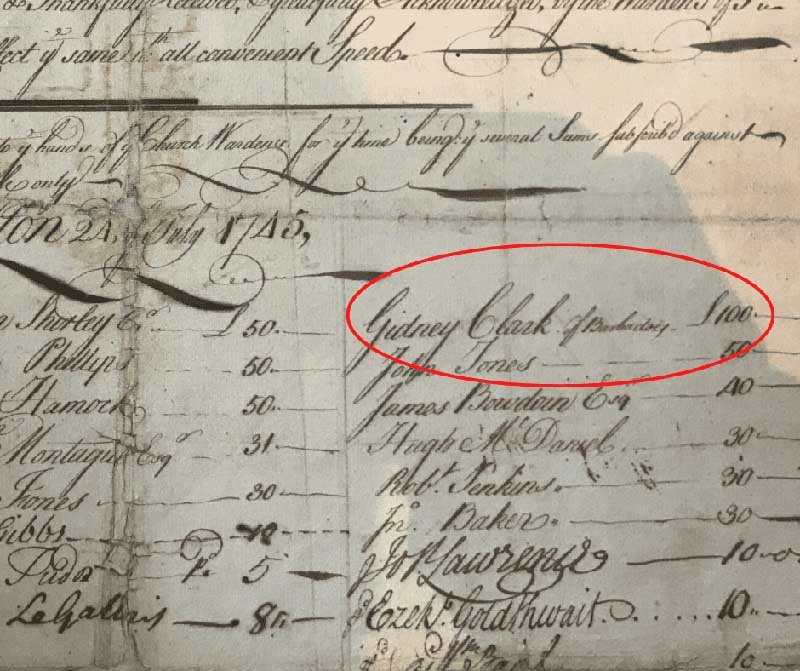 Newark Jackson and George Ledain were pew owners at Old North, but all the men involved in the smuggling ring associated with Old North even from afar. William Wingfield, another captain hired by Ledain and Clarke, was a member of Old North. So was Edward Tothill while he lived in Boston and he worshipped there during a visit in 1740. Jackson, Ledain, and Tothill all donated money for the construction of Old North's steeple. Ledain was especially active in church life and helped secure a 100-pound donation from Gedney Clarke to purchase the church's peal of bells. Clarke followed through the donation, tying with Peter Faneuil, Boston's wealthiest man and famed philanthropist, for the largest single gift.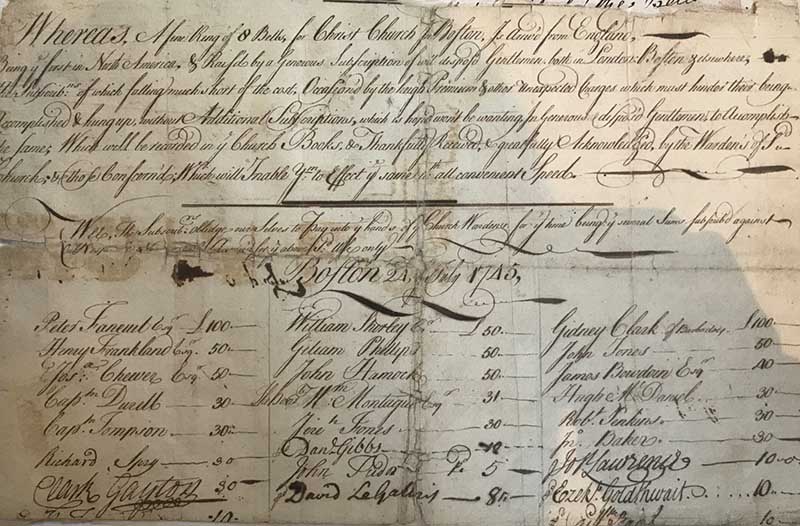 If we look closer at the association of the captain of the Rising Sun, Newark Jackson, and his connection with Old North, we can further see the significance of the church to the smuggling ring. Jackson joined the congregation shortly after moving to Boston in the mid-1730s and became increasingly more invested until the time of his murder. His name peppers church records. And, as the owner of pew "No. 13," he was located at the front of the church near the pulpit.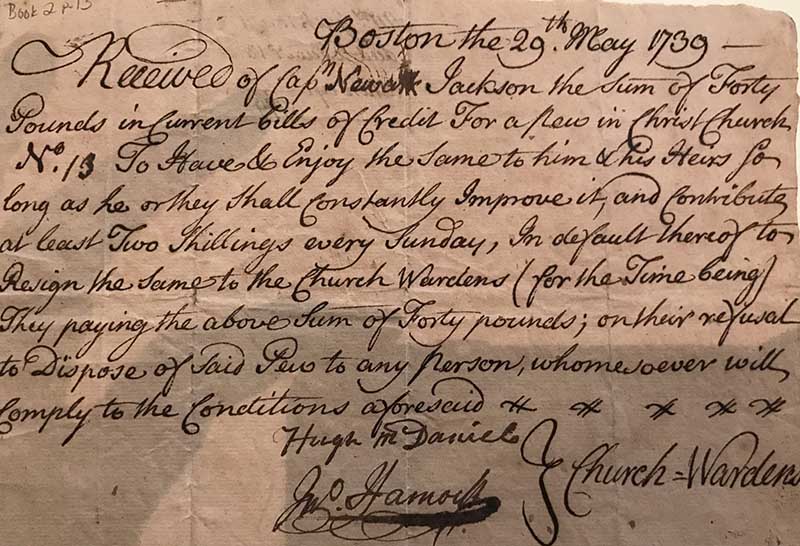 Moreover, Jackson's connection to Old North is highly suggestive of his attitude and outlook on life. Not to downplay Jackson's religiosity, but he probably affiliated with Old North for reasons that were not entirely pious. In his 1738 will, Jackson requested to be buried in the churchyard at King's Chapel. Associating with these institutions and, in the case of Old North, literally positioning himself front and center by purchasing a pew near the pulpit, brought Jackson, an immigrant to Boston, to the attention of the town's leading merchants.
By embedding himself in the congregation at Old North, Jackson proved that he was a member of Boston's greater Anglican community, which in turn allowed him to cultivate economic connections. When Jackson's executors took stock of his estate after his death, they listed all of his debts owed. His creditors were a veritable list of who's who in Boston's Anglican and merchant community. The largest creditors, merchants Henry Caswell and James Smith, were also active members of King's Chapel. Others included the super-wealthy Peter Faneuil, an Anglican and patron of Episcopal causes in Boston. For Jackson, social networks became credit networks, providing him with the capital, social and economic, to engage in various mercantile endeavors.
More immediately, Jackson's membership at Old North provided employment and investment opportunities. It is not a coincidence that Jackson's pew was catty-corner to that owned by George Ledain (Number 7). Every Sunday, if not more often, the men would have been in close contact with each other. Proximity most likely brought opportunity. Jackson's affiliation with the church presented him an opening to acquaint himself with Ledain (and perhaps Tothill) and participate in the smuggling ring.
As the association and donations of men like Jackson, Ledain, Clarke, and Tothill demonstrate, Old North served as a social nexus for the smuggling ring. By affiliating with the institution, regardless of actual religiosity, the men signaled to one another and the community at large that they were trustworthy and capable of supporting communal goals. For captains like Jackson, it generated the social capital necessary to come to the attention of wealthy merchants and opened the door to employment opportunities. For Clarke, Ledain, and Tothill, it not only gave a more trustworthy pool of captains to hire, but also cover for their illegal and often-morally questionable activities: smuggling and slave trading. Much like they laundered cacao through Barbados to make it a "legal" commodity, the men laundered their reputations through Old North, signaling that they were upstanding men of commerce who gave back to the community that supported their activities.
Jared Ross Hardesty is an associate professor of history at Western Washington University and a scholar of colonial America, the Atlantic world, and the histories of labor and slavery. He is the author of Unfreedom: Slavery and Dependence in Eighteenth-Century Boston, which explores the relationship between slavery and other forms of dependence in eighteenth-century Boston, and Black Lives, Native Lands, White Worlds: A History of Slavery in New England. His articles and book reviews have appeared in The Journal of Global Slavery, Early American Studies, Slavery & Abolition, The Journal of Early American History, The New England Quarterly, The William & Mary Quarterly, Itinerario, and Common-place. All of his peer-reviewed publications have examined the economy, social structure, and global entanglements of the eighteenth-century British Atlantic world. His forthcoming book on Captain Newark Jackson is entitled The Case of the Rising Sun: A Tale of Smuggling, Murder, and Chocolate in Early America.
End Notes
Ledain purchased Pew #7, which was catty-corner to Jackson's Pew #13. For Ledain, see Vestry Meeting, 13 May 1740, Vestry Meeting Minutes, Volume 2, Old North Church Records Ms. N-2249, MHS.
"A List of Gentlemen Subscribers to the Steeple at Christ Church in Boston," Old North Accounts, Volume 15, pg. 118, Old North Church Records Ms. N-2249, MHS. Further proving their friendship, Tothill's name appears next to Ledain's in this list.
Vestry Meeting, 29 April 1742, Vestry Meeting Minutes, Volume 2, Old North Church Records Ms. N-2249, MHS.
The churchwardens sent a letter of thanks to Clarke. See Church Wardens to Gedney Clarke, n.d. [c. 1745], "Old North Papers Relating to Christ Church Bells, 1745-1747," Box 21, Folder 3, Old North Church Records Ms. N-2249, MHS.