Skip to Content
We're Temporarily Closed
Old North Church & Historic Site is closed for our winter hiatus as of January 1, 2022. We will open for school vacation week, February 21 – 26, and resume regular operations on March 12. Please email jfishman@oldnorth.com with any questions.
Please note that masks are required inside the church, crypt, and gift shop.
Private Group Tours May Be Available
If you are interested in organizing a private group tour of Old North Church while our site is closed to the public, please contact our Director of Operations, Pam Bennett, at pbennett@oldnorth.com or 617-548-9907. When you get in touch, please include the name of your group organization, the name of your tour group leader or planner, the size of your party, and your preferred dates and times.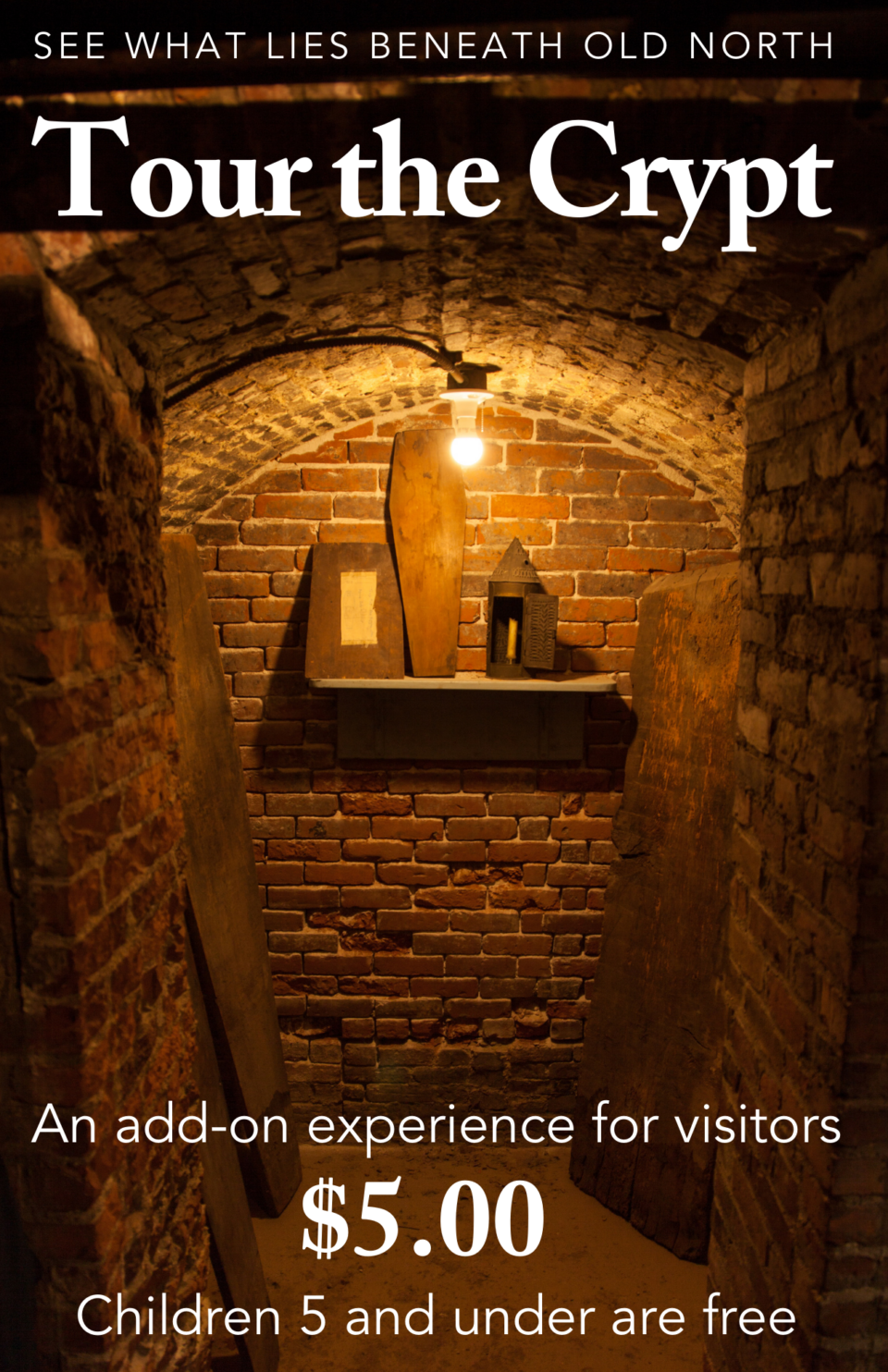 Add-On: Crypt Tour
Did you know that over 1,100 bodies lie underneath the sanctuary of Old North Church? Explore Old North's historic crypt on a guided visit with one of our educators. You'll hear about the burial practices of early congregants and learn about some of those who have rested in this unique space for hundreds of years.
When: Crypt tours will resume when Old North Church & Historic Site reopens on March 12, 2022.
Length: 15 minutes
Tickets: $5 per person. Children 5 and under are free.
Group Size: 1 – 15 people
Content: Historical topics discussed include death, burials, and human remains.
Note: Participants should be comfortable in a basement setting and navigating tight spaces. The crypt has low lighting, uneven surfaces, and is not wheelchair or stroller accessible.
*Masks are required for those touring the crypt.
Planning a Freedom Trail Day?
To learn more about exploring the Freedom Trail's official historic sites during the pandemic, including what to expect and requirements, please visit the frequently updated Experience the Freedom Trail Now webpage at TheFreedomTrail.org.
Purchase Tickets To Visit Old North Church & Historic Site