Skip to Content
We're Open for the Season
Old North Church & Historic Site is open for tourism Tuesday – Saturday from 10am – 5pm and Sunday from 12:30 – 5pm. Starting on July 1, Old North will also be open on Monday from 10am – 5pm. General admission includes a self-guided tour of the church's sanctuary with the chance to chat with our knowledgeable Educators.
We're open on Memorial Day, May 29, from  10am – 5pm.
Scroll below to learn about our original play, family scavenger hunt, audio guide, and our add-on tours of the bell ringing chamber, gallery, and nearby Copp's Hill Burying Ground!
If you are interested in booking a field trip or private group visit, please contact our Visitor Experience Manager, Julius James, at jhobert@oldnorth.com or 781-352-2069. Learn more about our field trip options.
Through the Mass Cultural Council's Card to Culture program, we offer free general admission for EBT and/or WIC cardholders and up to two members of their family. To redeem, please show your EBT or WIC card at our ticket booth or gift shop.
See our policies and guidelines for visitors. 
Revolution's Edge: An Original Play
Running Tuesday, Thursday, and Saturday from June 15 – September 19
Seating starts at 5pm

An Original Theatrical Work Commissioned by Old North Illuminated
Produced by Plays in Place
$20 for adults; $10 for visitors under 18 years old
Recommended for ages 12 and up
Revolution's Edge takes us to the afternoon of April 18, 1775, hours before the signal lanterns would shine from Old North's steeple. With war on the horizon, Old North's Loyalist rector, the Rev. Dr. Mather Byles Jr., is pushed to 'resign' his post. As Byles and Cato (an African man enslaved by Byles) prepare to leave the church for the final time, they encounter Capt. John Pulling Jr., a prominent member of the church congregation, ardent Patriot, and friend of Paul Revere. These three men share a faith but have very different beliefs concerning the right path ahead for themselves, their families, and the colonies. Their conversation explores the intersection of faith and freedom on the edge of the American Revolution.
The performance is approximately 45 minutes. Seating for the play starts at 5pm, and the show begins promptly at 5:20pm. Ticket holders are welcome to come before 5pm to enjoy a complimentary self-guided tour of Old North Church's sanctuary.
Prince's Pew Pursuit: A Family Scavenger Hunt
In this fun activity designed especially for families, visitors explore Old North through a scavenger hunt narrated by Prince, the friendly North End cat who used to frequent the church. By finding clues and answering questions, participants will see highlights of the sanctuary and learn about Old North's unique history.
Audience: Children ages 6-10 and their families
Cost: This activity is included with general admission! To participate, simply request a copy of Prince's Pew Pursuit when you enter the church.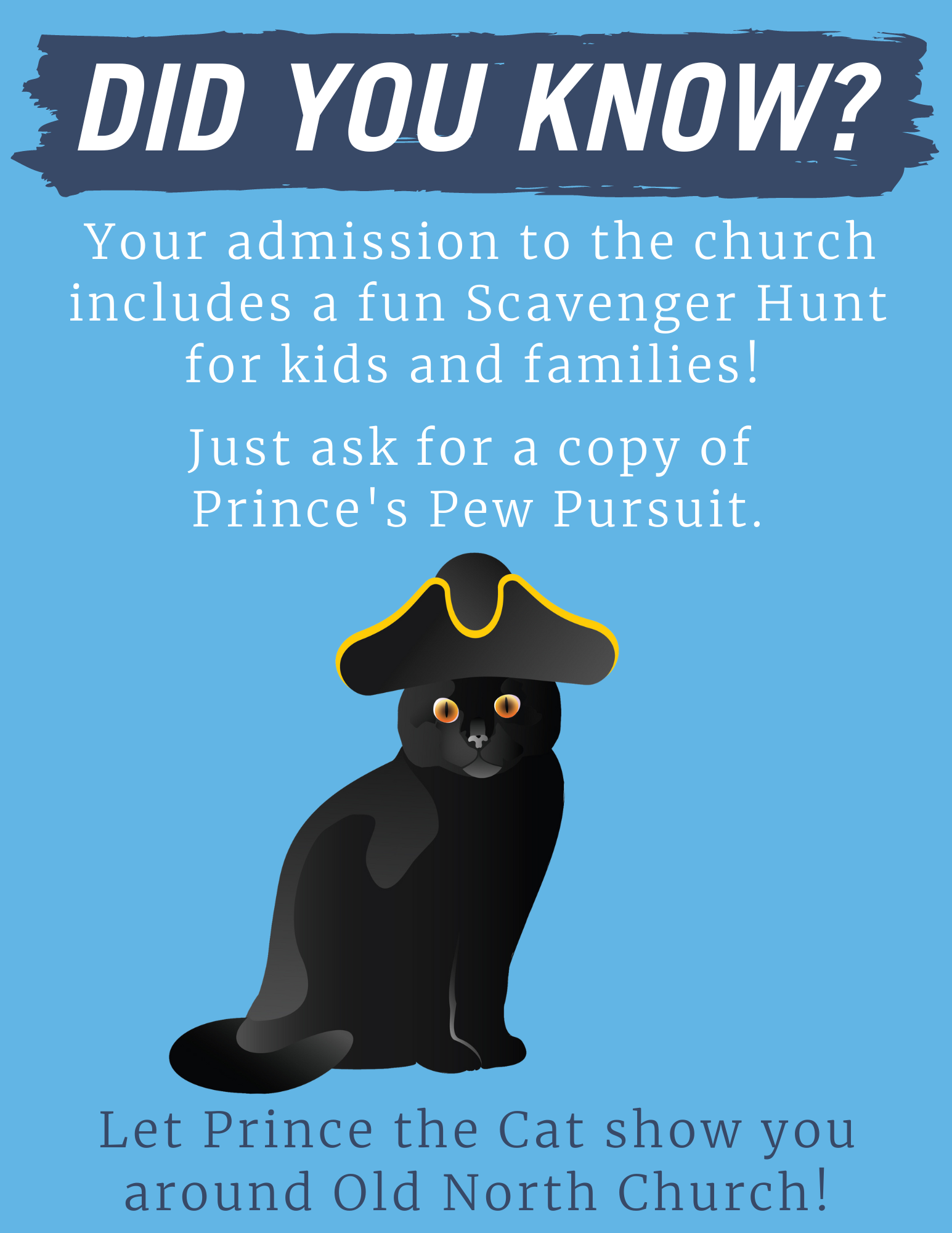 New Audio Tour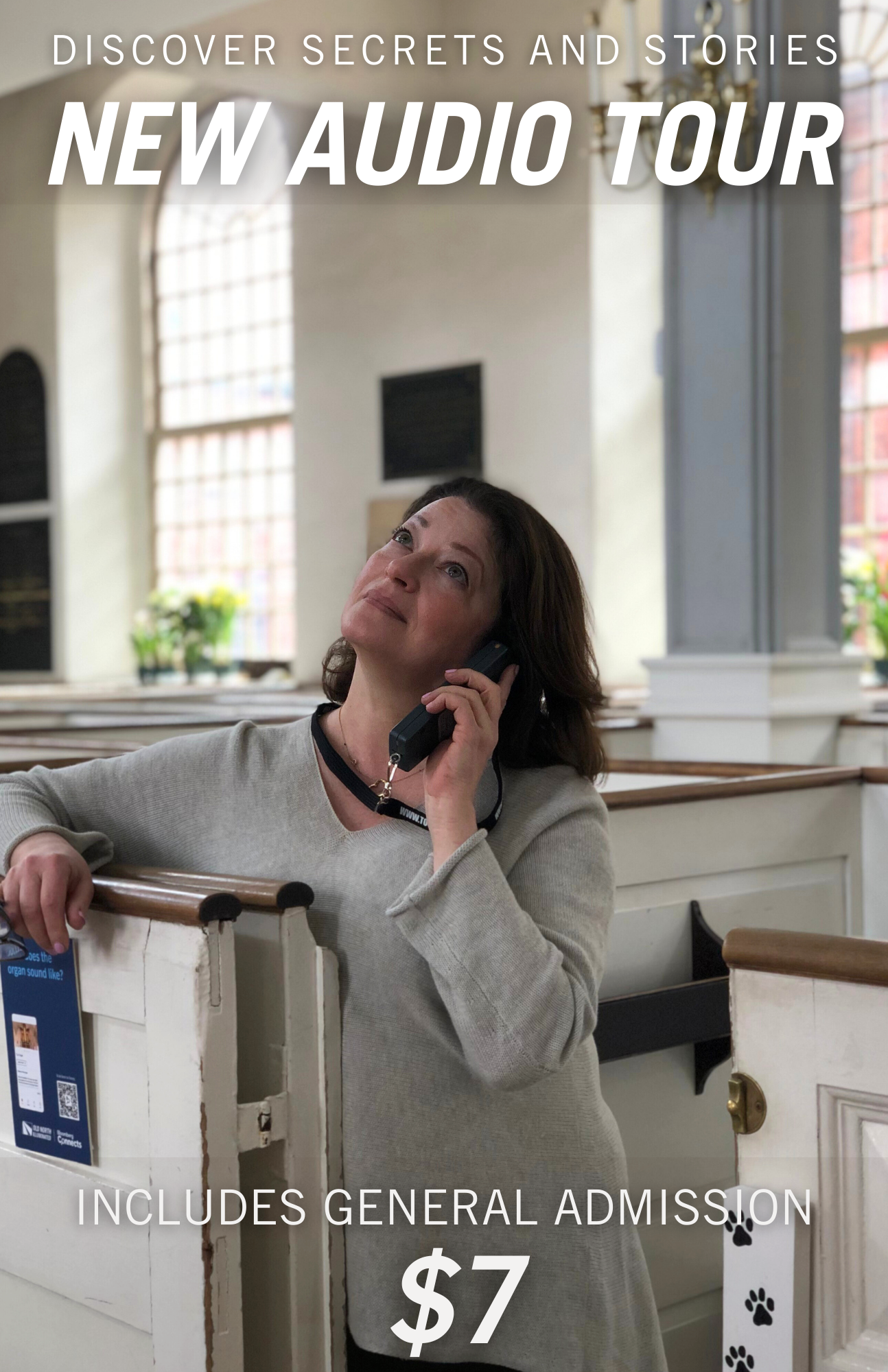 Discover Old North's secrets and stories with our brand-new audio tour! Available in English or Spanish, the tour weaves together the story of Paul Revere's famous lantern signal with recent research into the lives of Old North's free and enslaved Indigenous and Black congregants.
Listen to a sneak preview of the audio tour online:
Audience: The audio tour is recommended for ages 12 and up. Younger children may also find it enjoyable with explanations from a parent.
Cost: The audio tour includes general admission and is $7 for those who buy online or $8 at the ticket booth.
Tour Copp's Hill Burying Ground
What can a burying ground reveal about the diverse and fascinating community of colonial Boston? A lot! Join an expert Educator on a walk through Copp's Hill Burying Ground (located steps away from Old North Church) where you'll "meet" some of the inhabitants, find out how their death practices shed light on the way they lived their lives, and hear stories of the complicated people who helped build this city. Participants will also learn how Puritan burial practices differed from the unique Anglican burial practices in Old North Church's crypt.
When: Check our online schedule for the latest information.
Length: 20 minutes
Tickets: $10 per person (includes general admission to Old North Church's sanctuary). Children 5 and under are free.
Note: This tour requires walking outside on uneven ground and some stair climbing.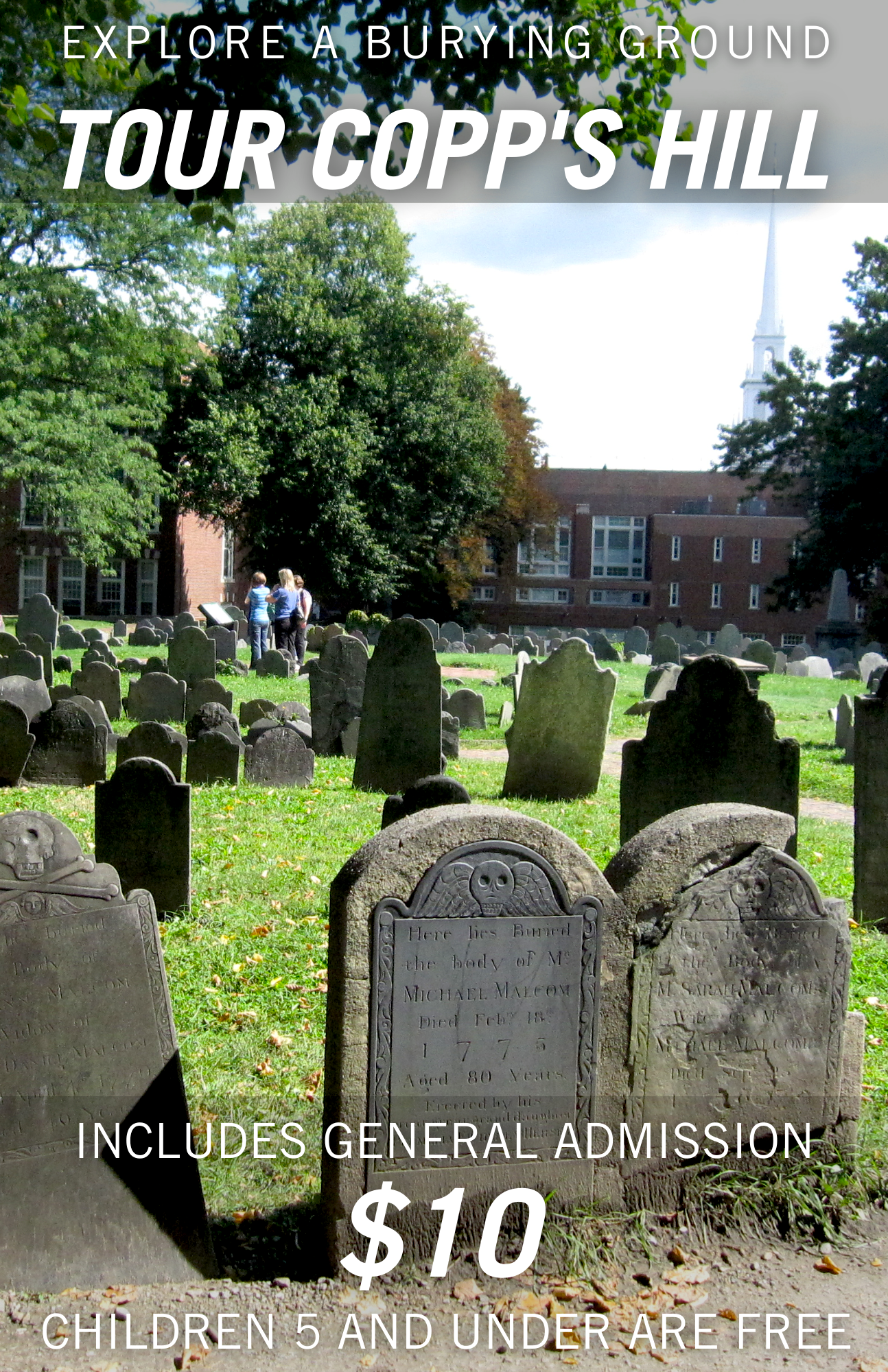 Tour the Gallery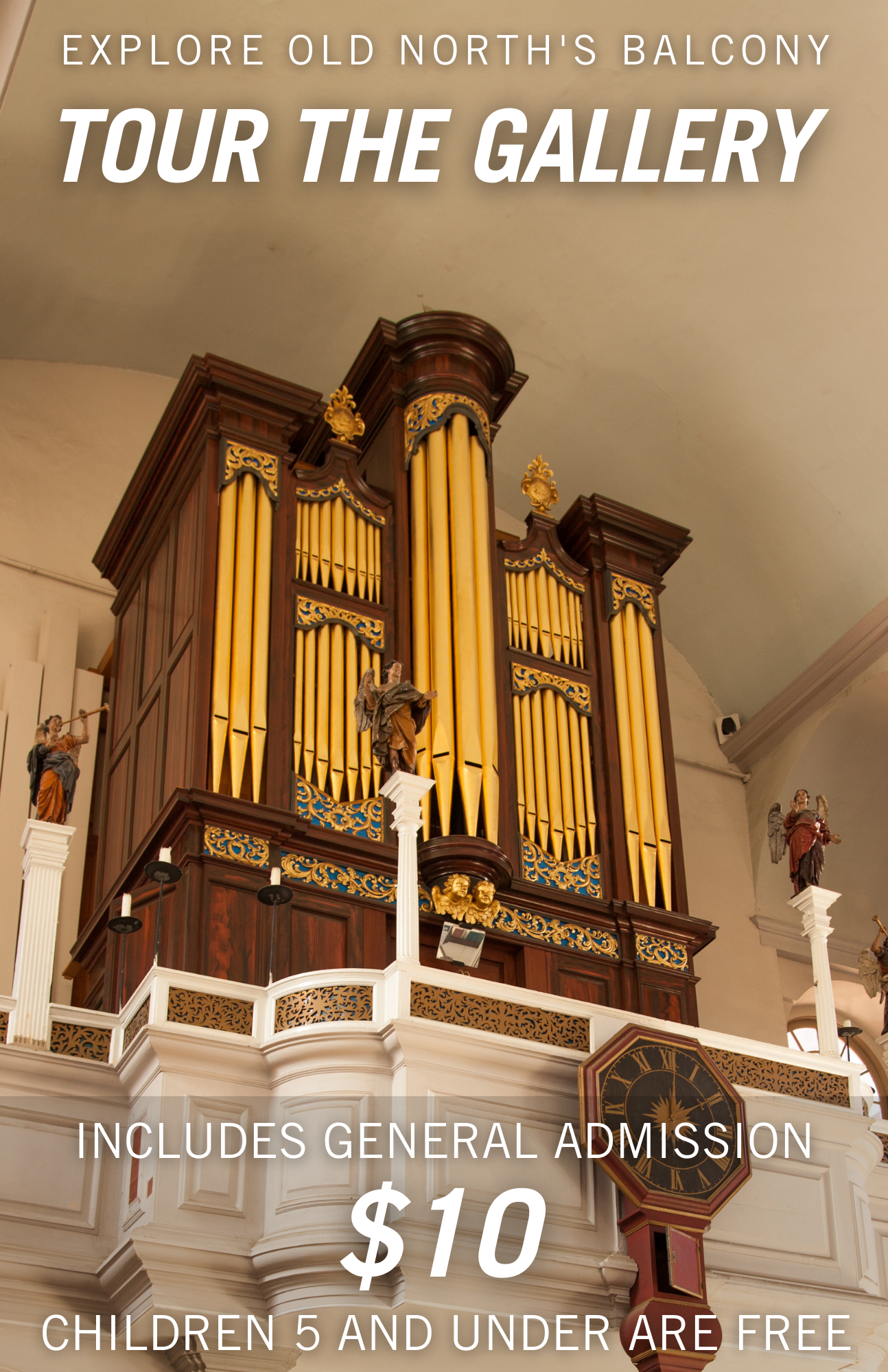 Old North's gallery is a paradoxical space — home to both the church's undesirable balcony seating and some of the sanctuary's most costly and ornate items. In this guided tour, you'll learn about the experiences of early Black congregants, both free and enslaved, who historically sat in the gallery. You'll also get an up-close look at Old North's beautiful 1759 pipe organ and the 17th century carved angels flanking it. The tour weaves together the stories of the many people whose labor and contributions shaped Old North into the place it is today.
When: Check our online schedule for the latest information.
Length: 15 minutes
Tickets: $10 per person (includes general admission to the sanctuary). Children 5 and under are free.
Group Size: 1 – 15 people. Tours fill up fast!
Note: Participants should be comfortable climbing stairs and must keep a close eye on any children in their group.
Tour the Bell Ringing Chamber
Join us for a guided tour of the church's bell tower! Visitors will explore the archive room and the bell ringing chamber: two behind-the-scenes areas that aren't typically open to guests. Along the way, you'll learn about Old North's famous bells, notable bell ringers, and the art of change ringing. Visitors will also hear the story of the church's three steeples and consider the paradox that the steeple represents.
When: Check our online schedule for the latest information.
Length: 15 minutes
Tickets: $10 per person (includes general admission to the sanctuary). Children 5 and under are free.
Group Size: 1 – 15 people. Tours fill up fast!
Note: Please note that the tour requires climbing two sets of steep stairs.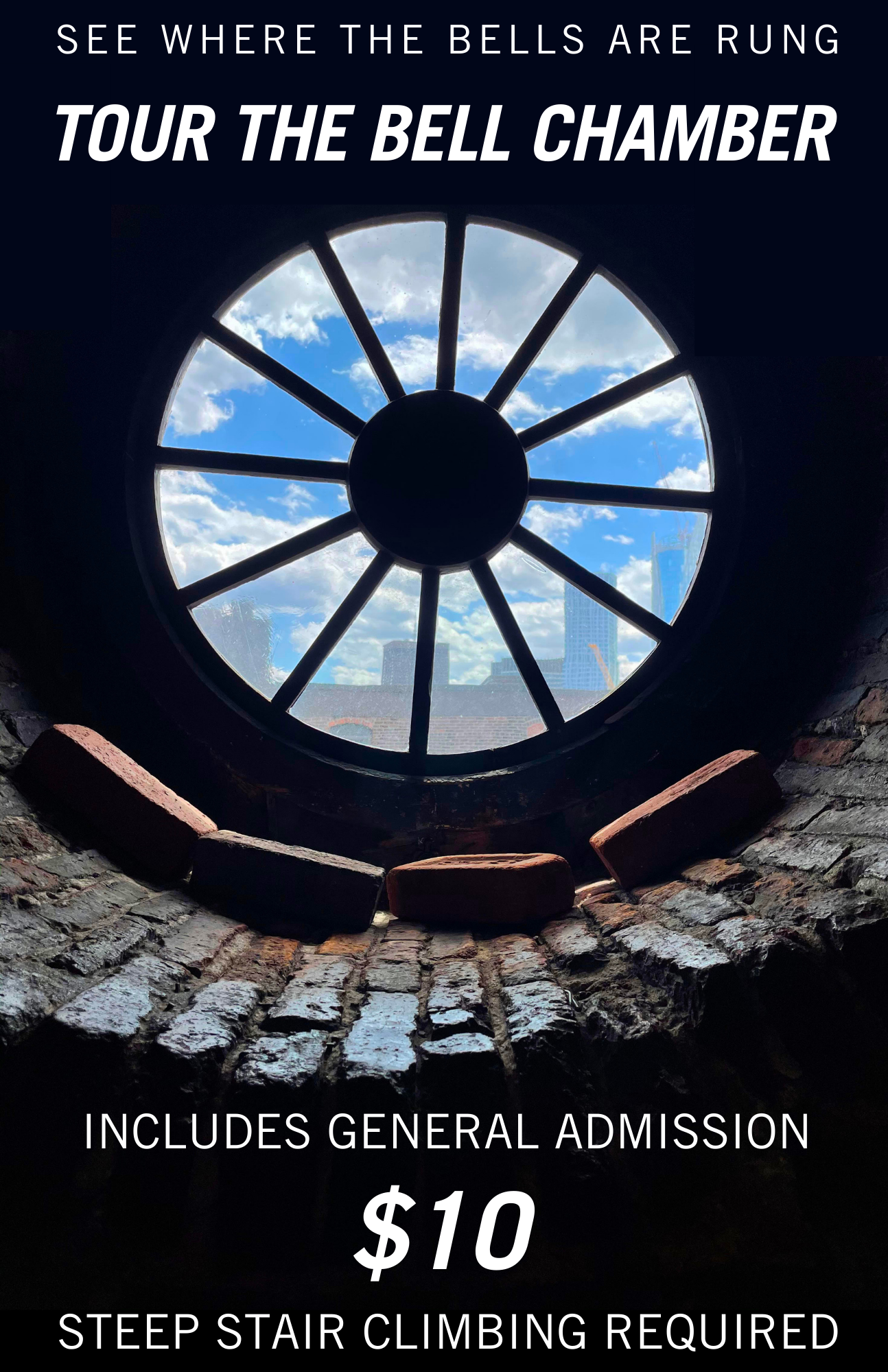 Tour the Crypt (Temporarily Closed)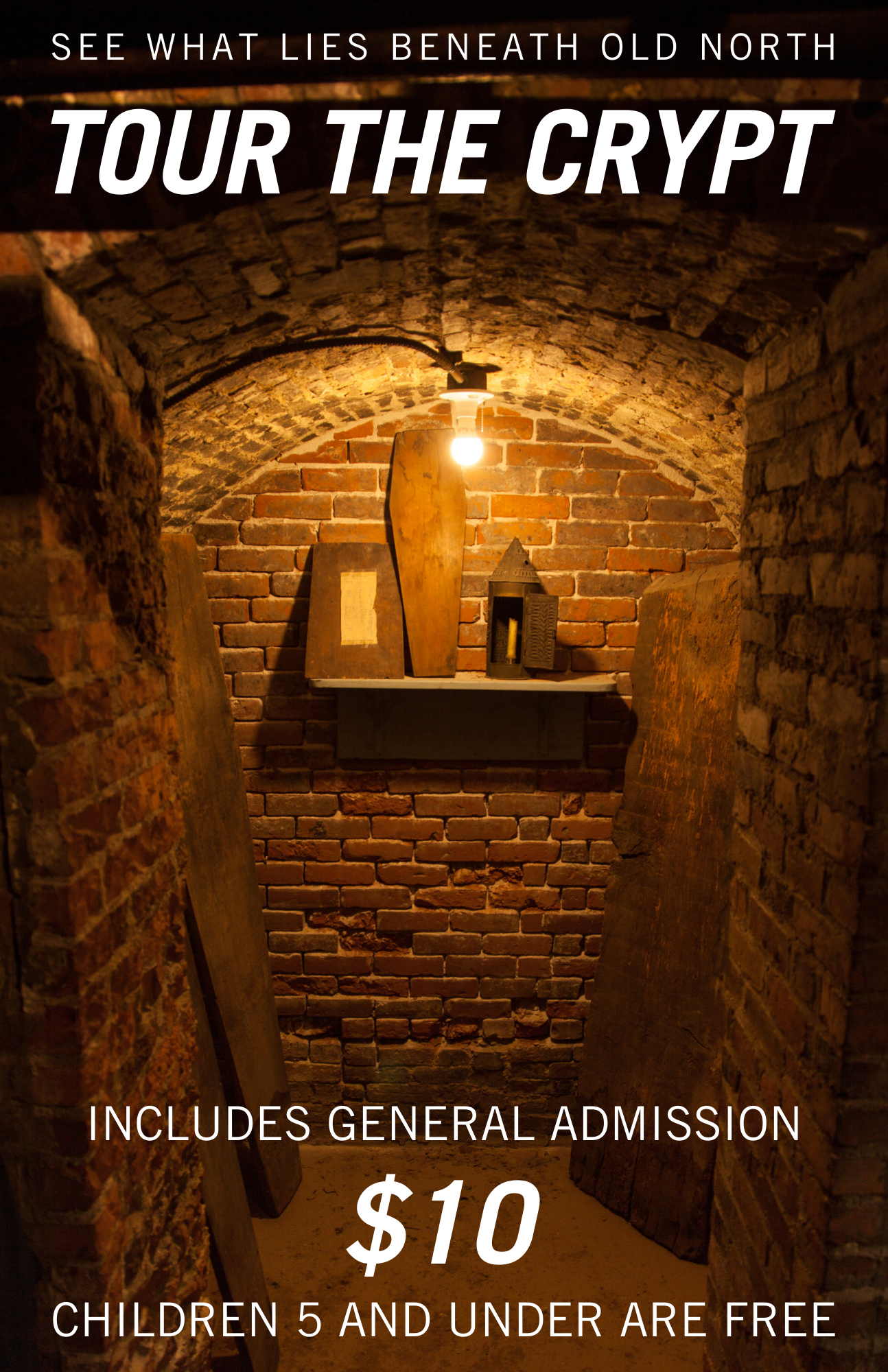 Did you know that over 1,100 bodies lie underneath the sanctuary of Old North Church? Explore Old North's historic crypt on a guided visit with one of our educators. You'll hear about the burial practices of early congregants and learn about some of those who have rested in this unique space for hundreds of years.
When: The crypt is currently closed for restoration work and crypt tours are not be available at this time.
Length: 15 minutes
Tickets: $10 per person (includes general admission to the sanctuary). Children 5 and under are free.
Group Size: 1 – 20 people. Tours fill up fast!
Content: Historical topics discussed include death, burials, and human remains.
Note: Participants should be comfortable in a basement setting and navigating tight spaces. The crypt has low lighting, uneven surfaces, and is not wheelchair or stroller accessible. Masks are required.
Free Colonial Printing Demonstrations
The Printing Office of Edes & Gill is a reproduction 18th century colonial print shop located inside the Clough House, a historic brick building on Old North's campus. The shop interprets the connections between newspapers, the printing business, the American Revolution, active citizenship, and the juxtaposition of liberty and enslavement in the colonial era.
Watch as our printers demonstrate the colonial printing process, reproducing historic documents of the Revolution utilizing 18th century printing methods and materials, hand setting the type one letter at a time. Visitors feel like they are transported back in time as discussion about colonial printing encourages them to consider the role of the media then and today.
Admission is free and printing demonstrations typically happen throughout the day.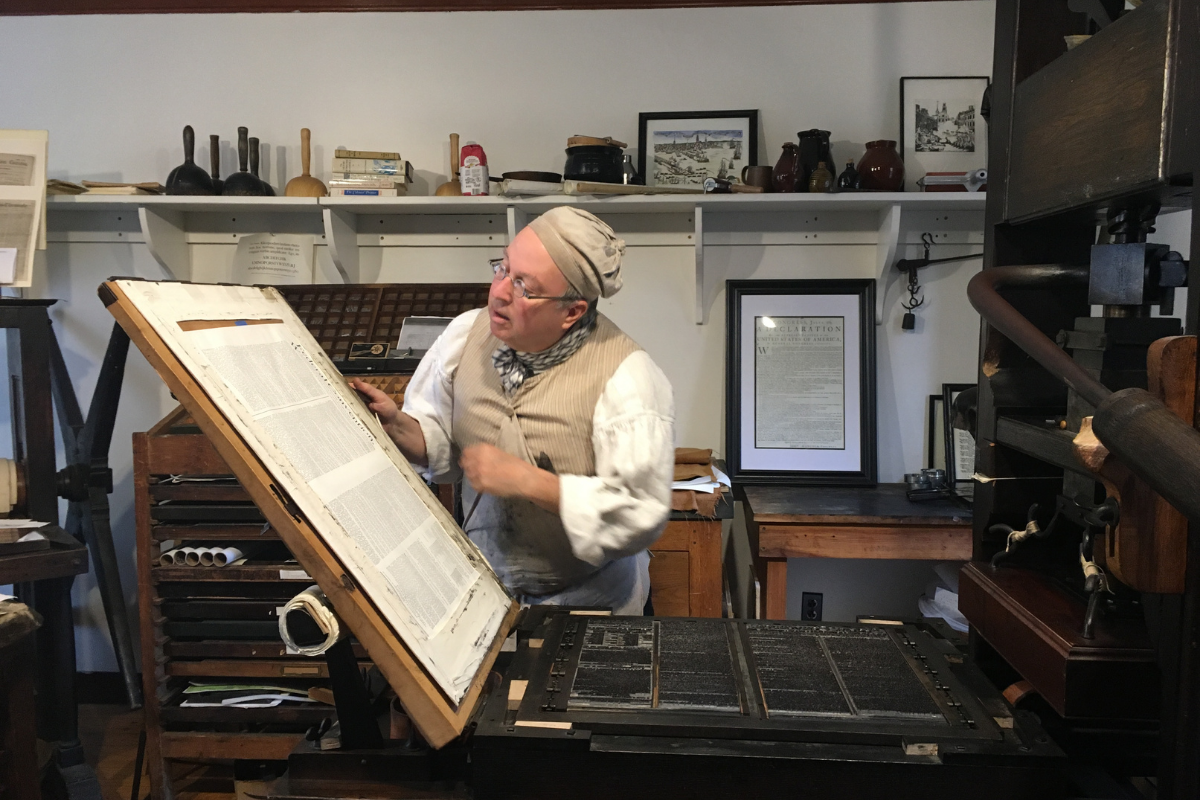 Joint Ticket: Old North, Old State, & Old South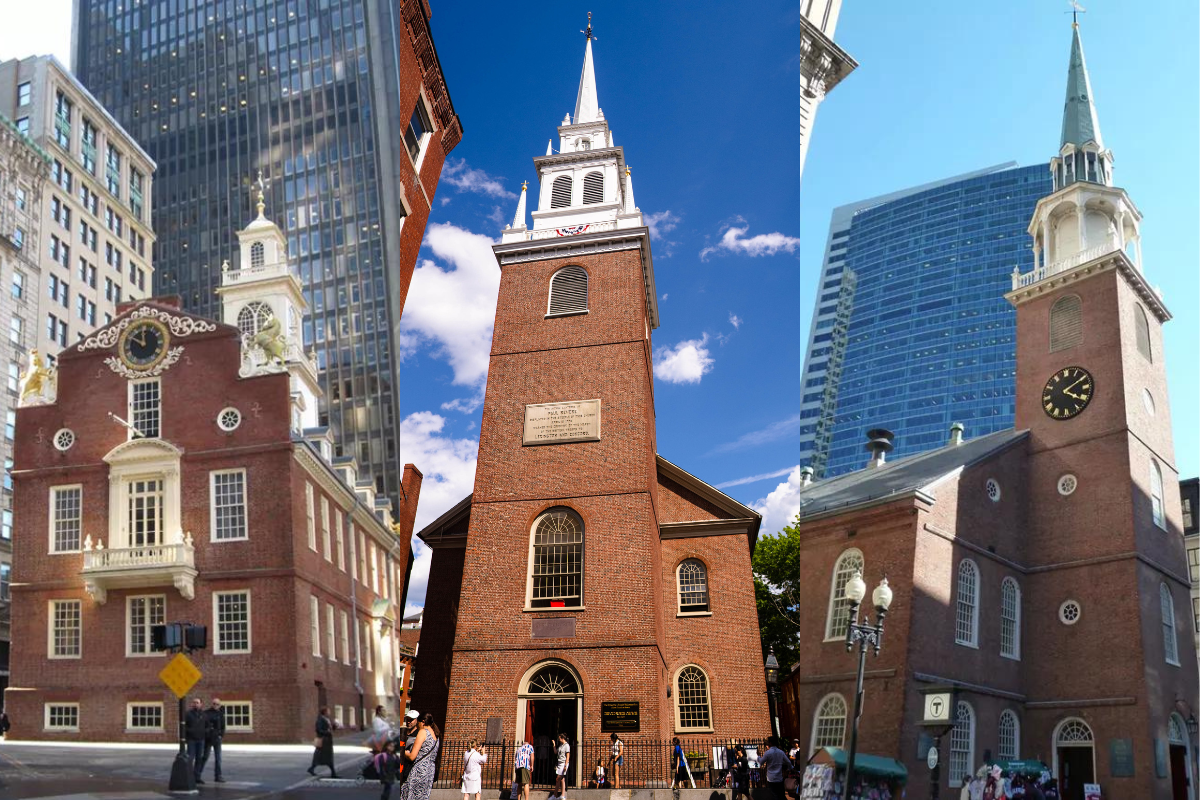 Experience three historic Boston sites with one ticket! Revolutionary Spaces and Old North Illuminated are now offering a joint ticket to Old South Meeting House, Old State House, and Old North Church — a $5 discount off regular full-price admission. This joint ticket includes any programs, exhibits, and gallery talks that are complementary with admission at Old South Meeting House and Old State House, as well as audio guides at Old North Church (a $3 value).
At this time, joint tickets can only be purchased at the Boston Common Visitor Center, located at 139 Tremont Street in Boston. For more information, call 617-536-4100.
The following tickets are available:
Adult – $18 (a $23 value)
Senior (62+) – $17 (a $22 value)
Student (13-18 or college ID) – $17 (a $22 value)
Child (6-12) – $11 (a $16 value)
Sites can be visited in any order on any date and time of your choosing. Joint tickets do not expire and do not need to be redeemed in one day. Please visit revolutionaryspaces.org and oldnorth.com for up-to-date operating hours and site closures.
Planning a Freedom Trail Day?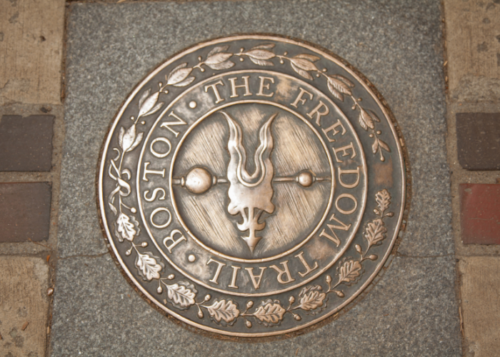 Purchase Tickets To Visit Old North Church & Historic Site