Skip to Content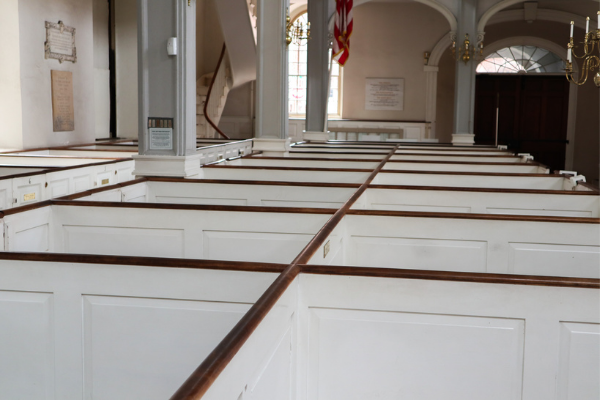 Over the course of (almost) 300 years, many fascinating people have come through the doors of Old North Church and sat in its unique box pews.  Read about some of them in our continuing series, This Old Pew. You'll find some names that you might recognize, and others that you'll want to know more about!
This Old North congregant famously eluded punishment for smuggling. His gravestone, on the other hand…
A Loyalist doctor with a remarkable post-war career.
Forever stamped on the brass plate of Pew No.8, the name Mary Gibbs stands out amongst the merchants and sea captains.
The prominent colonial family that managed to leave its mark all across the Greater Boston area.
From court martial to the USS Constitution, Captain Samuel Nicholson had a career that was anything but dull.
Newark Jackson's violent end leads to an understanding of the complexity and corruption of colonial trade.
Long before the Civil War and their connection to the 54th Massachusetts, the illustrious Shaw family had roots at the Old North Church and in the American Revolution.
From hiding tea in his shoes to hiding Old North's silver from the British army, John Hooton, Jr. came out of the Revolutionary Era with some tales to tell.
#19 — REV. WILLIAM THOMAS SMITHETT
The troubled tenure of Rev. Smithett begs the question—who would win in a fight: a minister or a church warden?
#23 AND #38 — CAPT. ARTHUR SAVAGE
An enterprising sea captain brings a lion to Brattle Street.
Old North's reopening in 1912 included a certain 'Rough Rider' in attendance.
#27 — DR. GREAVES AND REV. CHARLES WESLEY
The co-founder of Methodism finds a pulpit and a physician at Old North.
A generous donation sheds light on an 18th century philosophical and religious debate.
This congregant's social circle ran the gamut from the most prominent families in Boston to a dueling brother wanted for murder.
A lesser-known 19th century congregant reveals a surprisingly complicated network of business ventures and family heritage.
A woman believes her missing husband to be dead, only to have him reappear—one month after she remarried.
A 19th century "penny press" editor-in-chief brought nepotism and culture to tabloid journalism.
Stepmother or sister-in-law? Brother or son-in-law? The Wells-Adams family tree is more complicated than most!
#49 AGAIN — THE SOUNDING BOARD
What is that strange thing floating above the pulpit? And how old is the pulpit itself? One answer is simple enough; the other, rather complicated.
Robert Newman is perhaps the most famous sexton ever to serve Old North due to his participation in the fateful events on the night of April 18, 1775.
No, Paul Revere did not worship here. But one of his sons did!
A century ahead of her time, a young, unemployed 30-something achieves the Millennial dream of buying a small farm in the countryside.
A Loyalist Customs official's experiences reveal the violent side of Boston during the Revolution.
The famous steeple's connection to modern-day Belize.
THE PULPIT — REV. WILLIAM CROSWELL
A nineteenth-century Old North rector earns the nickname "the Bard of Boston".
"And who sat up there?" This is a question often received in reference to Old North's upper gallery. From the lower level, the pews above seem miles away; a looming set of white rows disconnected from the world below. This observation, perhaps, points directly to the answer of who occupied those pews.