Skip to Content
This Old Pew: The Crankey Family
The Crankey family's story offers a glimpse into three generations of Old North congregation members.
Alderman Crankey, a free Black man, was a mariner. His trade was inherently dangerous and, mindful of that, he prepared his Last Will and Testament on March 5, 1741. This document suggests Alderman Crankey's values and priorities at that moment in time.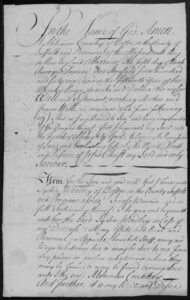 Crankey begins with a profession of Christian faith. He then instructs that everything he has or has claim to should go to Lydia Woodbey of Boston "[f]or the Love and good will that I bear unto [her]." He names her as his executrix. The Will is witnessed by three men, including a Captain James Scott, who may have been the captain of the ship Crankey was to sail on.
Alderman Crankey survived his voyage. He and Lydia Woodbey, identified as a free Black woman, were married at Old North on December 28, 1742. On February 28, 1744, the Crankeys had their daughter Mary baptized at Old North. Sadly, Alderman Crankey died in late 1746.
Almost twenty years later on November 5, 1765, a free Black woman named Mary Crank (likely Mary Crankey) married a man named Timothy who was enslaved by congregation member Alexander Chamberlain. Timothy had been baptized at Old North on September 8, 1765, perhaps in anticipation of the wedding. We do not know whether Mary Crank and Timothy continued to worship at Old North after their marriage, but we see the baptism of Mary Crank's daughter Rosanna on September 13, 1773. Timothy is not mentioned in the record, and this entry is the last we see of the Crankey family.