Skip to Content
Explore Baptism at Old North Church
Holy Baptism is one of the great sacraments of the Christian Church and the beginning of a lifelong journey in the Christian faith. If you are interested in joining the Church through baptism, we invite you to explore this website and contact the Rev. Dr. Matthew Cadwell, Vicar-in-charge, or fill out the form below.
Expectations
Holy Baptism is the sacrament by which God adopts us as his children and makes us members of Christ's Body, the Church, and inheritors of the kingdom of God.
Since baptism is the means through which someone joins the Church, we expect baptismal candidates and their families to worship regularly at Old North as a way to discern the call to baptism and to explore their interest in joining our faith community. After getting to know us, the baptismal process begins with a conversation with the Rev. Dr. Matthew Cadwell, Vicar-in-charge.
Holy Baptism is customarily celebrated on the following Feast Days:
The Easter Vigil (the Saturday before Easter)
The Day of Pentecost (the Sunday 50 days after Easter)
All Saints' Sunday (the first Sunday in November)
Feast of the Baptism of our Lord (the first Sunday after January 6 [Epiphany])
On occasion, other dates can be arranged with permission of the clergy. Baptisms are only held on Sundays during our regular services, or at the Easter Vigil.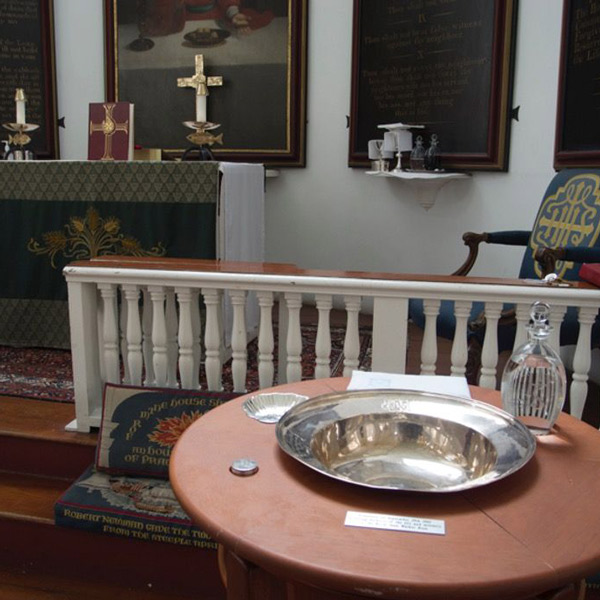 Church Policies
In the Episcopal Church, Holy Baptism is available to both children and adults who desire to enter into the life of the Christian faith, and who have not been previously baptized in another Christian tradition.
All baptismal candidates (and their parents, if children) are expected to meet with a clergy person for baptismal instruction and an introduction into the Episcopal Church and our community here at Old North.
There is no fee for baptism. Thank offerings to the church are gratefully accepted and baptized members of the parish are expected to help support the parish financially as pledging members.
Baptismal Covenant
The Sacrament of Baptism invites Christians into a lifelong commitment to the Christian faith. The solemn vows and promises made at baptism define our faith and our relationship to God, the Church, and the world.
In baptism we commit to the following vows and promises:
Will you continue in the apostles' teaching and fellowship, in the breaking of bread, and in the prayers?
Will you persevere in resisting evil, and, whenever you fall into sin, repent and return to the Lord?
Will you proclaim by word and example the Good News of God in Christ?
Will you seek and serve Christ in all persons, loving your neighbor as yourself?
Will you strive for justice and peace among all people, and respect the dignity of every human being?
Come explore what it means to live into these promises at Old North Church! We invite all who are curious about exploring their journey of faith to join us in living this covenant to the best of our abilities.
Contact us for more information about baptisms please fill out the form below