Skip to Content
Each year, Old North Church & Historic Site presents a series of talks that bring experts and audiences together to explore topics from archeology to food justice, from the history of the North End to the story of the Longfellows. What's the common thread? We challenge ourselves to consider the ways, small and large, that people impact their communities. In other words, what does active citizenship look like?  We hope you enjoy these recorded events and invite you to check out our events page to see what is coming up next!
David Walker and the Notion of Citizenship:
The Story of a 19th Century Black Abolitionist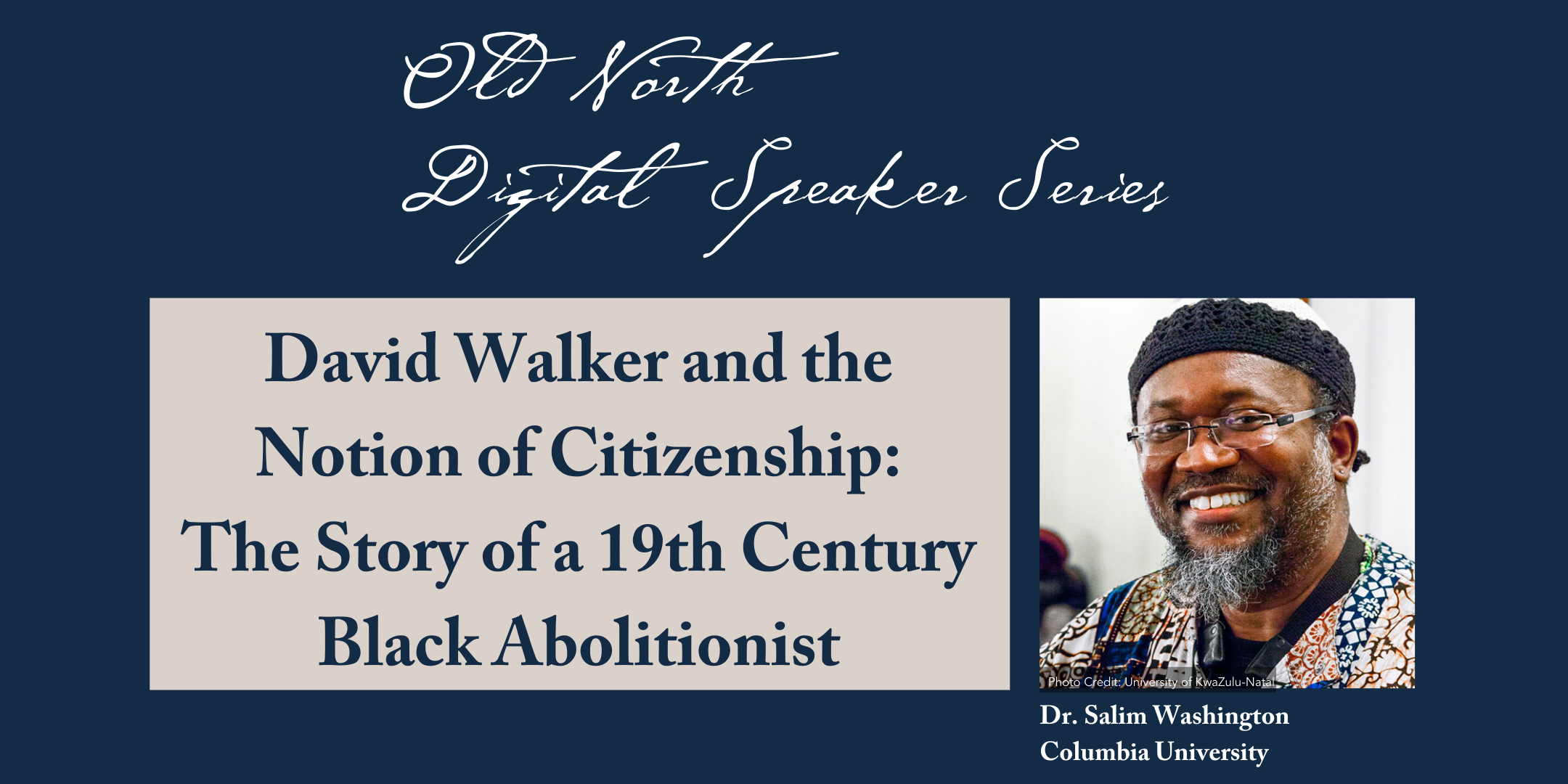 November 17, 2021
Dr. Salim Washington discussed the life of David Walker, the 19th-century Black abolitionist and author of the history-changing pamphlet Appeal to the Colored Citizens of the World. This talk was the first of a three-part series dedicated to Walker, his work, and his legacy.
Living as a free Black man in Boston, David Walker published his 1829 Appeal and sent shockwaves across the nation. This revolutionary pamphlet called on enslaved people to revolt against their enslavers and compelled white Americans to recognize the moral depravity of slavery.
While the pamphlet instilled a sense of pride and hope in its Black readers, terrified slaveholders banned its distribution and put a $3,000 bounty on Walker's head, while offering $10,000 to anyone who could bring him to the South alive. Although friends urged him to flee to Canada, Walker refused, saying, "I may be doomed to the stake and the fire, or to the scaffold tree, but it is not in me to falter if I can promote the work of emancipation."
The Old North Church is committed to telling stories of active citizenship and courageous, compassionate leadership throughout history, and we were proud to host this event examining David Walker's remarkable life.
Mutiny on the Rising Sun:
A Story of Slavery, Smuggling & Chocolate at Old North
November 3, 2021
On the night of June 1, 1743, terror struck the schooner Rising Sun. After completing a routine smuggling voyage where the crew sold enslaved Africans in exchange for chocolate, sugar, and coffee in the Dutch colony of Suriname, the ship traveled eastward along the South American coast. Believing there was an opportunity to steal the lucrative cargo and make a new life for themselves, three sailors snuck below deck, murdered four people, and seized control of the vessel.
In this talk, historian Jared Ross Hardesty recounts the origins, events, and eventual fate of the Rising Sun's final smuggling voyage in vivid detail. That story, as told in his new book, Mutiny on the Rising Sun: A Tragic Tale of Slavery, Smuggling, and Chocolate, was part of a multi-year, international research project that revealed the mutiny's connection to the Old North Church. More significantly, the project uncovered an unknown part of Old North's history: a connection to slavery and the slave trade.
Opening with what years of research uncovered about Old North, Hardesty narrates a deeply human history of smuggling, providing an incredible story of those caught in the webs spun by illicit commerce. The case generated a rich documentary record that illuminates an international chocolate smuggling ring, the lives of the crew and mutineers, and the harrowing experience of the enslaved people trafficked by the Rising Sun. Smuggling stood at the center of the lives of everyone involved with the business of the schooner. At once startling and captivating, the case of the Rising Sun shows how illegal trade created demand for exotic products like chocolate, and how slavery and smuggling are integral parts of Old North's history.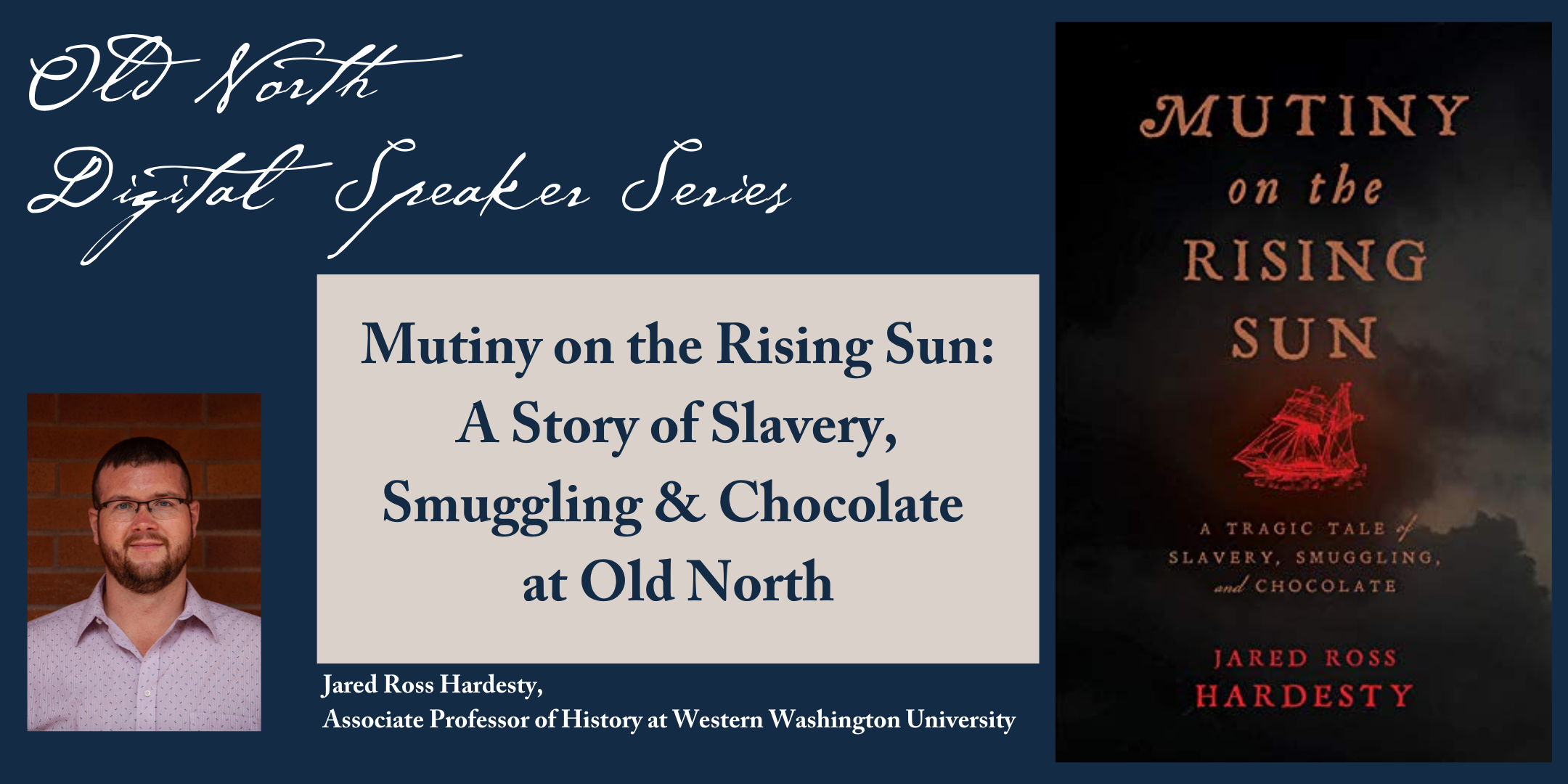 How Fears of "Passing" Changed the 1930 U.S. Census
March 31, 2021
Completing the United States Census is a core element of active citizenship. Census numbers impact community funding, representation in congress, and so much more. And yet, the history of the Census includes barriers to full participation. Although the United States Census is meant to be an unbiased and apolitical part of American democracy, it has been altered by popular opinion and fear numerous times in the past. Race is one such category that has changed consistently since the creation of the census. Gabby Womack examines how mixed-race Americans were erased from the census in 1930 and how it was connected to racial "passing".
This presentation dives into the stories of "passers," creation of race science, passing in pop culture, and the U.S. government's attempt to stop this practice and erase the nuanced identities of mixed race people.
Henry and Fanny Longfellow: An American Love Story of Uncommon Consequence
February 24, 2021
Author Nicholas A. Basbanes discusses the remarkable relationship of the celebrated 19th-century poet Henry Wadsworth Longfellow and his wife, Frances Appleton Longfellow, the focus of his recent biography of the couple, Cross of Snow, which is set largely in Boston and Cambridge during the tumultuous years leading up to the Civil War. The couple's marriage in 1843 represented a melding of two highly gifted and principled people whose shared values and deeply held convictions found expression and purpose in manifold ways, not least of which was the influence Fanny brought to bear on Henry's creative process, serving, in her words, as "a pretty active spur upon his Pegasus." Revered in his time as a "poet of the people," Longfellow's works were translated into more than 30 languages, memorized by millions of people, with lines that resonate to this day.
Community Servings & the Path to Food Justice
November 11, 2020
The story of Community Servings over the past 30 years is one of innovation, food justice and community building. Focused on providing scratch-made, medically tailored meals to critically and chronically ill neighbors across Massachusetts, the agency leverages thousands of volunteers to make 800,000 meals each year to serve individuals and families who are hungry, sick and isolated.
Through cutting edge research and advocacy, Community Servings is now partnering with 12 Massachusetts healthcare organizations to feed patients through their health insurance. Join us to learn more about the program and its unique, uplifting role in our community.
The Lost Tunnels of the North End
October 7, 2020
If you've ever taken a walking tour of Boston's North End, or if you've talked to the old timers in the neighborhood, you've probably heard stories about the network of so-called secret pirate tunnels or smugglers' tunnels that connects the wharves to the basements of houses, Old North Church, and even crypts in Copp's Hill burying ground. Sometimes the tunnels are attributed to a Captain Gruchy, who's often called a pirate or a smuggler, and who is portrayed as a shadowy figure. The legends of pirate tunnels in the North End were inspired by a few subterranean discoveries in the late 1800s, but the fantastic details in stories told by tour guides and popular authors are just that: fantasy. However, there is truth underlying the legends, and there are tunnels underlying the streets of the North End.
Kelly Kryc: The North Atlantic Right Whale
July 21, 2020
Nearly 40 years ago, Aquarium scientists discovered a pod of North Atlantic right whales in the Gulf of Maine—a species that, until then, was thought to have been hunted to extinction. Despite the end of whaling, the threats to the North Atlantic right whale have only been increasing, and the species now balances on the precipice of extinction. In this lecture, New England Aquarium's Director of Conservation Policy and Leadership, Dr. Kelly Kryc discusses the plight of the North Atlantic right whale and how you can help them survive.
Joseph Bagley: Hiding in Plain Sight
June 23, 2020
Join Boston's City Archaeologist, Joe Bagley, in a discussion of his quest to find and document the 50 oldest buildings in Boston. Seen through the lens of several buildings in his newest book, Boston's Oldest Buildings and Where to Find Them (Brandeis University Press, April 2021), this "how-to" lecture will show you the techniques for using free online deed, probate, map, and other digital resources to uncover the history of old places from your home computer.
10 on 10: Women in the Workforce
March 23, 2020
This interactive webinar-style program heard ten powerhouse women working in Boston today offer a 5-minute spotlight presentation on a visionary woman from Massachusetts history. Presentations explored the evolution of women's professional identities and the ways in which each of these women have paved the way for equal rights. Afterward, the audience engaged in a community chat about intersectional feminism, pay equity, and what we can each do today to advocate for equal rights for all in the workplace.
Speakers: Casey Baines, Scarlett V. Hoey, Chloe Lin, Marie Palladino, Maddy Rodriguez, Jodie Smith, Jen Steele, Dina Vargo, Dr. Lisa Wong, and Rebecca Sivitz
How We Live: Community Through Housing
August 21, 2019
In partnership with Historic Boston Inc., this panel discussion took a deeper dive into the impact housing has on our communities and vice versa, and explored creative housing approaches that help in fostering connection and vibrancy between city cohabitants.
Panelists: Christine Clements, Angie Liou, Raber Umphenour
Moderated by Donna Brown
Purchase Tickets To Visit Old North Church & Historic Site