Skip to Content
This year, join us for an ongoing exploration of active citizenship through an exciting variety of programs and events.
Mutiny on the Rising Sun:
A Story of Slavery, Smuggling & Chocolate at Old North
On the night of June 1, 1743, terror struck the schooner Rising Sun. After completing a routine smuggling voyage where the crew sold enslaved Africans in exchange for chocolate, sugar, and coffee in the Dutch colony of Suriname, the ship traveled eastward along the South American coast. Believing there was an opportunity to steal the lucrative cargo and make a new life for themselves, three sailors snuck below deck, murdered four people, and seized control of the vessel.
In this talk, historian Jared Ross Hardesty recounts the origins, events, and eventual fate of the Rising Sun's final smuggling voyage in vivid detail. That story, as told in his new book, Mutiny on the Rising Sun: A Tragic Tale of Slavery, Smuggling, and Chocolate, was part of a multi-year, international research project that revealed the mutiny's connection to the Old North Church. More significantly, the project uncovered an unknown part of Old North's history: a connection to slavery and the slave trade.
Opening with what years of research uncovered about Old North, Hardesty will narrate a deeply human history of smuggling, providing an incredible story of those caught in the webs spun by illicit commerce. The case generated a rich documentary record that illuminates an international chocolate smuggling ring, the lives of the crew and mutineers, and the harrowing experience of the enslaved people trafficked by the Rising Sun. Smuggling stood at the center of the lives of everyone involved with the business of the schooner. At once startling and captivating, the case of the Rising Sun shows how illegal trade created demand for exotic products like chocolate, and how slavery and smuggling are integral parts of Old North's history.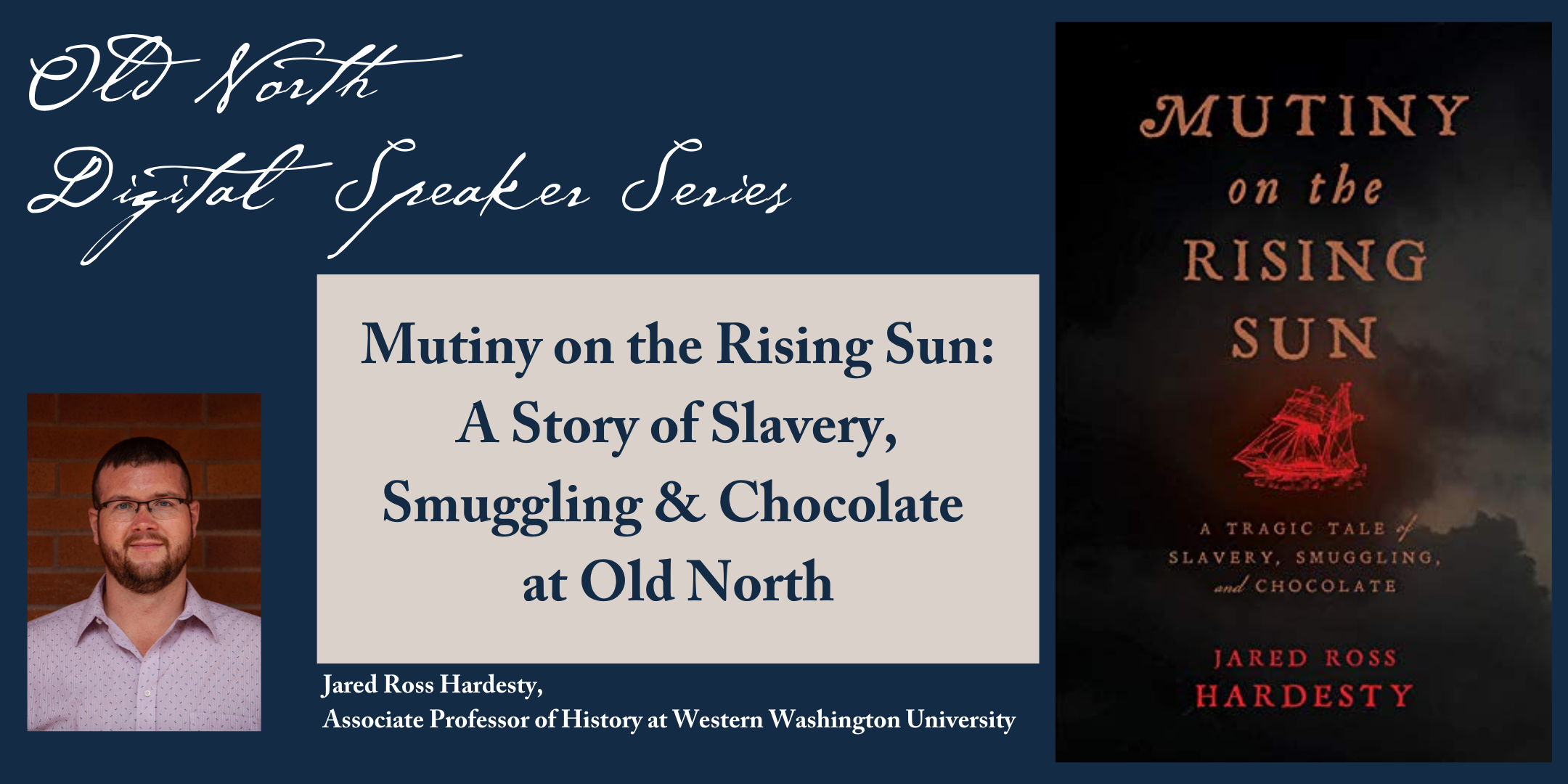 Join historian Jared Ross Hardesty on Zoom for a discussion about his new book, Mutiny on the Rising Sun: A Tragic Tale of Slavery, Smuggling, and Chocolate.
Wednesday, November 3, 2021
7:00 – 8:30 pm
Register on Eventbrite 

Purchase Tickets To Visit Old North Church & Historic Site