Skip to Content
This Old Pew: The Bay Pew
By Gregory N. Flemming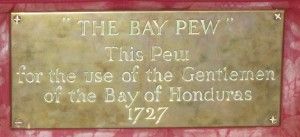 Near the very front of the Old North Church is a plush, velvet-lined pew dedicated to the "Gentlemen of the Bay of Honduras." It is a curious feature for a church built in Boston, and the faded brass marker on "The Bay Pew" reveals a dramatic chapter in the rich history of New England, the Old North Church, and its infamous steeple. In fact, the steeple where two lanterns burned on the night of Paul Revere's ride in 1775 was built with donations from sea captains and logwood cutters who labored in the tropical swamps of Honduras and Belize, nearly 2,000 miles away from Boston.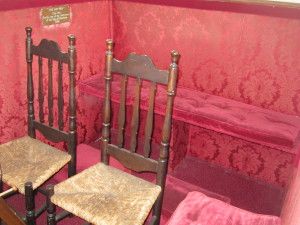 In the early decades of the eighteenth century, fifty years before the American Revolution, vessels hauling wood cut from a rare tree known as logwood made countless voyages between the Caribbean and New England. What made logwood so valuable was its dark inner wood, so rich in color that when a piece is placed in a pail of water, the water turns blood red. The purplish-red heartwood of the logwood tree was used for centuries throughout Europe as a dye for clothing and fabric, and most of the popular dyewoods, including logwood and other species like braziletto, were found only in the region of the Yucatan Peninsula and present-day Belize known as the Bay of Honduras.
Some logwood was shipped to Europe through Jamaica, but by the 1720s a large share of the wood was hauled back to New England and re-exported, largely out of Boston and Newport, Rhode Island. The high price paid for logwood meant that it was one of the most valuable exports from the American colonies during this period, second only to tobacco. Logwood exports out of Boston were a major source of profits, and many of the men engaged in the logwood trade had strong ties to Boston. While the logwood cutters, known as Baymen, were sometimes described as "rude, drunken" rogues — barely a step removed from pirates — others engaged in the trade were respected figures here in New England — and some played a significant role in the history of the Old North Church.
In 1727, a group of men engaged in the lucrative trade donated several loads of logwood to pay for the construction of a steeple for Boston's new Anglican church, Christ Church, now known as Old North Church. That very steeple, fifty years later, would be lighted by two lanterns on the evening of Paul Revere's infamous ride at the start of the American Revolution. The group of men requested the church dedicate the distinctive double pew as an act of appreciation for the donation that helped fund the steeple, and the pew still stands today near the front of the Old North Church, to the "Gentlemen of the Bay of Honduras."
For a deeper dive into the history of the Logwood Trade, check out Ep. 8 of our webseries "99% Sure" below: