Skip to Content
The People in the Pews: Joseph Warren Revere
By Mark Hurwitz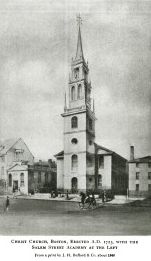 Joseph Warren Revere, son of Paul Revere, attended the Old North Church in the early 19th century. He sat in Pew #54 with his family.
Joseph Warren Revere was born in Boston on April 30, 1777, to Paul Revere and Rachel Walker Revere. He was the third of eight children from Paul Revere's second marriage with Rachel. He was named for Dr. Joseph Warren, the Revolutionary leader who had sent Paul Revere on his midnight ride and who was killed in action at the Battle of Bunker Hill in June of 1775. Joseph Warren Revere married Mary Robbins, the grand-niece of Governor Thomas Hutchinson (former royal governor of Massachusetts).
Revere Copper Company
The Revere Copper Company was the nation's first copper rolling mill. Paul Revere purchased the Canton Mill in 1801 to provide a dedicated copper producing facility for the United States. Although the mill was originally an ironworks, Paul Revere used a loan from the Department of the Navy to convert it into a copper mill, and he developed a commercially viable process for manufacturing copper sheets. His son, Joseph Warren, joined him at the family business in 1804.
Copper rolling is the process of converting large blocks of copper into thin sheets by rolling them slowly down to size. These sheets of copper were used in the 18th and 19th centuries mainly to plate the bottoms of ships. This helped increase the speed and lifespan of ships.
In 1803, the American government commissioned Paul Revere to roll copper sheets to cover the hull of the USS Constitution. Revere also covered the wooden dome of the Massachusetts State House and made the boilers for Robert Fulton's steamboats.
Familial Patriotism
The American Civil War in the 1860s placed increased demands on the Revere Copper Company. The copper mill produced artillery, naval howitzers, and copper for the Union Navy and Army. Joseph Warren's sons, Edward Hutchinson Revere and Paul Joseph Revere joined the 20th Regiment Massachusetts Volunteers. Edward was mortally wounded at the Battle of Antietam and died in 1862. Paul Joseph died of his wounds at the Battle of Gettysburg in 1863. Sadly, Joseph Warren Revere outlived his sons for several years. He died on October 12, 1868, in Canton, MA at the age of 91 after living an incredibly long life like his father.
Civic Leader
As a prominent businessman, Joseph Warren involved himself in civic affairs. He was a member of the Massachusetts Charitable Mechanics Association and the Massachusetts Humane Society, an organization that provided monies for the physically and mentally ill and the poor. He also served in the Massachusetts Legislature from 1816-19 and 1840 and as a member of the Board of Aldermen in the 1830s.