Skip to Content
The People in the Pews: Francis Shaw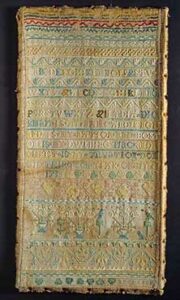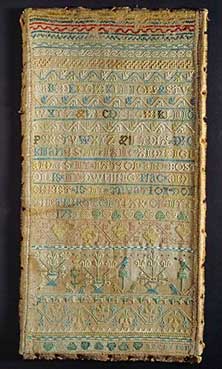 Francis Shaw, who owned Pew #16 in the eighteenth century, was the great-great-grandfather of Colonel Robert Gould Shaw. 
Francis Shaw was born in Boston on March 29th, 1721. He attended Old North Church in the mid-eighteenth century, serving as a Junior Warden from 1760-62 and as a Senior Warden from 1763-66. 
In November of 1744, at the age of twenty-three, Francis Shaw married Lydia Dickman of Boston, whose whose sampler is above. They had one child named Thomas, born in 1745. Lydia died in December of  1746 and Thomas died in September of 1747. Francis Shaw was twenty-six when he married a second time, also in September of 1747. His bride was Sarah Burt, the daughter of silversmith Benjamin Burt. Burt lived in North Square, on what was thought to be Moon Street, almost opposite the three-story brick house that Francis Shaw would purchase five years later. Next to this house was another three-story brick home, built by Moses Pierce in 1711, that is today owned by the Paul Revere Memorial Association. 
By the 1760s, Francis Shaw was one of Boston's wealthiest merchants. He was very active in the West Indies Trade. In the 1770s, British officer Major Pitcairn and Lt. Wragg were billeted at Francis Shaw's home during the occupation of Boston. Francis Shaw's son, Samuel, was an ardent patriot, and before the Revolution had a quarrel with Lieutenant Wragg, who challenged Samuel to a duel. Fortunately, the duel was canceled when Major Pitcairn involved himself and put a stop to it.
Samuel Shaw, the third son of Francis and Sarah, later served as an officer in the Revolutionary War, from its commencement to its close. By 1784, he was departing New York aboard the Empress of China as supercargo and part-owner. This ship is the first to sail for Canton from the United States, George Washington appointed Samuel Shaw consul to China—a position he would hold for the rest of his life. Francis Shaw died October 18th, 1784, and was laid to rest at Copp's Hill Burial Ground in Boston. 
Seventy-nine years later, his great-great-grandson Colonel Robert Gould Shaw was shot and killed by a Confederate bullet at Fort Wagner, South Carolina. It was July of 1863, and his last words were "Forward 54th!" At the time, the twenty-five-year-old Col. Robert Gould Shaw was in command of the 54th Massachusetts.
The 54th Regiment Massachusetts Volunteer Infantry was an all-black infantry regiment that fought in the Union Army during the American Civil War. The regiment was one of the first official African-American units in the United States during the American Civil War.
The regiment was authorized in March of 1863 by the Governor of Massachusetts, John A. Andrew, to be led by Colonel Robert Gould Shaw.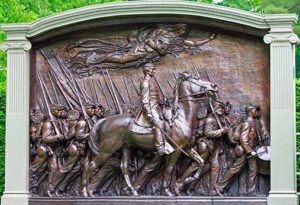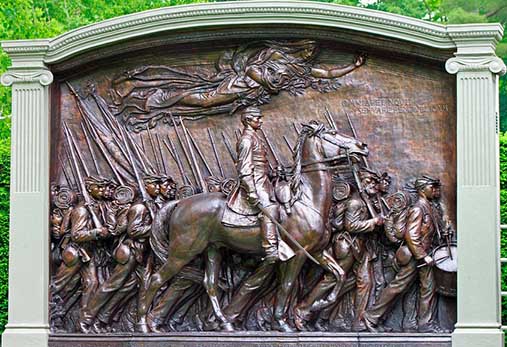 A monument to Shaw and the 54th constructed in 1897 has become sculptor Augustus Saint-Gauden's most famous work. Upon its completion, the memorial was unique in portraying the features of black individuals, rather than the racist stereotypes that dominated art at the time. The bronze Robert Gould Shaw and the Massachusetts Fifty-Fourth Regiment Memorial, which was featured in the credits of the movie Glory, can be found on Boston Common across Beacon Street from the Massachusetts State House.
In 1999 the Old North Church gifted the ceremonial sword of Civil War hero Colonel Robert Gould Shaw to Boston's Museum of African American History. Old North had been given Shaw's sword in the late 1950s when the Robert Gould Shaw House was demolished during an urban renewal project. Old North Church vicar, the Reverend Stephen Ayres, told the Boston Globe: "It seemed to us to be good stewardship to give this sword to a sister museum where it can tell its story best."