Skip to Content
From the Old North Team | Reopening Statement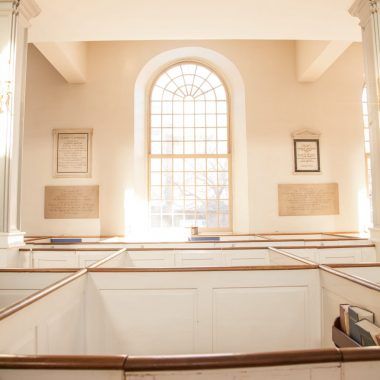 Dear Friends & Neighbors,
Back in March, the team at Old North Church & Historic Site made the difficult decision to temporarily close its doors to the public as concerns of the COVID-19 (Coronavirus) pandemic continued to grow in our city and beyond. It was our responsibility as active members of the community to help protect the health and safety of our visitors, supporters, and staff, and to do all that we could to mitigate further spread of the virus during this time.
We are now delighted to announce that the time has come to welcome visitors back to the Old North Church & Historic Site! We will be re-opening to the public on July 16th.
The four-month closure has presented our staff with unforeseeable challenges, but also with unique opportunities. We've launched meaningful digital programming to maintain community connection and engagement and implemented a robust health and safety plan throughout our site to ensure compliance with city and state guidelines.
We want to thank all of our supporters who have helped us through this period of difficulty and invite you to join us as we embrace our 2020 themes of Vision & Initiative. While we are not completely free of this virus and its effects, we are looking forward to welcoming you and your families back for an experience dedicated to connecting the events of our past to our contemporary moment. We hope that a visit to Old North will spark reflections on the true meaning of patriotism, civic engagement, and active citizenship. We can't wait to see all your (masked) faces soon!
Warmly,
The Old North Team
For more information on Old North's Health and Safety Guidelines, visit
While our site will be reopening for a modified visitor experience, we are also excited to continue some of our digital programmings through the coming months. Please visit events for more information on our upcoming events!