Skip to Content
This Old Pew: #30 – Gillam Phillips
By Mark Hurwitz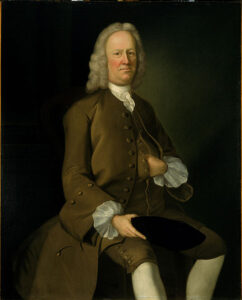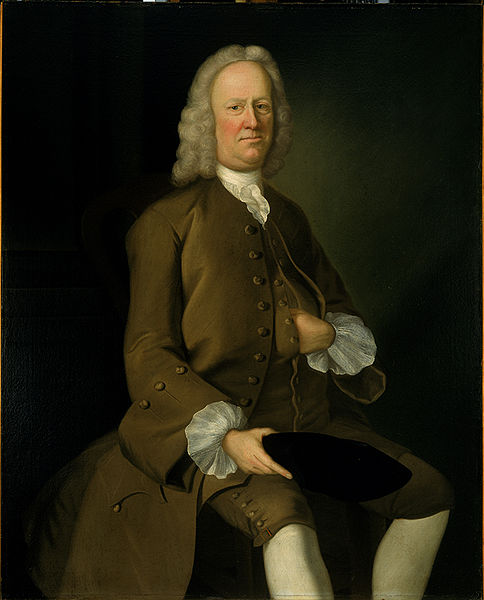 The connections between families in 18th century Boston and subsequently their connections to Old North Church are truly fascinating. Take Gillam Phillips for instance. Through his life journey, he can be connected to Cotton Mather and Peter Faneuil, AND an illegal sword duel started by his brother Henry. And yes, he attends Old North Church in the 1720s, owned pew #30 with his family, served on the vestry for three years, then as Junior Warden in 1728, and finally as Senior Warden in 1729. So who was Gillam Phillips and who were his family members?
Gillam was born on Pudding Lane, now Devonshire Street, in 1695. He was the son of Samuel, a bookseller, and Hannah Gillam Phillips. He married Mary Faneuil, sister to merchant Peter Faneuil (for whom Faneuil Hall is named). As an adult, Gillam became a bookseller like his father and published a number of books written by Cotton Mather. He erected the first paper mill in New England in 1728 (in Milton Lower Falls), and invited his brother Henry to join him in the bookselling business after Henry graduated from Harvard.
Seventeen twenty-eight proved to be a big year for Gillam. Not only did he build the region's first paper mill and serve as Junior Warden at Old North Church, he also became entangled in an illegal sword duel and subsequent estate dispute thanks to his brother Henry. What happened?
In July of 1728, Henry and Benjamin Woodbridge drank and played cards at the Royal Exchange Tavern on the corner of State and Exchange Street. The card game turned into an argument, which led to a challenge to a duel with swords at Boston Common that same night. According to Henry, troubles between the two had been growing for some time and according to him, a friend of Woodbridge's encouraged him to challenge Henry to a duel with swords.
Henry suffered minor wounds to his abdomen and fled Boston Common after wounding Woodbridge in the chest. Henry sought out the medical attention of Dr. Pemberton who dressed his wounds. As he was being treated for his wounds, he confessed to participating in an illegal duel and wounding Woodbridge. He brought Dr. Pemberton to Boston Common and the both of them were unable to locate Woodbridge. He was found dead the next day. It is believed that Woodbridge had sought shelter several yards away under a tree when it began to rain, and thus he expired there.
Because dueling was illegal in Massachusetts, Henry's friends and family helped to smuggle him out of town aboard a ship departing for England that evening. Several weeks later, Henry reached London and went on to La Rochelle, France where his brother's brother-in-law, Peter Faneuil, had family, and they agreed to take him in.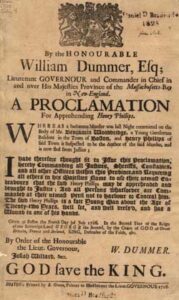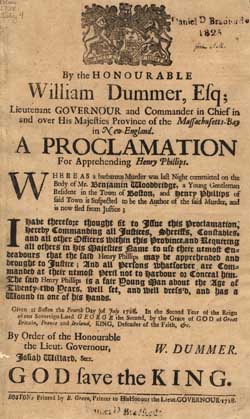 [LEFT] Back in Boston, the Governor of Massachusetts issued an arrest warrant for Henry on the charge of murder. Dueling had been outlawed in Massachusetts for many years, and the Governor issued a proclamation that was published in a Boston newspaper stating:
"Whereas a barbarous  murder was last night committed, on the body of Benjamin Woodbridge resident in the town of Boston; and Henry Phillips, of said town is suspected to be the author of said murder, and is now fled from justice; I have therefore thought proper to issue this proclamation , hereby commanding all justices, sheriffs, constables, and all other officers, within this province, and requiring all others, in his majesty's name, to use their utmost endeavors, that the said Henry Phillips may be apprehended and brought to Justice; and all persons , whoever, are commanded, at their utmost peril, not to harbor or conceal him."
In August of 1728, Henry was indicted for murder in absentia. Depressed and ill, he died only four months after he arrived to France. Because he passed away without a will, his family back in Boston contested the settlement of his estate, valued at over four thousand British pounds. Gillam challenged the Massachusetts law, which awarded the estate to his mother and sister. Under English common law, Gillam would have inherited the entire estate. In the end, a Massachusetts judge awarded a large portion of Henry's estate to his mother and sister, forcing Gillam to share the money.
Gillam Phillips died in 1770 and is buried at the Granary Burying Ground with his wife.