Skip to Content
Old North to Host an Original Play in 2023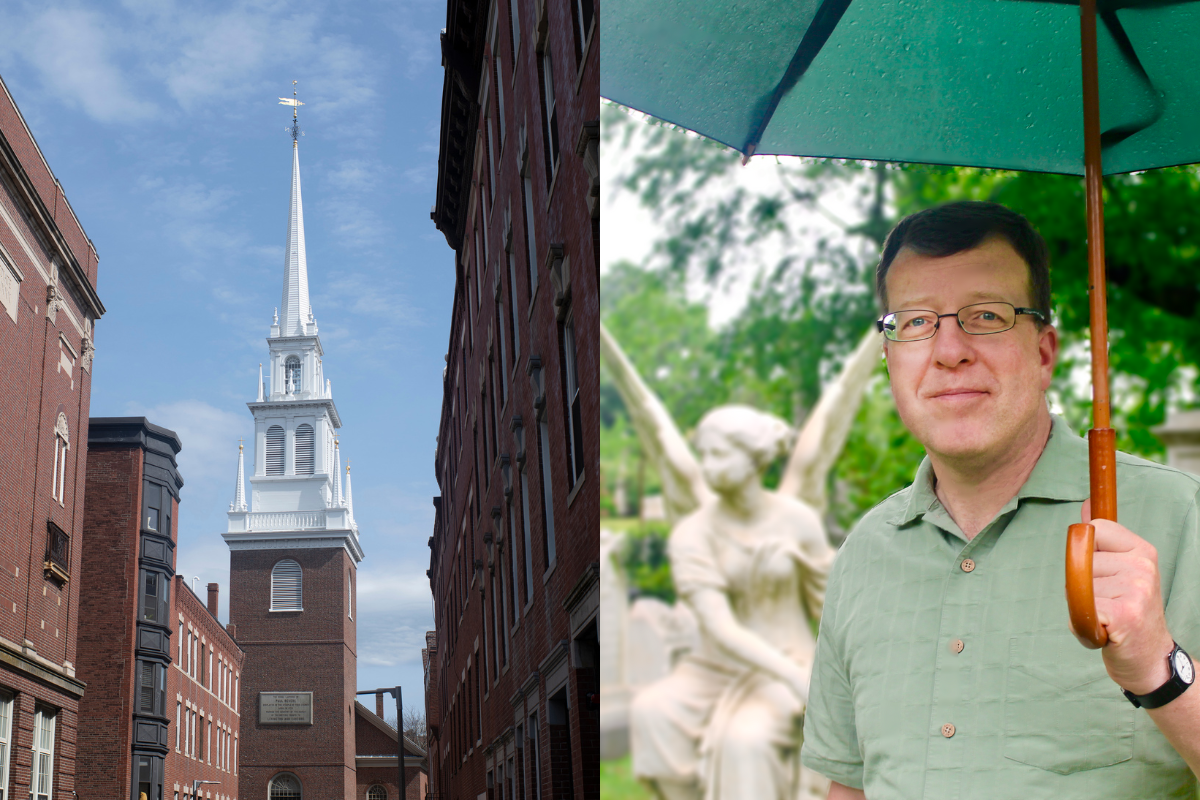 We are thrilled to share that in 2023, the 300th anniversary of Old North Church's founding, the historic site will host an original play. Patrick Gabridge, the producing artistic director of Plays in Place, has begun work on a theater piece that will be staged in Old North's sanctuary three nights a week for roughly 14 weeks next summer. 
An accomplished playwright who has penned plays for numerous historic sites, Patrick Gabridge brings a wealth of experience and expertise to this unique project. We sat down with Patrick for a conversation about his background, his process, and his vision for the play.
Can you tell us a little about your background writing plays for historic sites?
I've been writing plays since I was in college. And I started writing historical plays back in the 90s, and also did site-specific plays back then, too. But I didn't combine these two interests until 2013, when the Bostonian Society commissioned me to write a site-specific historical play for Boston's Old State House. They'd recently renovated the Council Chamber and wanted a play to go in it, and we knew it should relate to the Boston Massacre. The result was my play, Blood on the Snow, which we produced there in 2016 and 2017, to sold-out houses.
That project let me combine some of my strengths as a writer and theater producer, and it was clear that there was a niche waiting to be filled in Boston and beyond for this kind of work, so I created Plays in Place. Since that time, we've worked on projects for the Old State House again (Cato & Dolly), Old South Meeting House (I Am This Place, Scipio's Balcony, Imagining the Age of Phillis), Roosevelt-Campobello International Park (Beloved Island: Windows on Campobello), Mount Auburn Cemetery (The Nature Plays, The America Plays, Moonlight Abolitionists), and are currently working with the National Park Service on a big project, as well as with Historic Northampton and MassBike. We've learned so much over the years about how to create theatrical experiences that engage visitors/audiences with the sites, people, and history.
We've heard that you have wanted to write a play for the Old North Church for a long time. What intrigued you about the church as a place to stage a play?
It's such an iconic Boston landmark, so deeply rooted in American history and myth. Longfellow's poem cemented its place in our collective historical sense of the Revolution, but a little digging shows a place and congregation with a lot more complexity. I went to college in Boston in the 80s, and I loved to walk around the North End and would stop by the courtyard and peek my head into the church. Once I started writing site-specific plays, I hoped that I'd have the chance to create one for Old North. I love the look of it, the intimacy of the space, and you can just feel the history all around you.
What can you tell us about the concept for the play?
It's a bit early to get into much detail, but I can say that it's likely to involve John Pulling Jr., who was a vestryman and hung one of the lanterns on April 18, 1775; Mather Byles Jr., who had been rector of the church and was being fired (for various reasons); and Cato, who was enslaved by Mather Byles (and possibly accompanied the Byles family to Canada when the British evacuated Boston in March 1776). I'll be exploring the intersection of personal politics and faith, looking at the implications for these three men of the rupture about to occur between England and the Colonies. Anglican churches, including Old North, were shuttered for years during the Revolution, which severely disrupted the religious practice of the parishioners.
What will your process be for writing the play?
I'll do a deep dive into research around the main characters and the congregation. I'll look at the archives and spend a lot of time at Mass Historical, as well as at the library looking at correspondence on microfilm. I'll soak in as much as I possibly can to get a feel for the time and their lives. I'm fortunate to have access to the knowledgeable staff at Old North Illuminated, and I am looking forward to in-depth conversations with Vicar-in-Charge Matthew Cadwell and visiting scholar Jaimie Crumley. Once I'm fully saturated with research, I'll actually start writing drafts of the play. Once I have a solid draft, I'll get feedback from the folks at Old North and also start bringing in actors and a director for in-house readings of the play, to see how it sounds in the space.
What is the secret to blending good history with good storytelling?
Taking the time for research is important, to build a strong base level of understanding of the moment, people, and place. Once I have that, it's a matter of being able to fully imagine each character's point of view and goals, in that specific moment. The story is going to be about people's desires and interactions. I have to keep going over it, again and again, until it makes sense and sounds right. These pieces are a mix of research and imagination — we don't know exactly what they said to each other. The point is to create a dramatic moment that fully engages our audience, that fleshes out these people who might have been left as mostly shadows of history.
What does it mean to you that the play will premiere in 2023, the 300th anniversary of the church's founding? What sort of themes and ideas are important to explore as the church marks three centuries of history?
It's exciting to get to create something for such a momentous occasion. I hope that I can bring the level of complexity and humanity that this place and these people deserve. We'll be looking at issues of freedom that were at the heart of the revolution — political, religious, and personal. The struggle for religious liberty was, and still is, intrinsically linked to personal politics in our country. Slavery was an important part of life in all the American Colonies and would remain a central concern of the new country for another century. I hope that this play will be part of Old North's larger conversation on issues facing us at our own moment in time.