Skip to Content
Deputy Husbands and Slave Mistresses: White Female Pew Proprietors at the Old North Church, 1735-1775
By Samantha Frost, Old North Illuminated Research Intern (Spring 2023)
Meet Mehitable Nelson
On August 11, 1721, 30-year-old Mehitable, who was often called "Hittie" in family letters, married 27-year-old Robert Temple.1 Their officiant was Rev. Samuel Myles, the rector of King's Chapel in Boston.2 After their marriage, Mehitable and Robert purchased the deed to pew number 11 at the Old North Church. The young Church of England parish, founded in 1723, was likely the ideal place for the newlyweds to make new friends and expand their professional network. As pew proprietors, Mehitable and Robert gained more than a place to sit while they worshiped. They gained authority in their new church. Their ownership of this small piece of their church meant they could participate in its decision-making processes. They could vote in annual meetings and at pew proprietor gatherings. Robert could, and did, serve as a member of the vestry.3 Mehitable maintained her rights as a pew proprietor at Old North even after her husband's death. 
Mehitable's father was an English merchant turned substantial landowner in Boston. From her youth, she learned to manage complex business affairs. No doubt, her upbringing made her an ideal life partner for Robert Temple. Robert was a British sea captain who sold goods such as pickled beef, green and white peas, and flax seed on Noddle's Island, off the coast of Boston Harbor. Noddle's Island has since been incorporated into East Boston.4 In addition to these non-human commodities, Robert Temple bought and sold African people. 
This blog post uses seafaring men's documented economic entanglements in colonial Boston as a lens to see their wives' less-documented involvement with the same. My methods for learning more about Mehitable and Robert Temple's relationship offer a window that allows us to glimpse into the lives of wealthy white Boston women. Some of these wealthy women were the "slave mistresses" of the urban North. These Northern enslavers participated in a social system that prioritized their social and economic needs above the freedom of African people.
Mehitable and Robert's "Property"
Like other eighteenth-century New England women, Mehitable Temple participated in the Atlantic slave economy alongside her husband. On March 6, 1738, Robert Temple's name emerged in The Boston Gazette. He was selling, "A very Healthy Negro Man, who has had the Small Pox, and is very expert at most sorts of Town or Country business, with his Wife which is also a very Healthy and Valuable Wench, and a Male Child."5  Robert Temple wanted to part with the enslaved family because he was "Overstocked with Servants of that Colour, to which they add one every [year], and are likely to continue so to do, for many [years] to come."6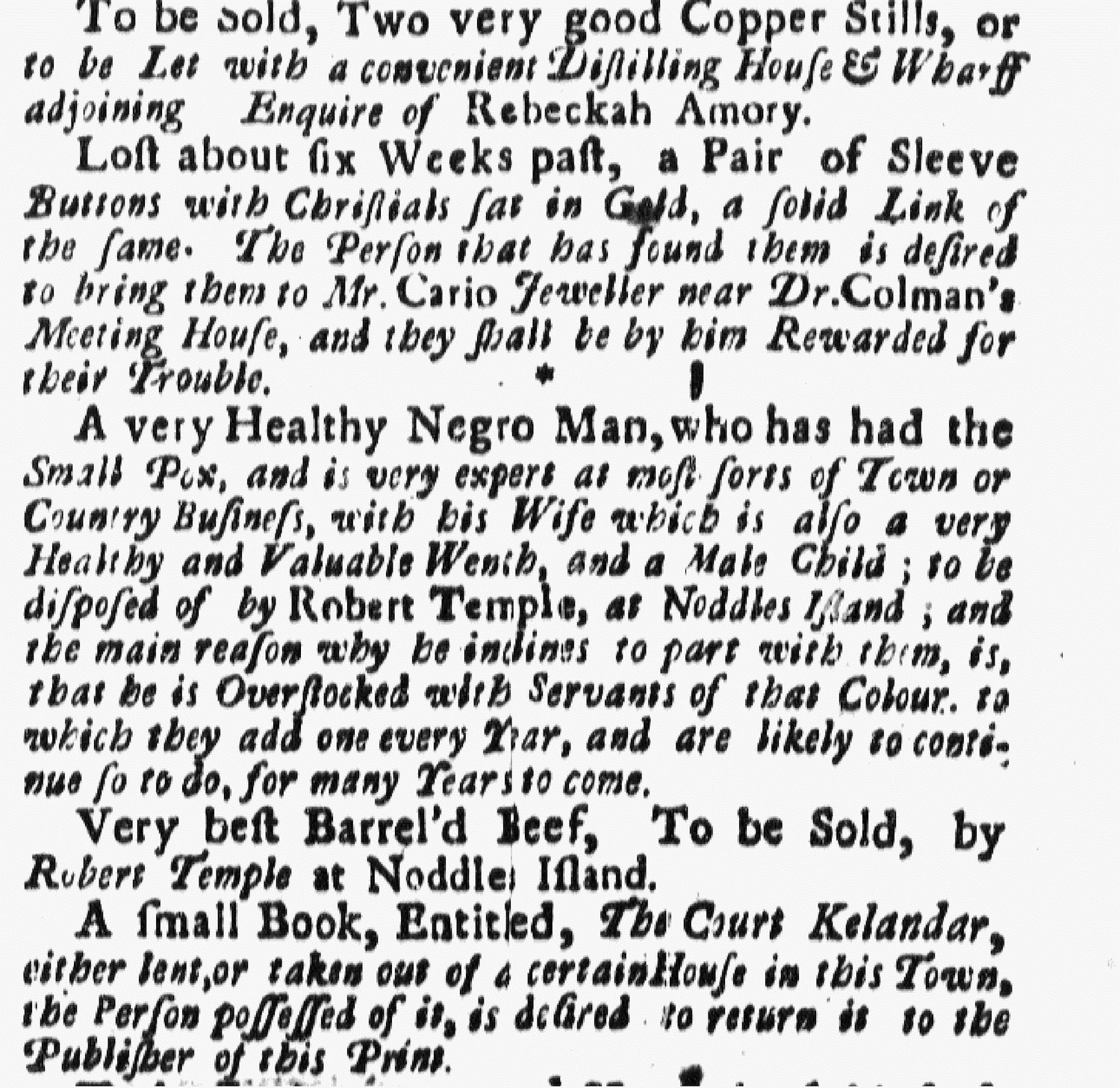 How Mehitable used the enslaved laborers is undocumented. However, she was likely an experienced household manager. Typically, the number of unfree laborers in any household depended upon how well the property owners managed their estate. The Temple family owned more enslaved people than was typical of an eighteenth-century New England family.7
Perhaps Mehitable oversaw the family's enslaved people as they cooked, cleaned the house, tended the garden, ran errands, and cared for children and livestock at the family's Ten Hills home. The Ten Hills neighborhood is now part of Somerville, Massachusetts.8  The Temple family also owned property in Charlestown, Worcester, Woburn, and along the Pemaquid and Damariscotta Rivers.9  Enslaved laborers likely maintained the Temple family's many holdings.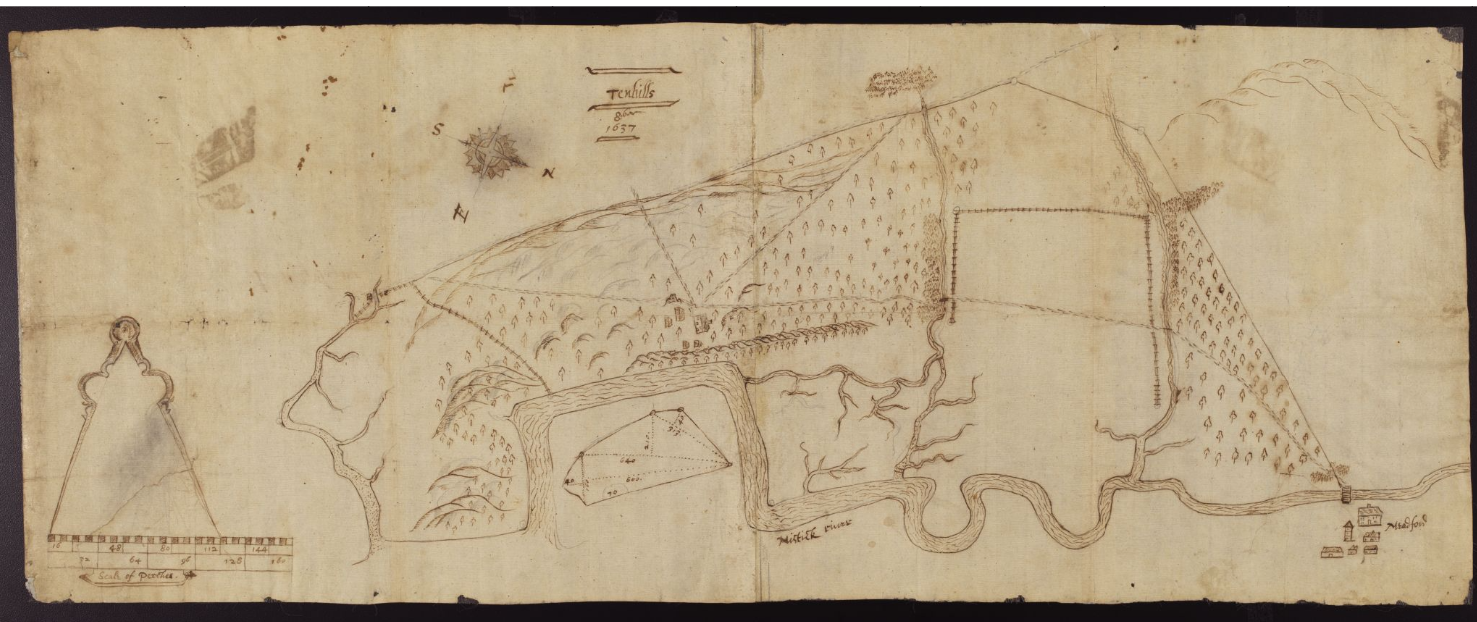 Deputy Husbands in Colonial New England
Because he was a ship captain, Robert Temple was frequently away from the family home. Therefore, Mehitable became what historian Laurel Thatcher Ulrich has called a "deputy husband." The term deputy husband refers to colonial-era wives who were surrogates in the absence of their spouses. These women shouldered responsibilities that their society deemed "masculine." They also carried on external business to support their family.10 As a deputy husband, Mehitable cared for the family's eight children, assisted her husband with his financial affairs, and managed the family estates while her husband was away at sea. 
Mehitable continued to participate in the slave economy after her husband's death. He left three enslaved people to her in his will. Per her husband's will, when she became a widow at age 63, Mehitable assumed ownership of the family's farm and mill in Charlestown, along with "three negroes, Bandon, Henry, and Mallow, for and during the term of her natural life."11 As an older widow, Mehitable did not have dependent children to support. She remained economically secure because of the "rents and profits" from the Charlestown mills. She likely spent her latter years managing the land and enslaved people that her husband left to her in his will. Her independence did not allow her a voice in formal legislative politics, but her actions shaped the future of social and political life in colonial New England.12  At Old North, she worshiped alongside other wealthy women who also shaped life within and outside their faith community.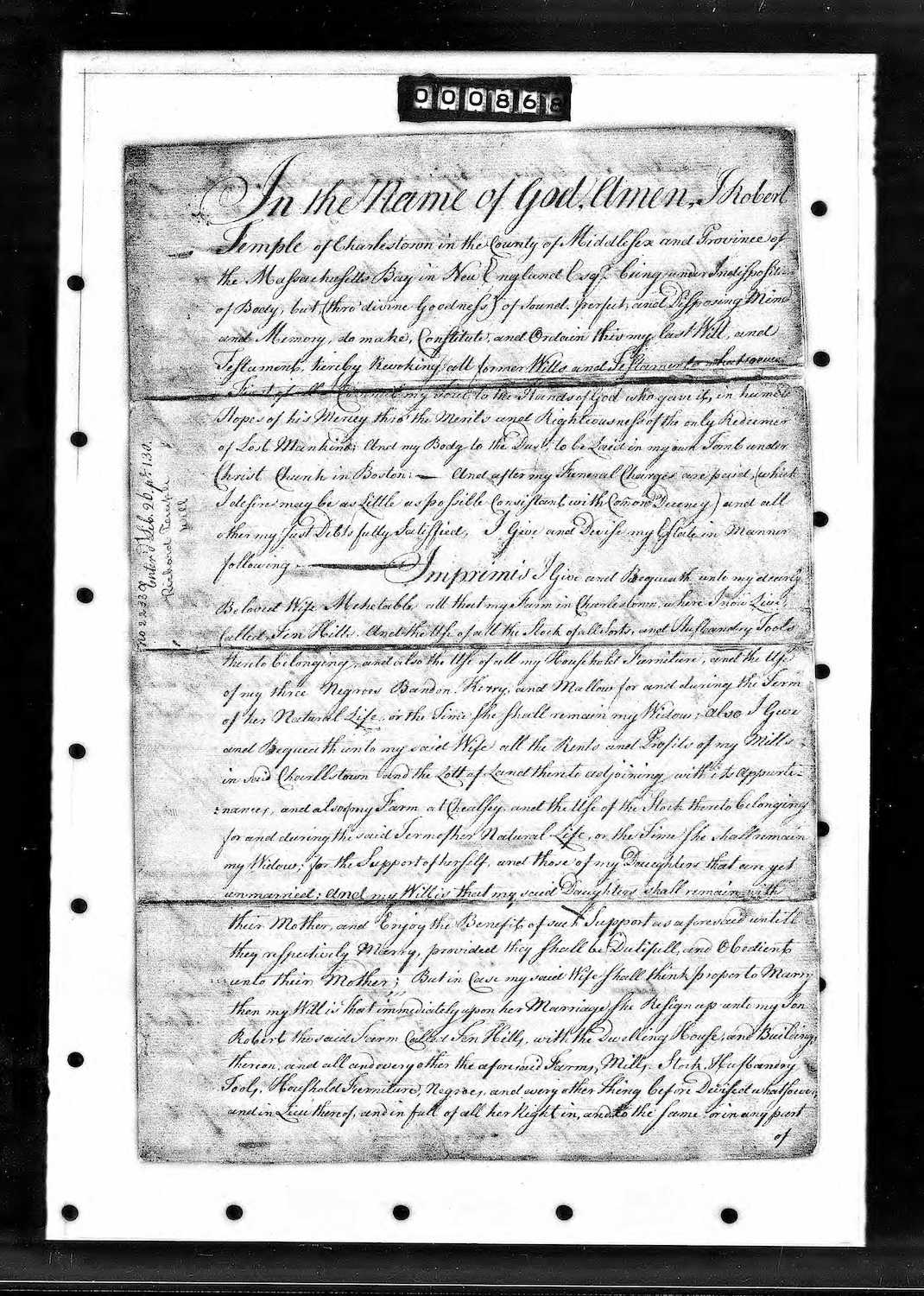 Meet Other Female Pew Proprietors in Old North's Early History
Mehitable Temple was not the only female pew proprietor in Old North's early history who participated in New England's slave economy. Mary Gibbs appears in Old North Church records as the proprietor of pew number 8 following the death of her husband, John Gibbs. Mary Gibbs owned enslaved people named Henry and Susanna, who were baptized at Old North in 1736 and 1737. Additional records reveal that she enslaved at least one or two other people.13  Similarly, Peter and Ann, who were enslaved by a woman named Elizabeth Gibbs, were baptized at Old North in 1736 and 1741, respectively.14  These baptisms aligned with the customs of the Old North Church. From the church's founding in 1723, the church's first rector, Rev. Dr. Timothy Cutler, had advocated for baptizing free and enslaved people of color. Cutler believed that baptism would reform the lives of enslaved people and ultimately make them more amenable to lives of servitude.15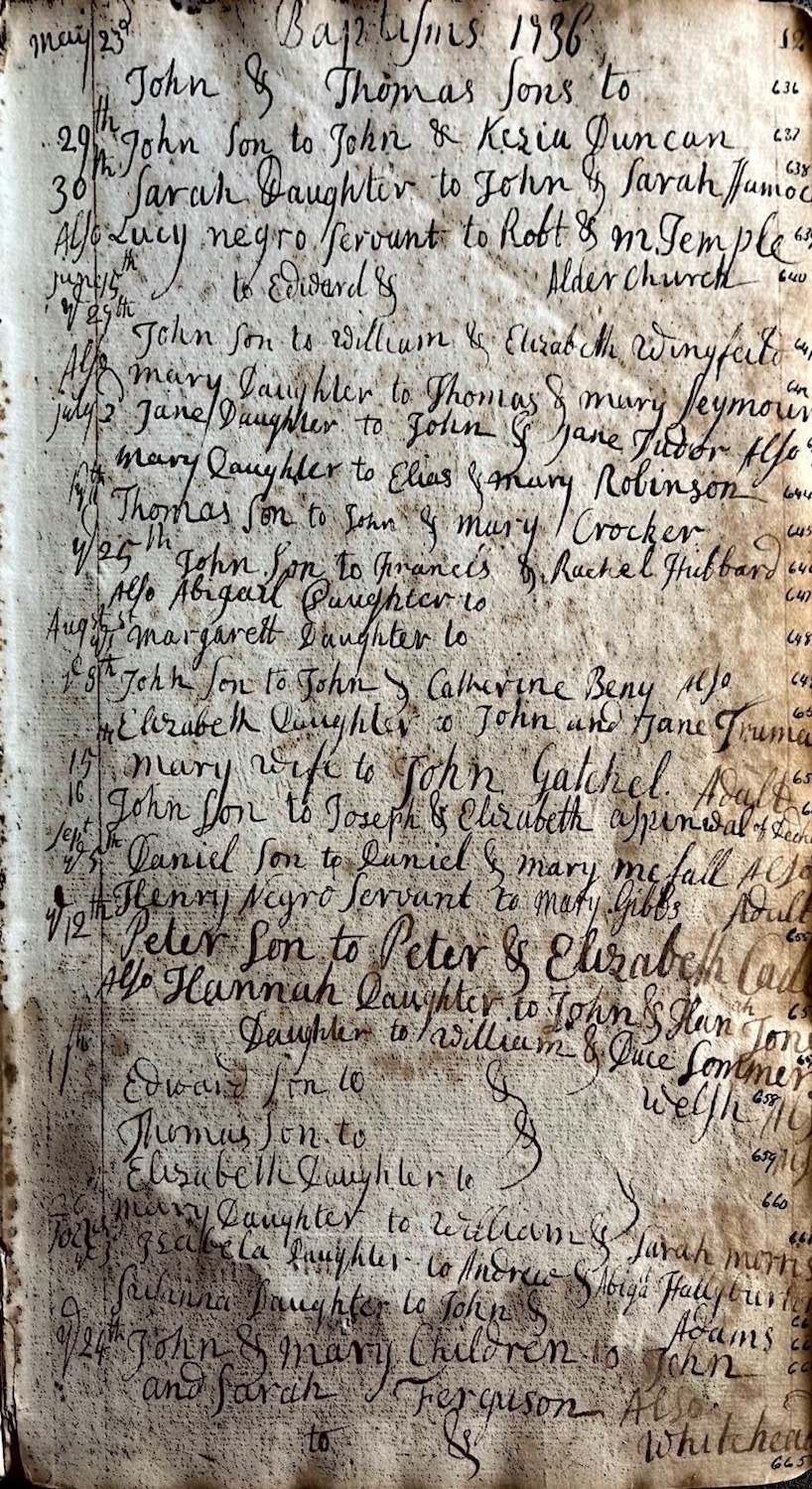 It is challenging to locate documents about the lives of white female pew proprietors outside of the church's records. I used many textual sources outside of the church's records to complete this project. First, I studied the Old North Church records, particularly vestry records, baptism records, and pew deeds, to find the names of the female parishioners at Christ Church from 1735-1778. Next, I used vital records from online repositories, including birth, marriage, and death certificates, to find more information about their spouses, children, and families. This process proved difficult because many colonial New Englanders shared the same name. Finding the correct person required a careful look at the dates they were alive and where they lived to determine where I had found the person I was seeking, not someone else with the same name. Finally, I scoured digitized newspapers such as the Boston Gazette and Boston Post Boy in hopes that they contained the names of any of Old North's female pew proprietors. 
When the women's names did not appear in newspapers, I pieced together their lives based on the information I discovered about their husbands. For example, Rachel Barlow, proprietor of pew number 22, married Captain Henry Barlow. Henry Barlow's name appeared in newspapers frequently. The Boston Gazette and Boston Post Boy detailed Captain Barlow's voyages to London. He often brought items like "powder, sugar, choice bohea and green tea" to Boston to be sold by merchant Peter Frazier on King Street.16  Because her husband traveled so frequently, Rachel Barlow, like Mehitable Temple, acted as a deputy husband in his absence. Similarly, Sarah Britten, proprietor of pew number 37 with Rachel Sowersby, was married to Henry Venner, who worked in the post office with Ellis Huske on Queen Street. Henry Venner's name appeared in newspapers regularly. However, Sarah Venner's name appeared only once when, on October 23, 1750, the Boston Post Boy announced Henry's death, stating: "a Dwelling-House and Land, with a Shop well situated for Business, near the Town-Dock; to be Sold, enquire of Sarah Venner Widow, now living in said House."17  We do not know much about Sarah Venner, but we do know that her husband trusted her to manage his affairs after he died. These women's stories reveal that the female pew proprietors of colonial Old North were shrewd businesswomen with robust public and private lives. 
Conclusion 
Historians have few documents that allow us to tell complete stories of the lives of white women, even wealthy white women, in colonial Boston. The women left few archival traces. Therefore, we know woefully little about their lives. We know even less about how they participated in the colonial slave economy. However, Mehitable Temple's story demonstrates that by turning to the better-documented lives of seafaring men, we learn that many white women in colonial Boston supported a system that privileged the economic success of white families above the freedom of African people. Northern "slave mistresses" like Mehitable adeptly managed households, families, and in many cases, the economic affairs of their husbands and fathers. As active participants in a social and economic racial caste system, the women left their mark on all facets of the lives of the people they enslaved. 
End Notes
1. William H. Whitmore, A Report of the Record Commissioners of the City of Boston, Containing the Boston Marriages from 1700 to 1751 (Boston: City Registrar, October 25, 1898), 103; Richard R. Johnson, John Nelson, Merchant Adventurer: A Life Between Empires (New York: Oxford University Press, 1991), 123. 
2. Edgar Legare Pennington, "The Reverend Samuel Myles and His Boston Ministry," Historical Magazine of the Protestant Episcopal Church 11, no.2 (1942): 154. 
3. Ross A. Newton, "'Good and Kind Benefactors': British Logwood Merchants and Boston's Christ Church, Early American Studies 11, no.1 (2013): 17.
4. "Advertisement," Boston Gazette (Boston, Massachusetts), no. 446, June 10, 1728 [2], Readex: America's Historical Newspapers.
5. "Advertisement," Boston Gazette (Boston, Massachusetts), no.947, March 6, 1738, [4]: Readex: America's Historical Newspapers.
6. Ibid.
7. Vivan Leigh Bruce, "'Being Weak of Body but Firm of Mind and Memory': Widowhood in Colonial America, 1630-1750," PhD diss., (Cornell University, 1994), 275. 
8. David Brion Davis, Inhuman Bondage: The Rise and Fall of Slavery in the New World (New York: Oxford University Press, 2006), 129. 
9. Probate Records 1648–1924 (Middlesex County, Massachusetts); Author: Massachusetts, Probate Court (Middlesex County); Probate Place: Middlesex, Massachusetts. 
10. Laurel Thatcher Ulrich, Good Wives: Image and Reality in the Lives of Women in Northern New England, 1650-1750 (New York: Vintage Books, 1980), 9. 
11. Probate Records 1648–1924 (Middlesex County, Massachusetts); Massachusetts, Probate Court (Middlesex County); Probate Place: Middlesex, Massachusetts. 
12. Sarah E. Jones, "A Comparison of the Status of Widows in Eighteenth-Century England and Colonial America," MA thesis (University of North Texas, 2004), 139- 140, https://digital.library.unt.edu/ark%3A/67531/metadc4507/m2/1/high_res_d/thesis.pdf.
13. Amy Budge, "This Old Pew: #8 – Mary Gibbs," The Old North Church & Historic Site, October 20, 2020, https://www.oldnorth.com/blog/mary-gibbs/.
14. "Clark's Register, 1723-1851," from the Massachusetts Historical Society, Old North Church (Christ Church in the City of Boston) Records, Volume 34 XT,  accessed February 16, 2023. 
15. Jared Hardesty, "An Angry God in the Hands of Sinners: Enslaved Africans and the Use of Protestant Christianity in pre-Revolutionary Boston," Slavery & Abolition 35, no.1 (2014): 69-70 and "Race and Evangelism in the Church of England | The Old North Church & Historic Site," https://www.oldnorth.com/blog/race-and-evangelism/.
16. "Advertisement," Boston Gazette (Boston, Massachusetts), no. 187, June 24, 1723: [2]. Readex: America's Historical Newspapers.
17. "Advertisement," Boston Gazette (Boston, Massachusetts), no. 1597, October 23, 1750: [2]. Readex: America's Historical Newspapers.3