Skip to Content
Celebrate with Old North!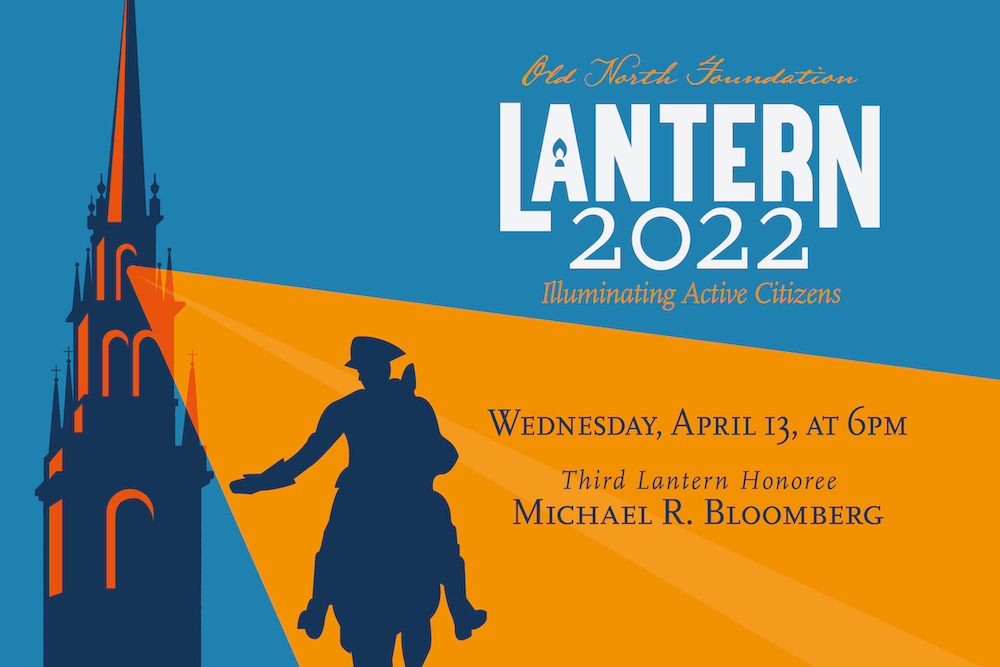 Lantern2022
Illuminating Active Citizens
Wednesday, April 13, 6:00 – 9:30pm
Old North Church @ 193 Salem Street, Boston and Streaming Online
With Third Lantern Honoree Michael R. Bloomberg,
Founder of Bloomberg LP and Bloomberg Philanthropies, 108th Mayor of New York City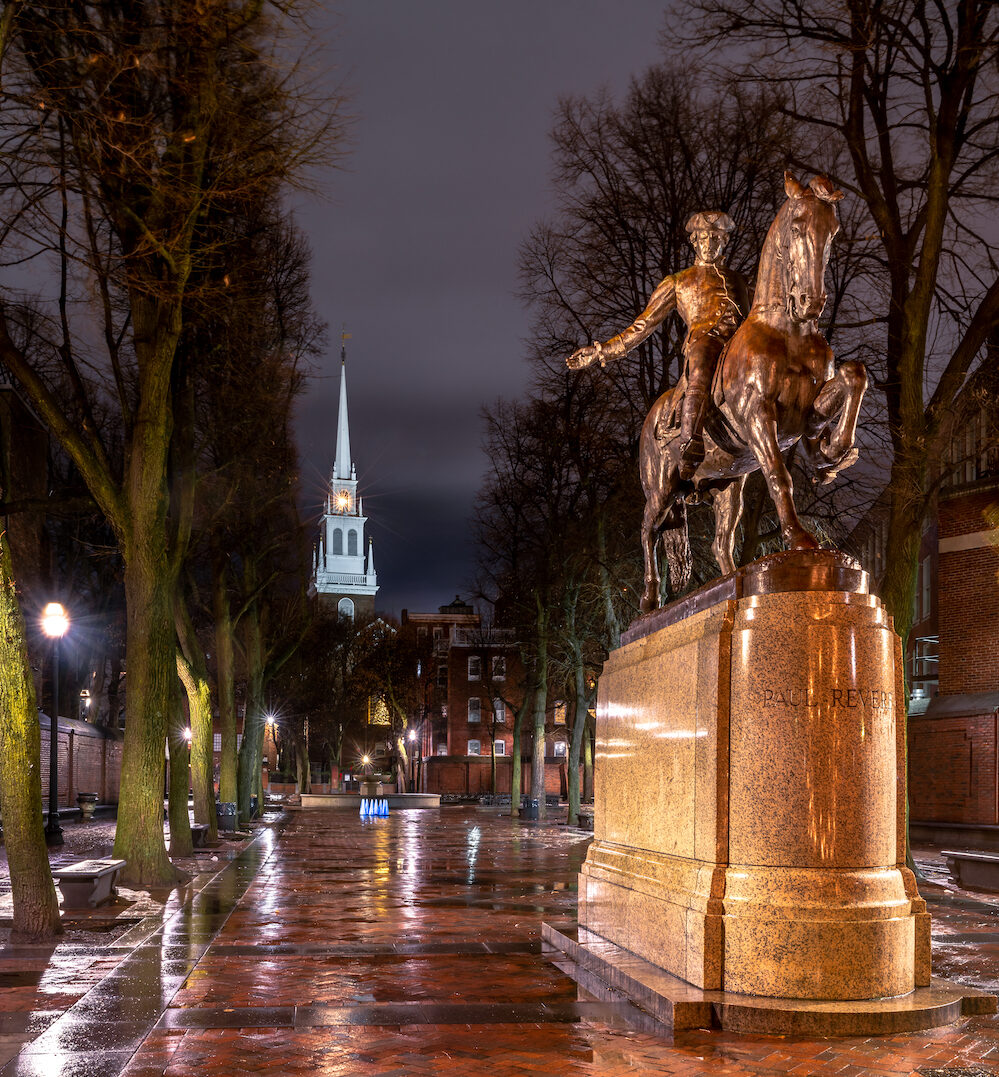 Lantern2022, an in-person and virtual event, will celebrate the heroic actions of April 18, 1775 and Old North's legacy of active citizenship. Join us for an uplifting evening featuring music, a spirited performance of the poem "Paul Revere's Ride," the inspiring words of honoree Michael R. Bloomberg, and a gathering after the program to socialize and watch the lighting of the lanterns. Proceeds will support the Old North Foundation's virtual and on-site programs, which aim to inspire children and adults alike to consider the ways they can build a more just and equitable world.
Tickets are now available!
Note: All attendees must show proof of vaccination and wear the provided mask when indoors.
Questions? Please email Nikki Stewart at nstewart@oldnorth.com.
The Old North Foundation is a secular 501(c)(3) nonprofit organization working to preserve the iconic Old North Church campus and engage audiences of all ages with its legacy.
Sponsors
Platinum
Allen Snyder*
Gold
Anne Bailey Berman* and Roger Berman
Karen Bressler and Scott Epstein
Silver
Matt Conti
Nancy Csaplar*
Jillian* and Andrew McGrath
Ed* and Kater Pendergast
Maddy Rodriguez* and Francisco Morales
Gordon and Barbara Russell
Bronze 
Ancient and Honorable Artillery Company
Steve and Lisa Ayres
The Bigelow Family
Jeff Bray
Jonathan Chu* and Maryann Brink
Susan* and Charles Eddy
John Stefanon Design
Hank and Patricia Kucheman
Tim Ostrander / Ayco Goldman Sachs
Nikki Stewart and Jacob Sconyers
Twelve Points Wealth Management
UBS Private Wealth Management 
*Old North Foundation Board Member
Host Committee
Karen Bressler, Co-Chair
Maddy Rodriguez, Co-Chair
Daren Bascome
Anne Bailey Berman
Dr. Kabria Baumgartner
Jonathan Chu and Maryann Brink
Dave Clayman
Eliot and Jacqueline Cohen
Matt Conti
Cheryl Delgreco
State Senator Lydia Edwards*
Bill Fowler
Ellen Hume and John Shattuck
Hank and Patricia Kucheman
Jillian McGrath
State Representative Aaron Michlewitz*
Ed and Kater Pendergast
Barbara Russell
Allen Snyder
Nikki Stewart and Jacob Sconyers
Dr. Tommy Welch
* Honorary member
About Our 2022 Third Lantern Honoree
Mike Bloomberg is an entrepreneur and three-term mayor of New York City whose innovations in business, government, and philanthropy have made him a pioneering leader on critical issues facing America and the world. He has launched major efforts to save and improve lives, including America's largest campaigns to prevent gun violence and fight the climate crisis, and global initiatives to tackle pressing public health issues. Bloomberg serves as the UN Secretary-General's Special Envoy for Climate Ambition and Solutions, and as WHO Ambassador for Noncommunicable Diseases and Injuries.
Elected mayor just weeks after the attacks of September 11, 2001, Bloomberg led New York City's resurgence. He spearheaded the rebuilding of Lower Manhattan, fought poverty with new programs that became national models, and turned around a failing school system. Bloomberg reduced carbon emissions by 13 percent, increased New Yorkers' life expectancy by three years, and cut crime by a third while reducing incarceration by nearly 40 percent. Despite the Great Recession, he led the city to record job growth.
After his third term in City Hall ended in 2013, he resumed leadership of Bloomberg LP, the financial technology and media company he founded in 1981, and expanded his philanthropic work. Bloomberg LP now employs some 20,000 people, and Bloomberg Philanthropies works to improve lives through its core focus areas: Public Health, Education, the Environment, Government Innovation, the Arts, and the Greenwood Initiative, which aims to accelerate the pace of wealth accumulation in Black communities and address systemic underinvestment in them. He also launched a series of major efforts to help fight the coronavirus in the U.S. and around the world. Bloomberg has given away more than $12.7 billion.
Bloomberg was born in Boston on February 14, 1942, and grew up in a middle-class home in Medford, Massachusetts. He graduated from Johns Hopkins University and Harvard Business School. Bloomberg is the father of two daughters, Emma and Georgina, and has two grandchildren. He lives in New York City.
Purchase Tickets To Visit Old North Church & Historic Site