Skip to Content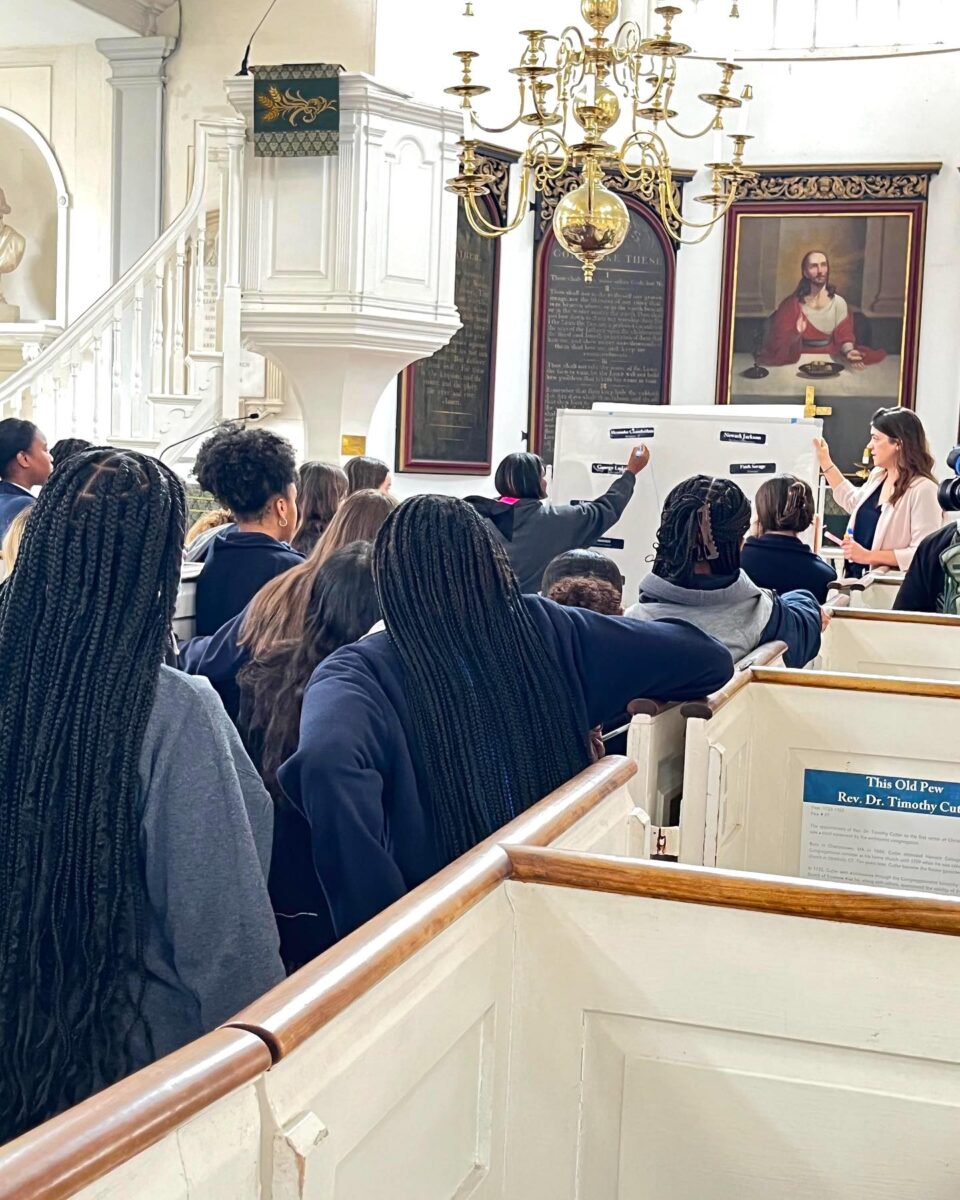 Thank you for booking your educational program with us! Old North is the oldest standing church building in the City of Boston, built in 1723. Despite its age, Old North is still a fully functioning Episcopal Church, which holds two services every Sunday and maintains an active congregation of over 100 families. Given Old North's status as both a historic landmark and a church, we have a few guidelines for our student visitors for while they are on site.
Please review the following material prior to your visit and help your students understand what is expected while they are at our historic site. Thank you for your assistance, and we look forward to seeing you! 
While at Old North we encourage students to:
Be open to new information and experiences

Actively participate in tours and discussions

Make observations about the space

Draw connections between the past and the present

Be respectful of other people, their ideas  and their  culture

Ask questions

Consider the other people's perspectives and opinions 

Share their ideas and collaborate with other

Reflect on what they have learned
Chaperone Expectations:
We are excited to partner with you to make your students' visit to Old North an positive experience! We require at least one chaperone for every eight students for all school programs.  When your group arrives on site, all chaperones will receive a badge to wear that says, "I am a Chaperone and I am here to help."  While at Old North, the role of a chaperone includes:
Modeling engaged listening. Unless there is an emergency, please avoid using your phone.

Evenly distributing chaperones between groups. Once chaperones are assigned to that group, we ask that they remain with their group.

Actively watching students and redirecting students' attention if they become distracted. 

Familiarizing themselves with our site's expectations and reminding students of those expectations.
Site Expectations:
Please treat the church building and its furnishings with care. Do not destroy, damage, draw on, or remove anything from the church. For example, each of our box pews contains kneelers, prayer books, and hymnals; some even contain artifacts like antique foot warmers. We ask that these religious and historic items be treated with respect. Kneelers should not be used as seats or step-stools, and pews are not for climbing. 

We love to see students enthusiastically learning! When in the church, we ask that students maintain "indoor voices" and are mindful of other visitors when moving through the space.

 In effort to preserve what lies above and below the floorboards, we ask that all food and drink stay stowed during visits. Bottles with caps may be carried throughout the church provided the caps stay on (including water bottles). Gum is not allowed.

 Old North is a smoke-free/tobacco free-campus.

Flash photography is welcome inside the church sanctuary. Photography without flash is allowed on all tours. Video is not allowed.

We strive to create a positive learning environment where all can feel comfortable. If any of your students require specific accommodations, please contact our Education Department so we can discuss how we can best meet their needs.
Purchase Tickets To Visit Old North Church & Historic Site