Skip to Content
1st Michigan Colonial Fife and Drum Corps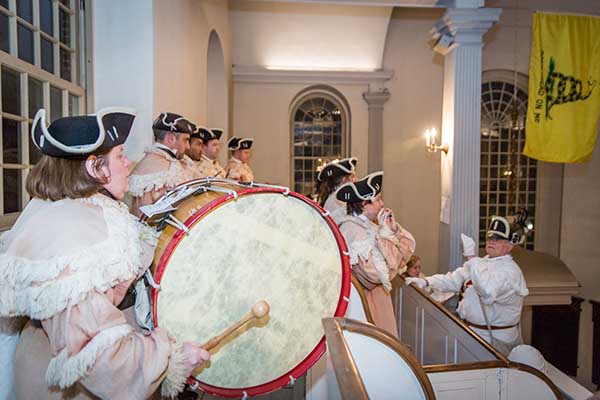 Every year for the past three decades, the annual Lantern Ceremony at the Old North Church & Historic Site has begun with a musical kick-off courtesy of the 1st Michigan Colonial Fife and Drum Corps. This unique and dedicated group of musicians perform colonial music using instruments made with 18th-century techniques while wearing period-accurate uniforms.
The 1st Michigan has not missed a single Lantern Ceremony since 1987, when the group was first invited to perform at the Old North Church by Reverend Robert Golledge. Their half-hour long concert at the Paul Revere Mall marks the beginning of the Lantern Ceremony, and they provide music before, during, and after the ceremony inside the Old North Church itself. We spoke with the co-founder and leader of the 1st Michigan, Mark Logsdon, to learn more about 1st Michigan's decades of involvement with the annual Lantern Ceremony.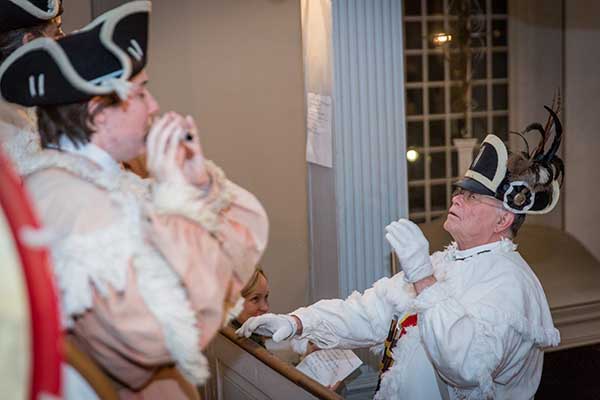 The 1st Michigan was created in 1974, when Logsdon and his wife, Mary, were looking to celebrate the upcoming bicentennial of American independence with a meaningful and substantive project. Logsdon had harbored a fascination with colonial-era drumming ever since he was a young boy and drawing upon this passion, the couple decided to create a drum corps of their own. "We wanted to give young people a chance to learn history and music," reflects Logsdon, "and make it all historically accurate."
Key to the 1st Michigan's goal of historical accuracy is their dedication to period-accurate clothing and instruments. The members of 1st Michigan wear handmade 18th-century hunting frocks, inspired by the clothing worn by the "Morgan's Riflemen" regiment during the Revolutionary War. The instruments played by 1st Michigan are handmade 6-hole fifes and rope tension field drums made by the Cooperman Company in Vermont and modeled off surviving examples of 18th-century instruments.
With their period-accurate hunting frocks and colonial music, 1st Michigan never fails to attract attention wherever they play – and their distinct sound and look have made their annual visit to the Old North Church a tradition both for the musicians and their audience. Of their public concert in the Paul Revere Mall at the beginning of the Lantern Ceremony, Logsdon says, "Over the years, I've seen families bring children, and I've seen children grow up and bring their own families."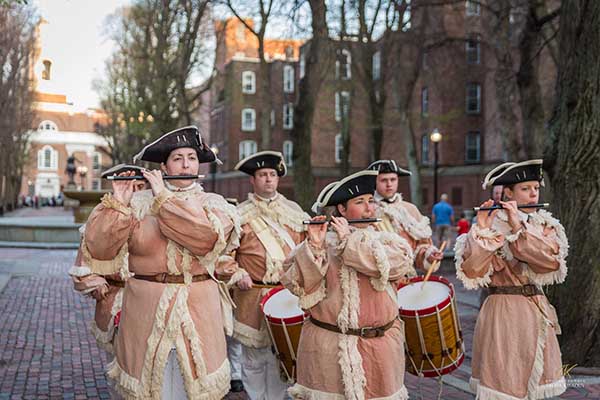 And why does 1st Michigan return to the Old North Church, year after year? "Why not? It's a chance for us to play the music that would have been heard by the original parishioners, for one thing," says Logsdon, who is also inspired by musicians, like drummer William Diamond, who was present at the Battle of Lexington and Concord. "For all of us, it's a very personal event. It's not just a performance, it's deeper than that – we were given these talents and it's wonderful to be able to utilize those talents to help celebrate our country. It's a truly one of a kind experience. It's afforded us a very meaningful set of opportunities – chief among them is the ability to do our performances at the Old North. As I said, we take it very seriously."
Listen to the 1st Michigan perform at this year's Lantern Ceremony by reserving your tickets at bit.ly/oldnorthlanterntix. Learn more about 1st Michigan's other performances in Massachusetts during Patriots Weekend and nationally year-round by visiting them on Facebook or at their website.