Skip to Content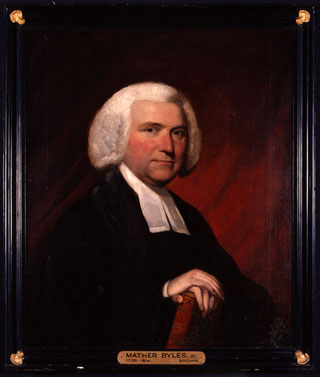 By Rev. Steve Ayres
On March 17, 1776, the Rev. Mather Byles, Jr. second rector of the Old North Church, sailed from Boston to New Brunswick, accompanied by the remaining Anglican clergy in Boston, all British troops, and many British loyalists. Byles served as rector as Christ Church in the City of Boston from 1768 until April 18, 1775.
In an amazing intersection of church and state politics, Rev. Byles, a loyalist, met with the proprietors of Christ Church on the morning of April 18th to discuss his future employment with the church. Rumors had circulated that Rev. Byles was considering a move to St. John's, Portsmouth, NH. The proprietors had ceased paying Rev. Byles, in part because he was a staunch loyalist in a congregation that was turning against the crown, but in larger part, because the congregation's finances were in disarray. Once the crown closed the port of Boston, the merchants and sea captains who formed the core of the congregation could no longer afford to pay their pew rents, so the church could no longer afford to pay its rector.
We do not have a detailed transcript of the meeting in our archives, but our best guess at the conversation might be summarized as, "Rev. Byles, we hear you have another job offer. You had better take it." Among the proprietors at that meeting was Captain John Pulling, who returned to the church that evening with Robert Newman, the church sexton, to hang two lanterns in the church steeple.
So when you are hoisting toasts with green beer today, offer one to the Rev. Mather Byles, Jr., the first of many Americans, who not like the politics of our country, moved to Canada.