Skip to Content
This Old Pew: #49 – The Wells Family
By Mark Hurwitz
With additional contributions by Gloria Baragona, fifth great-granddaughter of Francis Wells
With all the marrying, death, remarrying, job switching, and political positioning that occurred in the 18th century, it's no surprise how interconnected a small town like Boston was. Captain Francis Wells, who owned pew #49 and attended Old North Church with his family in the mid-1700s, serves as an example of someone with diverse professional experience who married twice, had several children with both wives, and is somehow connected to famous Revolutionaries. 

Wells was a successful merchant and wine distiller. He first came to Boston aboard the Ye Hampstead Galley, which he owned and commanded in 1723. Wells arrived with his first wife, Mary Elton Wells, and their children. After his first wife Mary died, he married Susannah Welch in 1738 and later had several more children. He became friends with orator and politician Samuel Adams, with whom he also conducted business. Wells resided in Bowdon Square on Green Street for a number of years. 
Wells' daughter Elizabeth eventually married Sam Adams in 1764 just seven years after he buried his first wife, Elizabeth Checkley Adams. Those who knew her described Elizabeth Wells as a loving wife to her husband and a kind stepmother to his children, Hannah and Samuel Adams, Jr. During their marriage, Adams preferred to call his second wife by her nickname Betsy instead of Elizabeth since his first wife shared the same name. Unlike his first wife, though, Betsy Adams did not have children of her own. Betsy's fine sewing skills and Hannah's embroidery talent made it possible for the family to pay their bills while Adams focused his attention on politics. Abigail Adams even took a liking to Betsy and routinely traveled many miles to visit her friend who she called her "Sister Delegate" since both of their husbands were involved in politics.
To further complicate the Wells-Adams connections, Betsy's stepdaughter Hannah Adams eventually married Betsy's younger brother Captain Thomas Wells. This Captain Wells served in both the British army and the Continental army. Later he became a wine merchant like his father and in 1789 occupied the cellar under the Old South Church. By 1796, he kept a wine cellar on Milk Street and lived on Quaker's Lane, now Congress Street.
So, in summary …
Captain Francis Wells: the owner of pew #49, merchant, mariner, wine distiller; died in 1766; daughter married Sam Adams; son married Hannah Adams.
Captain Thomas Wells: soldier, wine distiller; died in 1799; married Hannah Adams, daughter of Sam Adams.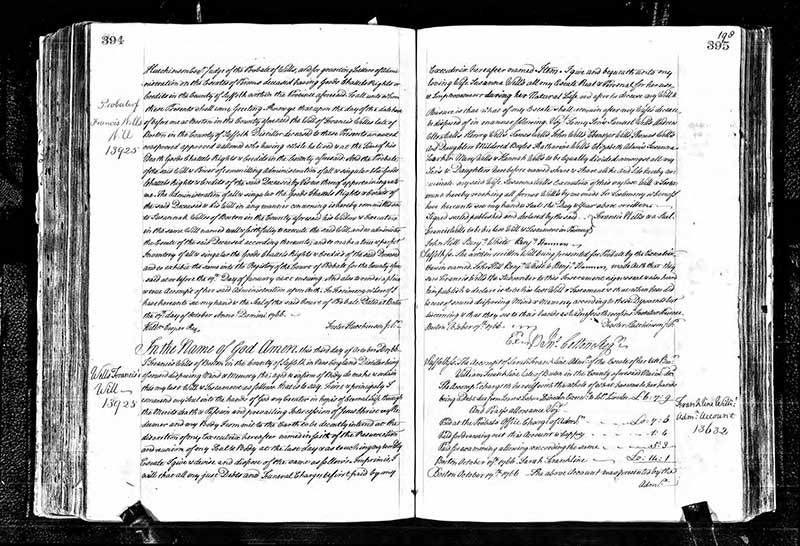 Document Sources
Ancestry.com. Massachusetts, Wills and Probate Records, 1635-1991. Provo, UT, USA: Ancestry.com Operations, Inc., 2015.
Ancestry.com. U.S., Newspaper Extractions from the Northeast, 1704-1930. Provo, UT, USA: Ancestry.com Operations, Inc., 2014.