Skip to Content
This Old Pew: #6 and #27 – Dr. Thomas Kast
By Mark Hurwitz
Thomas Kast, a renowned doctor with an interesting story, attended Old North Church in the 18th century and owned Pews #6 and #27 while he lived on Hanover Street.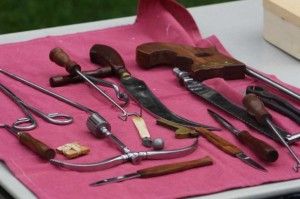 Dr. Kast was born in Boston on August 12, 1750. He graduated from Harvard College in 1769 with a Bachelor of Arts degree. Shortly after college, he began the study of medicine with his father Dr. Phillip Kast. In 1770, he was appointed Surgeon's Mate of the British ship Rose. He continued to work aboard the ship until 1772 when he arrived in England. He remained for two years in London studying medicine at Guy's and St. Thomas Hospitals. In 1774, he returned to Boston and commenced the practice of medicine, surgery, and midwifery. He even had Paul Revere make him a set of surgeon's instruments.
On June 17, 1775, he was sent by the Provincial Governor of Massachusetts, Thomas Gage, to treat Major Pitcairn for wounds sustained at the Battle of Bunker Hill earlier that day. Major Pitcairn was transported across the Charles River from Charlestown to a house on Prince Street in the North End of Boston. The Royal Governor had been informed that Dr. Thomas Kast was loyal to the British Crown and that he would provide excellent care to Major Pitcairn.
After examining his patient, Dr. Kast determined that there was too much internal damage from the bullet wounds to save Pitcairn's life. Dr. Kast excused himself from his patient and left to report his prognosis to the Governor. During his short absence, Major Pitcairn expired from his battlefield wounds. His remains were transferred to the crypt of the Old North Church.
Dr. Kast was one of the original members named in the act of corporation of the Massachusetts Medical Society, the oldest medical society in the United States. He served as its treasurer for many years. As a surgeon, he also performed the first successful operation for aneurysm of the thigh in the American colonies. His obstetrics practice was more extensive than that of any of his contemporaries and he rightly obtained popularity and respect in Boston.
In 1810, he traveled to Europe after he contracted rheumatic fever, seeking rest and recovery. He remained there until he returned to Boston in 1817. He died on June 20, 1820, at the age of seventy. He was buried at the Granary Burying Ground in Boston.