Skip to Content
Old North Church & Historic Site Receives Mars Grant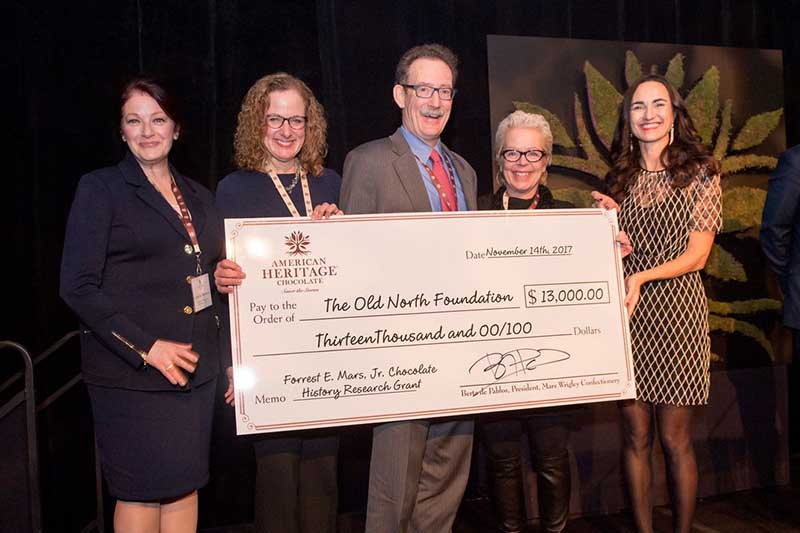 Pictured above: Old North Foundation staff Catherine Matthews, Linda Greene, Steve Ayres, and Pam Bennett
The Old North Church & Historic Site is proud to announce it has received a $13,000 grant as one of the recipients of the Mars Wrigley Confectionery US, LLC Forrest E. Mars, Jr. Chocolate History Research Grant. Winners were announced this past week at the 14th Annual banquet dinner of the Heritage Chocolate Society held at the Kennedy Center in Washington D.C. Other grant recipients include the New York Historical Society, The Mount Vernon Ladies' Association at George Washington's Mount Vernon, The Virginia Historical Society and The Fort Ticonderoga Association.
Old North received a $13,000 grant to research the life of Captain Newark Jackson, Old North parishioner and North End chocolate mill owner, and colonial cacao trade routes. This research will enable Old North Church & Historic Site to enhance the visitor experience at its historic chocolate shop named after Captain Jackson through the creation of an archive, a written history of Captain Jackson and a young-adult comic book, which will allow visitors to explore Captain Jackson's life, murder and the colonial chocolate trade.
These projects will likely take a few years to complete, but there's no shortage of fun for visitors to the site today. Captain Jackson's Historic Chocolate shop takes visitors back in time with costumed interpreters demonstrating colonial chocolate making, providing samples of authentic colonial drinking chocolate and sharing the story of Captain Jackson's connection to the Old North Church and the chocolate trade. Discover and taste colonial chocolate at Captain Jackson's Historic Chocolate Shop, open Friday to Sunday from 10 a.m. to 4 p.m.