Skip to Content
The Real Story Behind Thomas Gruchy and His Angels – Part 4
By Tom Dietzel
The final article in a four-part series detailing the fascinating story behind the Belgian angels on display inside Old North Church.
Read Part 1, Part 2, and Part 3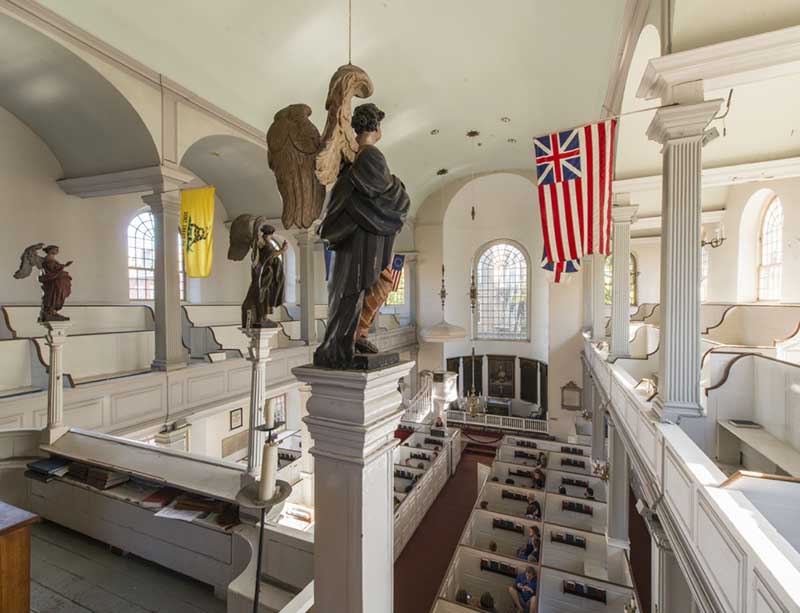 After the successful endeavor of Queen of Hungary, what began to plague Gruchy were unsettled accounts surrounding the privateer. Even the fellow vestrymen of Christ Church filed suits in court against Gruchy for claims of unpaid prize money. Nonetheless, Gruchy maintained good standing in the parish and in the public. Throughout the remainder of the 1740s, Captain Gruchy was in court multiple times either defending against claims or filing claims himself against others. He was an officer in the Episcopal Charitable Society even before coming to Old North. However, in March of 1752, Gruchy was not reelected to this post and his old business partner, now turned competitor in court, John Rowe, took his place. As Gruchy battled in court every year against a slew of plaintiffs, he tried to make his living on land.
He had purchased an area on the shoreline of the North End near the corner of what is now Henchman and Commercial Streets. Here he practiced distilling molasses into rum. Very near this site in 1919, there would be an explosion of a molasses tank wreaking havoc in the city's great "Molasses Flood." Gruchy applied for a retailer's license and was awarded it. As he attempted to increase his fortune, he was actually building debts. He began making court claims against anyone in his debt. In 1758, Gruchy arranged the sale of his house to his father-in-law, Edward Dumaresq, for £2242. Over the next year, Gruchy and his family most likely lived with Dumaresq. On January 3, 1759, a ship called Susannah left Boston Harbor bound for Halifax, on January 24, Edward Dumaresq sold the rest of Gruchy's holdings in Boston. By June 6, 1759, a vestry meeting of Christ Church voted
"the pew No. 25 lately belonging to Capt. Thomas James Gruchy and purchased by the Warden for the Church, be conveyed over to Capt. Daniel Malcom and a Title is given him for it he repaying the Warden £8 Lawful Money which he gave for it."
It appears that Captain Gruchy disappeared at this time. His name does not appear in any church records from this date, with the exception of mentions relative to his gifts to the church. What he left behind were four wooden angels, two chandeliers, some tunnels under the North End, and avoid. Without the man to defend himself, Gruchy's reputation began to tarnish. Persons who had complaints against him, either in court or in business, speculated on the legality of his practices. The subterranean vaults and tunnels under his properties led to the accusation of smuggling and even piracy. No evidence exists to suggest that Gruchy was involved in any illegal activities; the conclusions were drawn by that outside of his circle, and by those who would come much later. Gruchy's properties changed hands; they developed with the rest of the city. The beautiful mansion at Phips Place was torn down and by the mid-nineteenth century, townhouses and tenements took their place. The distillery he attempted to build, the wharves and docks, and his land holdings on Copp's Hill became private and public property with no trace of his life and his career, save some tunnels that archaeologists believe predate Gruchy by more than a century.
With the dawning of the twentieth century and with Captain Gruchy's influence all but lost, he returned to what he was upon his arrival in Boston in the 1740s: a mystery. Today, a plaque inside the Old North Church memorializes Thomas James Gruchy and commemorates his giving of the wooden angels. Every year, with half a million visitors in the church, Captain Gruchy's angels are always a highlight of a visit. The church educators point them out to guests and share the exciting story of their arrival. What unfortunately gets lost are the details, the very intricate and nuanced events, sentiments, and persons that ultimately led to the angels' being at Old North. When one digs deeper into the context of an artifact or a figure, a bigger, broader view of the story can be realized. There is undoubtedly more to uncover about Captain Thomas James Gruchy, his angels, as well as the other artifacts and secrets that Old North Church has stored within its bricks.