Skip to Content
Door Hinges & a Blacksmith on Speed Dial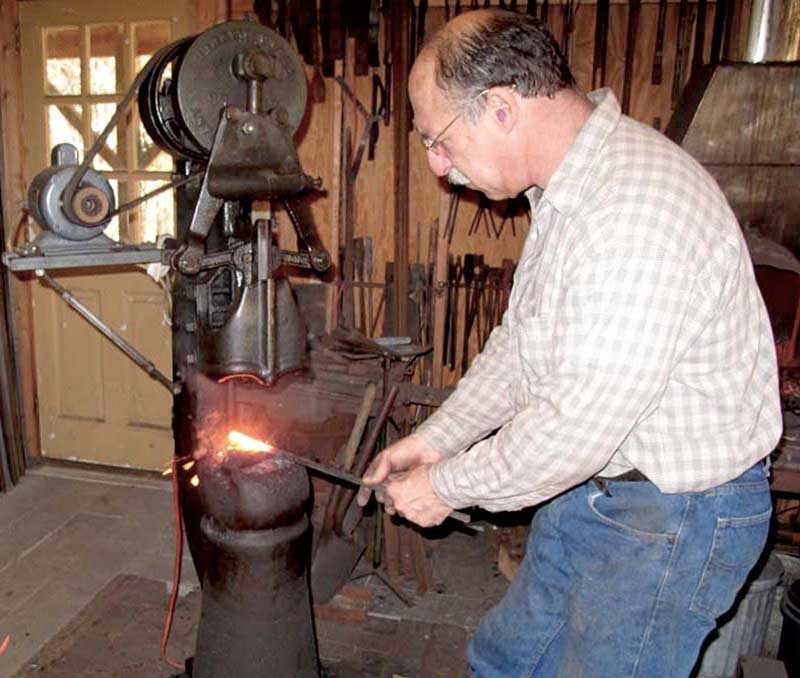 By Kerry McDonough
Replacing hinges on six pew doors is a much bigger feat than it sounds!
This is just one of the many different types of maintenance our church building needs—but when your building is 293 years old, it's never as simple as running to the hardware store.
Actually, it might sometimes be that easy if we didn't care about keeping the details historically authentic—but we do, we really really do!
In the case of the hinges for the doors of the box pews, keeping it authentic means calling blacksmith Peter Ross. (That's right, we have a blacksmith on speed dial. Don't you?)
And if you're going to have a blacksmith on speed dial, Peter is the one to have. Before starting an independent smithing venture, Peter Ross was the master blacksmith at Colonial Williamsburg for over 20 years. He makes our replacement hinges in the same way the originals were made—by hand.

The hinges we replace this week are one part of a much larger process. Some kinds of historic preservation, like new hinges, are happening all the time—hinges are in use, and sometimes that use causes them to wear out and break, so we replace them. Preservation like this takes the form of routine maintenance. Other kinds of preservation efforts take a great deal of planning, fundraising, and research. Such efforts are less like routine maintenance, and more like remodeling—except that instead of changing everything and making it look new, we want to keep it the same, or return it to the way it once looked!
We know what our hinges are supposed to look (and function) like, and we know how to get new, historically crafted ones when we need them. Other projects are harder and require more research.
First, we have to figure out what would be historically accurate—and what year, or range of years, we want to represent. Sometimes there is good documentation, like drawings, architectural plans, or written descriptions, but other times it takes serious detective work (and some Sherlock-Holmes style deductive reasoning). Clues might include what we know (or can find out) about a different, similar structure, or what we know (or can find out) about a particular event that happened in the building. These kinds of clues are used by historians all the time, and even when they can't give us concrete historic facts, they can give us very good guesses—and there are times when that is the best that we (or anyone) can do.
Once we've done the research and determined what would be the most historically accurate, then we have the small matter of finding a way to make that happen! This might sound simple, but it almost never is. How many places can you think of to buy 18th century hardware? There's a reason we have to have a blacksmith on speed dial!
Preserving the oldest church building in America is a big job, but it's one that we (usually) enjoy. There are a number of exciting preservation projects in our future as we prepare for our 300th anniversary in 2023, so make sure you're paying attention!