Skip to Content
This Old Pew: #17 – John Hooton, Jr.
 By Mark Hurwitz
John Hooton, Jr., owner of pew #17, was born September 4, 1754 in Boston. He served as Junior Warden of Christ Church (Old North) in 1770-71 and as Senior Warden in 1772, following in the footsteps of his father, John Hooton, Sr., who served as Junior Warden in 1732-34 and Senior Warden in 1735.
John Jr.'s connections to the Revolution and the North End run deep. In the winter of 1773, when he was just 19, John worked as an oarmaker's apprentice at Hooton's Wharf. Interestingly, he also participated in the Boston Tea Party on December 16 that year as a member of the Sons of Liberty. Many years later, he told his grandson, William Hooton, that he used a hatchet to smash open the boxes of tea and then tossed the contents into the harbor. No one was permitted to take home any of the tea they seized. Clothing was searched after the evening's festivities. Evidently, John hid some tea leaves in his shoes. His mother saved this memento in a bottle, which was kept by the family for many years before being misplaced.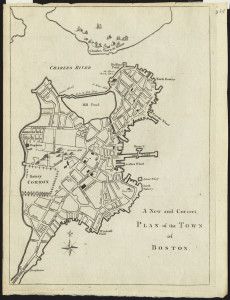 Just before the outbreak of war in 1775, John hid Old North's silver service, a gift from King George ll (and still used today!), by burying it in the crypt/basement of the church. It remained there until the British evacuated Boston one year later. He also served as a Revolutionary War militiaman as a sergeant in Capt. Elias Parkman's company and Col. Joseph Webb's regiment.
Another interesting connection: John's brother Richard, a doctor, assisted Major John Pitcairn out of the boat that brought him back to the North End after he was wounded in the Battle at Bunker Hill. Richard helped lift him from the boat and into a cart that took him to the house on Prince Street where he later died. Pitcairn was buried at Old North.
After the Revolution, John found employment as an oarmaker at Hooton's Wharf on Fish Street where he had apprenticed some years earlier. By the 1800s he was a wood wharfinger, meaning he managed or owned his own wharf. By the 1830s, he was living in the city of Chelsea. He was placed on the pension roll of Suffolk County in 1833 for service in the Massachusetts Militia. He received a military pension of $73.33 a year. John died September 15, 1844 at the ripe age of ninety. He is buried at Mount Auburn Cemetery in Cambridge.