Skip to Content
This Old Pew: #19 – Rev. William Thomas Smithett
By Lou Rocco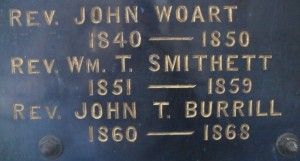 Reverend William Thomas Smithett served as the Rector of Christ Church from 1851 to 1859 and owned Pew #19.  His tenure as Rector undoubtedly ranks among the most disgraceful, embarrassing, and litigious periods in Old North's nearly 300-year history.
Rev. Smithett was serving as the minister of the Church of the Holy Spirit in Rondout, New York when, in October 1851, he was unanimously elected as the new Rector of Christ Church.  What appeared to be a promising, positive relationship between Rev. Smithett and the Wardens, Elias Goddard and William Parrott, would quickly sour and take a surprisingly nasty turn.
The crux of the conflict between these three men involved expanding the number of proprietors (i.e. tax-paying, pew-owning worshippers) within Christ Church.  By 1853, the state of the proprietors was in a woeful condition.  To remedy this situation, Rev. Smithett and others drafted a plan which involved selling unused or previously rented pews to eligible worshippers.  This plan was initially tabled by Goddard and Parrott during a meeting of the proprietors but would reemerge at a later point.
It was throughout 1854 that the disagreement over pew deeds and proprietors would devolve into a bitter personal dispute between the Rector and Wardens.  Beginning in January, Rev. Smithett sued Parrott for spreading the rumor that he was not an officially ordained minister in the Episcopal Church (a suit which he eventually dropped).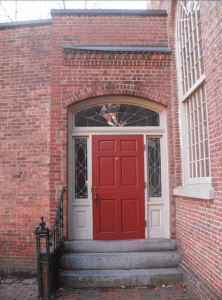 [RIGHT] The doorway that Goddard, Parrott, and company found themselves locked out of in early January 1855, shortly after the brawl between Goddard and Smithett in the church on December 31, 1854. Finding that "some evil-minded person has caused the lock on the Vestry room to be changed," Goddard and Parrot's Vestry voted to hold their proprietor's meeting at the house of George Collamore, the Clerk.
In June, Rev. Smithett presented Goddard and Parrott with a resolution from the Vestry requesting that they sign pew deeds for new proprietors.  When they refused, and after Parrott took the deeds into his possession, Smithett retrieved two police officers and accused Parrott of theft.  The police ultimately took no action, but Parrott would, suing Smithett for slander.  Parrott won his case but dropped it (and the $45 in damages that he was awarded) after Smithett issued a formal retraction of his accusation.
Having grown tired of Goddard and Parrott's pertinacity (and perhaps motivated by ambition and lust for power), Rev. Smithett helped organize a meeting of the Vestry in September during which two new Wardens, William Mair and Edwin Sampson, were elected.  Neither Goddard nor Parrott were in attendance at this meeting and subsequently refused to recognize its results.
On Sunday, December 31, this conflict would reach its lowest point when Goddard arrived at Christ Church to distribute notices concerning the payment of pew taxes.  Upon learning what Goddard was doing, Rev. Smithett confronted and ordered him to stop.  When he refused, all hell broke loose.  A brawl broke out in which Rev. Smithett and his posse assaulted both Goddard and George Collamore.  This incident produced two criminal suits: one involving Goddard suing Smithett and his goons for assault, the other involving Collamore suing Smithett for assault.  In both cases, the defendants were found not guilty and released.
Unfortunately, this incident was not the last time that Christ Church would witness violence and mayhem on its grounds.  On Sunday, April 15, 1855, tensions between the Rector and Wardens slowly boiled throughout the course of the day, culminating in a riot outside of the church (seemingly provoked by Rev. Smithett) which needed to be put down by the police.
The "Smithett Controversy" was ultimately settled in March 1857 by the Massachusetts Supreme Judicial Court in the case of Wardens of Christ Church v. George W. Pope.  In this case, Goddard and Parrott sued Pope for failing to pay rent on the property he was leasing from the Church.  Pope claimed he had paid his rent, but to the legitimate Wardens of Christ Church, Mair and Sampson.  Ultimately, the SJC found in favor of Pope, concluding that Mair and Sampson had legally replaced Goddard and Parrott during the special meeting on September 7, 1854.
Rev. Smithett, having won his bitter, nasty, personal battle with Goddard and Parrott, remained the rector of Christ Church for over two more years.  In August of 1859, he submitted his intention to resign, but only on the condition that the church pays him $592 which he believed he was due.  Upon receiving this severance pay, Smithett left Christ Church, leaving behind a legacy of contention, controversy, litigation, and violence unlike any Old North had seen before or has seen since.