Skip to Content
Patriots Corner is a rotating gallery space located in the beloved Clough House along with our historic chocolate program. Be sure to check out what's on view during your visit to Old North!
Past Programs & Exhibits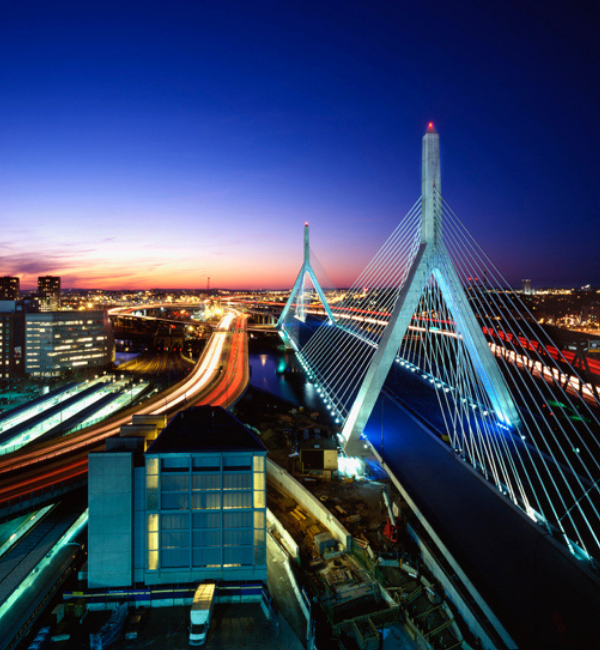 The Vernacular and the Spectacular: Photographs by Peter Vanderwarker and Matthew Dickey
February 4 – May 31, 2020
Presented in partnership with the Boston Preservation Alliance.
What role does architecture play in a city's identity? Why is a city like Boston so special?
The cityscape – the skyline, the faces of the buildings, the architectural atmosphere – defines a city's character. Historic buildings and new construction. Triple deckers and massive skyscrapers. Vernacular and spectacular architecture. Each contributes to the cityscape, which affirms the vision of the countless architects, builders, and construction workers who've created structures where we lead our lives. This urban landscape is what gives a city like Boston its uniqueness, its peculiarities, its je ne sais quoi.
Through the stunning work of renowned architectural photographer Peter Vanderwarker and travel photographer Matthew Dickey, visitors will contemplate the role both types of architecture play in a city like Boston. The vernacular and the spectacular combine to create a cityscape all our own.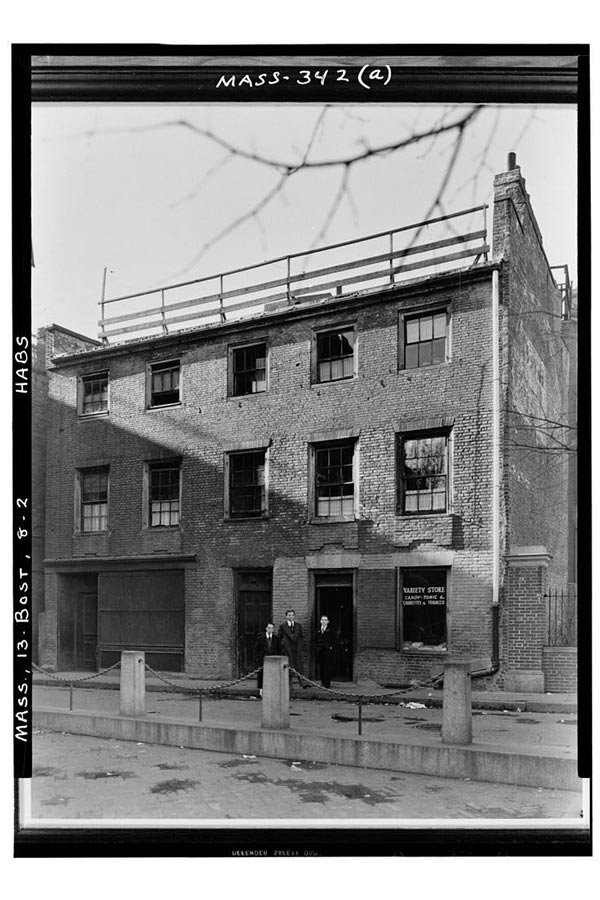 August 16 – December 31, 2019
Presented in partnership with Historic Boston Incorporated.
While it was originally constructed as an elegant single-family home, the Clough House has served many purposes over time: a single-family home, a tenement for many families, and a house museum. Now it serves a variety of purposes for Old North Church & Historic Site, including exhibit, gallery, office, and storage spaces. The Clough [rhymes with "fluff"] House witnessed all the changes in its surrounding neighborhood over the past 300 years while it too changed to meet the needs of the community. Today, it serves as a testament to the architectural prowess of Ebenezer Clough, the master brick mason of Old North Church, the indomitable spirit of immigrants working for a better life, and the countless individuals who valued its history and fought to save it from demolition.
Through documents and records from the Old North Church archives as well as historical photographs and information gleaned from a 2013 archaeological dig behind the house, this exhibit considers how this one small plot of land represents the experiences and domestic lives of hundreds of people while also serving as a microcosm of Boston. The story of the Clough House is the story of the people who've called it home; it's the story of the brick structure itself and its many phases, and it's also the story of a changing community. This specific tiny building helps us piece together the story of America.
In the gallery, channel your inner Ebenezer Clough through hands-on creative activities, vote on hypothetical preservation projects, contribute to a chart on housing, and more! #StillStanding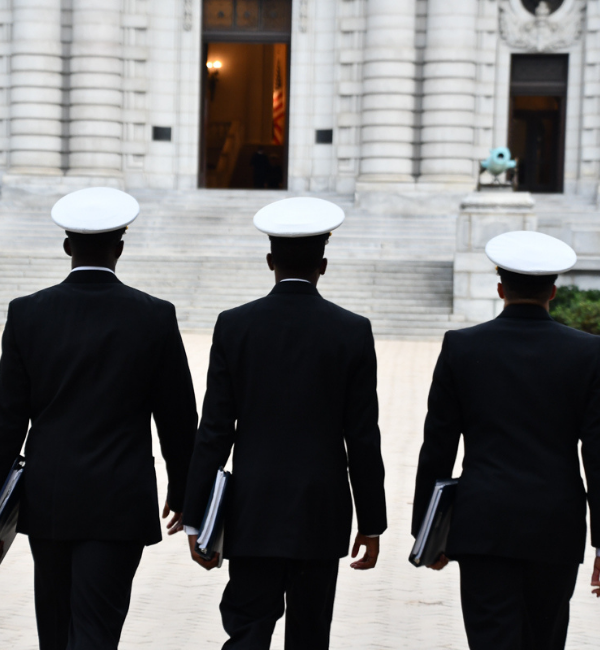 May 17 – August 8, 2019
Presented in partnership with the Photographic Resource Center
The famous signal lanterns of April 18, 1775, displayed in the steeple of Old North Church, activated a network of riders who rallied their neighbors and fellow patriots to action and ignited the American Revolution. The bravery of those riders, who are largely uncelebrated today, demonstrates a defining pillar of the American spirit in times of trouble. This exhibition investigates what that caliber of teamwork and courage looks like in the 21stcentury, particularly how collective action and courageous fellowship can promote active citizenship.
What does it look like when one sacrifices personal desires and recognition in pursuit of a common goal? How do we as local, national, and global citizens overcome ourselves for the greater good of our communities? What does it mean to work together synergistically to effect change? The artists featured in this exhibition answer these weighty questions in different ways as their photographs demonstrate bravery in its many facets: it's an idea, it's an action, it's a feeling, and it's a symbol.
Featured Artists: Todd Bradley, Matt Conti, Maggie Loh, Leah Ramuglia, Austin Soares, Ellen Shub, Steven White
In the gallery, share your own story of bravery and join a larger conversation with our visitors about what teamwork looks like today. #RallyPoint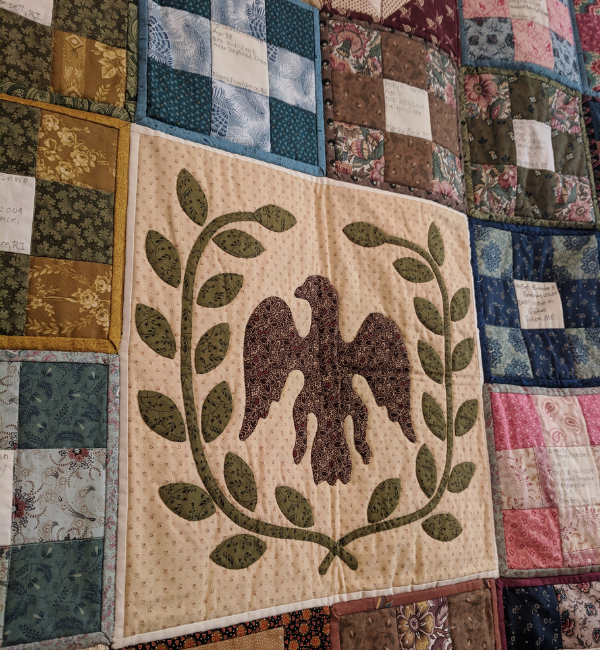 March 1 – May 7, 2019
Presented in partnership with the New England Quilt Museum
In honor of Women's History Month, this exhibit celebrates quilting as an expression of community, one that has provided American women a social outlet for centuries. By finding their voices and a sense of sisterhood in quilting circles, women broke free from societal constraints, even if only within the walls of their homes. During the American Civil War, quilting took on new importance as the U.S. Sanitary Commission provided quilts to ailing Union soldiers in hospitals. The quilts featured in this exhibit were made in honor of post-9/11 fallen soldiers from the wars in Iraq and Afghanistan, in the same manner of those Sanitary Commission quilts. But these quilts are not just replicas. They represent the continuum from the Civil War to the greater War on Terror. They represent the thousands of women grieving for, caring for, and loving the thousands of soldiers who have fallen for the sake of our country. We honor the fallen soldiers, yes; but we must also honor the artists whose voices and gratitude speak for us all.
In the gallery, browse through the Quilter's Toolbox to get a sense of what items are necessary to make a quilt, and then make your own quilt block with origami paper and contribute to our community quilt! #PiecefulVoices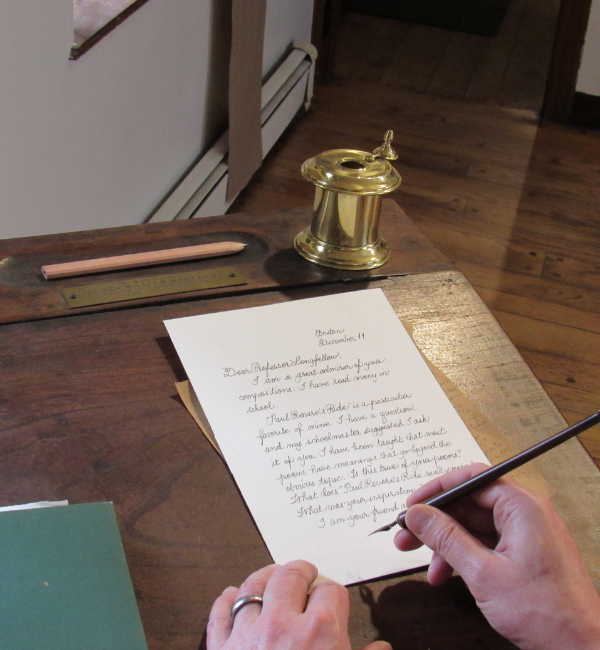 Dear Professor Longfellow
May – December 2018
The Professor is in! Discover how to make your voice heard and create meaningful change through this new & exciting interpretive program.
Join Professor Henry Wadsworth Longfellow in his study and meet this literary celebrity, or a member of the Longfellow family, in person! Discover why he wrote his famous poem "Paul Revere's Ride," and learn how he inspired change on the eve of the Civil War while trying your own hand at writing!
Channel your inner Longfellow with a variety of hands-on activities:
Craft a simple poem using magnetic poetry
Test your penmanship with our cursive primer
Contribute a line to a growing collaborative group poem
Decorate and write a postcard about something you want to change in your community
Mail a fan letter to the Professor himself
#BeLikeLongfellow
Purchase Tickets To Visit Old North Church & Historic Site