Skip to Content
The Women of Old North Church
Happy International Women's Day!
Here at Old North, women from all different backgrounds play important roles on our campus, as educators on the church floor, gift shop employees, staff in the Old North Foundation offices, and leaders in the congregation. Although the women of Old North today are celebrated for their contributions to our site and its history, the women of Old North in the colonial era were not always given the same acclaim. In honor of International Women's Day, we're shining a spotlight on a handful of women connected to Old North in the 18th century, and sharing their stories with you.
Jane Franklin Mecom
Jane Franklin Mecom was the younger sister of Benjamin Franklin, and the closest to him of his sixteen siblings. The two were life-long correspondents, and in fact, Benjamin wrote more letters to Jane than to anybody else. Despite their close relationship, the two siblings lived very different lives. Where Benjamin went on to become a celebrated politician and statesman, Jane was married off at the unusually young age of fifteen to Edward Mecom, an alcoholic and mentally unstable man whom Jane never wrote lovingly about , and with whom she had twelve children. She outlived all but one of them. Her life was one of hardship, and, without a reliable income from her husband, she took to making soap to support her family.
Jane spent the majority of her life in Boston. In 1784, she moved into a house her brother had owned for two decades on Unity Street. It was in the shadow of the Old North Church, and although it is unlikely that she ever attended services there, she asked her brother to add "at the back of the North Church"* to all his correspondence so that the letters would arrive more speedily. She took pains to keep the house presentable, and painted the doorframe so that it would look respectable in case anyone came looking for the sister of the famous Benjamin Franklin. Although the house she lived out the last years of her life in was knocked down in 1939, it shared a wall with and looked very similar to (albeit narrower than) the house next door: the Clough House, where our beloved Patriots Corner and historic chocolate program stand today.
Why we love Jane: Jane was an early entrepreneur and supported a large family with her small soap-making business and shop. And, despite having only a very rudimentary education, she had a life-long passion for reading and writing.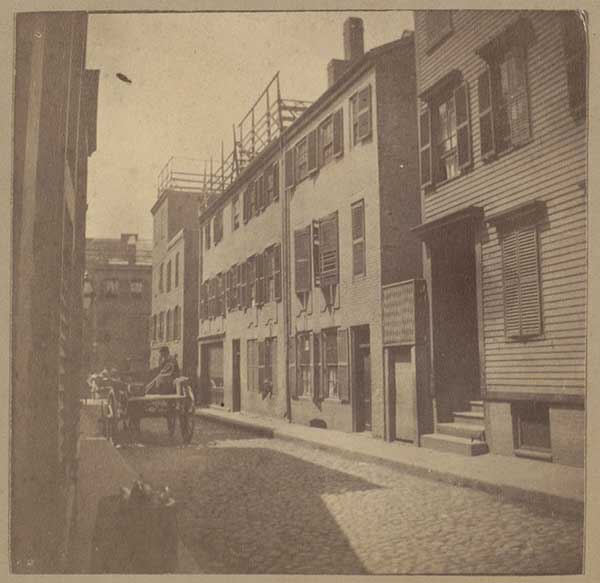 Mary Gibbs
Often, visitors to the Old North Church are startled to come upon the name of Mary Gibbs on the nameplate of Pew #8. Why? Because all the other names of the church's original pew owners are those of men. In the 1720s, it was generally the man of the family who handled the money and bought pews at church for their family to worship in. The lack of other women's names on the roster of original pew owners shows how rare it was for Mary Gibbs to own a pew of her own as a woman. Mary Gibbs' name is listed on the pew because her husband, John Gibbs, died shortly after making the initial pew purchase. In his will, Mary was given sole control over the Gibbs estate and maintained his accounts, including the ones he had with Old North. Although we know little about her life, this one key detail shows that although many women were forced to rely upon their families and husbands for financial security, there were a few like Mary Gibbs who did maintain control of their own finances⁠—albeit, sometimes as widowers.
Why we love Mary: Mary was financially savvy and carefully maintained control of the estate her husband left her in his will, at a time when it was unusual for women to be financially indepdendent.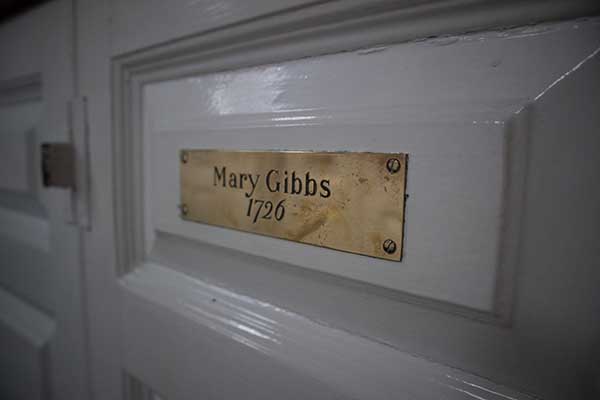 Ann Cooke, Elizabeth Cooper, and Mary Jeffers
In 1728, three married woman made the unusual choice of buying a box pew at Old North⁠—not with their husbands and families, as might be expected, but with each other. We don't know what brought Ann, Elizabeth, and Mary to the decision of buying a seat together⁠—were they widowers? Were they married women who decided to worship apart from their husbands? Were they very good friends, or bound together by financial constraints and the social necessity of belonging to a church like Old North?
Why we love Ann, Elizabeth, and Mary: These three women embodied the spirit of indepdence, choosing to forgo sitting with male relatives in order to buy their own box pew to sit in for Sunday worship⁠—and, they are the epitome of friends who worked together to achieve what each on their own would have been incapable of!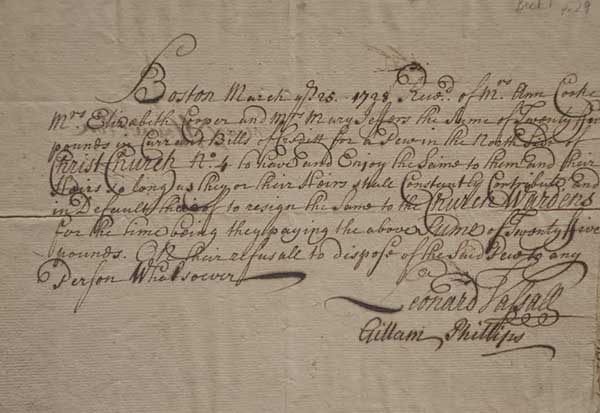 The pew deed giving Ann Cooke, Elizabeth Cooper, and Mary Jeffers a shared box pew at Old North. The text reads: "Boston, March 25 1728 Pew of Mrs. Ann Cooke, Mrs. Elizabeth Cooper and Mrs. Mary Jeffers the sum of Twenty five pounds in Current Bills of [ ] for a Pew in the North Side of Christ Church No. 4 to have an enjoy the same to them and their Heirs so long as they or their heirs [ ] Constantly Contribute and in Default [ ] to resign the sums to the Church Wardens for the time being they paying the above sums of twenty five pounds. On their refusal to dispose of the said Pew to any person Whatsoever.
Leonard Valsall
Gillam Phillips"
Elizabeth Humphries
Elizabeth Humphries was the matriarch of a free black family who worshiped at Old North in the mid-eighteenth century. Elizabeth and her family would have sat in the upper North Gallery, the only part of the church available for free and enslaved people of color. With her first husband, John, Elizabeth had several children; most, if not all of their children were baptized at the Old North Church. In the 1750s, Humphries received financial assistance from the congregation after becoming a widower, and when Elizabeth Humphries married her second husband, Robert Hunter, in 1765, the ceremony was performed at the Old North Church. In all, records show that Elizabeth Humphries and her family worshipped and were otherwise connected with the Old North Church for thirty years. Unfortunately, what happened to Elizabeth after the 1760s is a mystery, and from there, the Humphries family, like many other African Americans in Boston, vanished from the record.
Why we love Elizabeth: Elizabeth shows us that strong women of color have always been a part of American history, working behind the scenes to provide for their families and playing visible roles in their communities, despite the hardships of harsh economic realities for free people of color.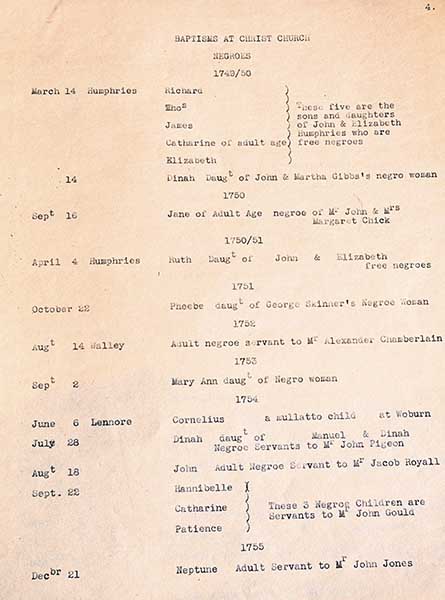 Citations:
"Boston, Franklin house, Unity Street." Photograph. 1895. Digital Commonwealth, http://ark.digitalcommonwealth.org/ark:/50959/v405t0815.
Lepore, J. (2013). Book of Ages. Vintage, p.386.
Lepore, J. (2011). Opinion | Poor Jane's Almanac. [online] Nytimes.com. Available at: http://www.nytimes.com/2011/04/24/opinion/24lepore.html.
Harvard Gazette. (2012). The Tale of Benny and Jenny. [online] Available at: https://news.harvard.edu/gazette/story/2012/09/the-tale-of-benny-and-jenny/.